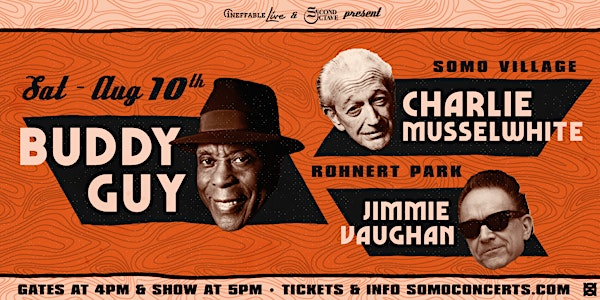 Buddy Guy, Charlie Musselwhite, Jimmie Vaughan
Buddy Guy, Charlie Musselwhite, Jimmie Vaughan at SOMO
When and where
Location
SOMO Village Event Center 1100 Valley House Drive Rohnert Park, CA 94928
Performers
Buddy Guy
Charlie Musselwhite
Jimmie Vaughan
About this event
Ineffable Music presents Buddy Guy, Charlie Musselwhite, Jimmie Vaughan live at SOMO Village in Rohnert Park on Saturday, August 10!
On Sale NOW!
All Ages - Children 5 years old and younger have free admission to SOMO Concerts when accompanied by a paid adult 18 years or older.
Gates 4:00 PM Show 5:00 PM
Free Parking - and plenty of it.
EXCLUSIVE SOMO VIP EXPERIENCE includes Elevated Viewing Deck, Private Bar, Express VIP Entry Lane at Gates, and Private Restroom.
Buddy Guy
The title of Buddy Guy's latest album says it all: The Blues Is Alive and Well. The legendary blues artist's eighteenth solo LP and follow-up to 2015's Born to Play Guitar showcases his raw and unadulterated sound, its fifteen tracks a true pleasure for aficionados and genre newcomers alike. "I got children and grandchildren who didn't know who I was, but nowadays we can play outdoor concerts and see kids that are eight, nine, twelve years old coming to me and saying, 'I didn't know who you was, but I read what Eric Clapton said about you,'" Guy explains when discussing his mindset around the new record. "I'm always trying to make an album that someone accidentally plays where some kid hears it, picks up a guitar, and helps keep the blues alive."
And it only takes one listen to The Blues Is Alive and Well to realize that Guy's mission has been more than accomplished here. The record is arriving on the heels of a spate of high visibility for the 82-year-old performer: at the 2016 Grammys, he picked up a trophy for "Best Blues Album" honoring Born to Play Guitar, and that same year he hit the road for a U.S. tour opening for Jeff Beck. In addition to bringing the house down for a recent sold-out performance commemorating the closing of New York City's B.B. King's Blues Club and Grill, he recently appeared on David Letterman's Netflix talk show My Next Guest Needs No Introduction. A truly restless and energetic performer, The Blues Is Alive and Well is the latest triumph in an already-legendary career.
The Blues Is Alive and Well began to come together when Tom Hambridge, frequent Guy collaborator and producer, came to the man with a collection of songs he figured would be perfect for a new full-length. "He's like some of the older guys I used to play with," Guy enthuses about working with Hambridge. "When you play with a band for ten or twelve years, they almost know what you're gonna do. He's the type of guy who feels what I'm gonna do. Even in my early Chess Records days, you had Willie Dixon and several other guys affiliated with those hit records, and this kid just has that feel too. He brought the songs in, and hopefully we did a good job."
And how: The Blues Is Alive and Well's fifteen tracks feature pristine production without losing the signature lived-in grit that Guy's been known for his entire career, from the low-slung riffage of "Bad Day" to the squealing solos of "Somebody Up There." Guy sounds every bit as vital and youthful here as he did dating back to his early collaborations with the late Junior Wells, and it's inspiring to hear a veteran artist laying down the blues with such gusto.
Among the contributors to The Blues Is Alive and Well: young gun James Bay, who joins him on the aching "Blue No More," as well as Rolling Stones frontman Mick Jagger, who contributes to the stomping barroom rambler "You Did the Crime." "Mick made a comment to me when he heard the song: 'Is that my voice? I didn't know it was still that strong,'" Guy states. "Before the late Junior Wells passed away, we did a whole tour with Mick. They exposed us a lot. I owe a lot of things to those guys, because they put us in places that we hadn't been, and they haven't forgotten that. We got a relationship between us. Whenever they come to town, they stop in the loudest blues club in Chicago and call me, and I'll go in the kitchen and fix us something. We still have a lot of fun."
And Jagger's not the only Rolling Stone to hop on The Blues Is Alive and Well: Keith Richards contributes to the warm "Cognac," as does Jeff Beck. "Those guys have been my friends before they got famous," Guy reminisces while discussing his rejoining with old friends. "I went to England and those guys looked at me while I was playing a Stratocaster and said, 'Don't you know a Stratocaster can't play the blues?' I said, 'What do you mean?' It was a joke, because it was a country/western instrument before that—it wasn't supposed to play the blues. We all bought Stratocasters after that."
And even as Guy pushes forward with his astounding career, he's careful not to forget his late contemporaries who inspired him along the way. "I went to sleep yesterday and woke up and all the great blues players are no longer with us. Muddy, Wolf, B.B.—they're all gone. Before they passed away, when they were in their prime, we used to have a drink and a laugh and talk about how when one of us is gone, the others have to keep it going. I'm trying to do something to keep this music that I love so well alive." And with The Blues Is Alive and Well, it's clear that the music—and Guy himself—ain't going away anytime soon.
Jimmie Vaughan
When it comes to the blues today, there are a handful of guiding lights to make sure the music stays true to its powerful source. The sound of pleasure and pain that first sparked musicians to create such a sound is a force that can never be underestimated. The mojo has to be there. For Jimmie Vaughan, he's dedicated his life to making sure the blues not only stays alive, but remains full of life and an inspiration to all who listen. It's a spirit he holds close to him, and for over 50 years of holding the blues close inside him, Vaughan isn't about to stop now.
Jimmie Vaughan's new album, BABY, PLEASE COME HOME, is a rolling and righteous celebration of everything the blues can be. The songs can go up, down, sideways and even off in their own distinctive direction, but one thing is certain, each and every one of them is packed with pure feeling and striking originality. That's because while the blues is almost as old as America itself, every time a musician lends their soul to living inside these songs, something new comes out. There is a constant reinvention for musicians like Vaughan, because the blues demands it. There can be nothing less than a revelation, because that's how the music stays alive. It is almost like an alchemy exists, where instruments and voice join together to make a joyful noise. And above all else the blues, in the capable of hands of Vaughan and his musical cohorts, is a path to salvation. One that is birthed in the ability of songs to make life on earth a better place to be.
Sometimes it takes decades to finally arrive at a place called home. When a young player starts out as a teenager to find a spot to call his own, there can be enough twists and turns to throw even the most dedicated of souls off the mark. Life can be a tricky endeavor, and between the bright lights and the dark nights, that road ahead can be full of false starts and deceiving roadblocks. But on BABY, PLEASE COME HOME Jimmie Vaughan proves without doubt all his efforts and energy have taken him to the promised land. Maybe that's because blues is really the art of distillation, seeking the sound where there are no extraneous notes, or unnecessary additions to the feeling of freedom. It takes years to get there, and patience is most definitely a virtue. Above all else, feeling is the most important element of all. With that, all else can be conquered.
"Playing what you feel has always been my main goal," Vaughan says. Considering the Texas guitarist and singer has had the kind of career that makes him a living legacy, those are no idle words. His first group when he was starting high school played Dallas' Hob Knob Lounge six nights a week, learning the kind of lessons that can't be taught. They have to be lived. Other bands in the '60s convinced the young man it was time to find a way to play the music he felt the strongest about: the blues, That took him to hitchhiking to Austin in the early '70s and carving out a new crew of blues players who shared his musical excitement. Jimmie Vaughan started in the lead, and has remained there. After worldwide success with the Fabulous Thunderbirds during the '80s, it came time to leave that band and build his own path in exploring different approaches to the blues. He did not hesitate. And what Vaughan discovered was that he could take it anywhere; there were no boundaries. "I wanted to find out what I could really do," he says, "and when I started singing it gave me a whole new side to explore. When I was young I didn't really pay much attention to categories of music. I just heard what I liked and decided to explore that. And that's really what I'm still doing."
For the past few years, Jimmie Vaughan has been recording a series of albums dedicated to the songs he's always held in high esteem, recorded by artists that inspired him from his very earliest days of performing. The sessions have been held in studios near Austin, and he was surrounded by fellow musicians who understand that music is intended to ignite the heart and fill the soul. There can be no shortcuts or sleight-of-hand when playing these songs. They come from writers and performers who responsible for so much of modern popular musics, some well known but many are other who are still names not known outside the blues world. On BABY, PLEASE COME HOME, some of those original artists are Lloyd Price, Jimmy Donley, Lefty Frizell, Richard Berry, Chuck Willis, Bill Doggett, T-Bone Walker, Etta James, Fats Domino, Gatemouth Brown and Jimmy Reed. In so many ways, this is a list of some of the prime purveyors of America's greatest music. That it can range from seminal bluesmen like Jimmy Reed to one of the founding father of modern country music Lefty Frizell proves the point that Vaughan has always believed: music is not about what it is labeled, but rather how it makes the listener feel. On BABY, PLEASE COME HOME, those feelings are played to the hilt by some of Jimmie Vaughan's long-standing A-team, including George Rains, Billy Pitman, Ronnie James, Mike Flanigan, Doug James, Greg Piccolo, Al Gomez, Kaz Kazonoff, T. Jarred Bonata, John Mills and Randy Zimmerman. They are joined by guest vocalists Georgia Bramhall and Emily Gimble.
These sessions, mostly held at San Marcos, Texas' Fire Station studio, were the kind of recordings that are based on musicians who have been playing this music for decades. They've come to have a near-silent style of communication, where a look or a smile communicates much more than words ever could. As bandleader, singer and guitarist, Jimmie Vaughan is a master of how everything is captured for posterity. His singing voice has grown into a study in strength. And while sometimes he might say, "Sometimes you can sing and sometimes you can't," like everything else the Texan touches, Vaughan knows when it's right and never stops until it is. He has always looked to his soul as the ultimate barometer of when the music is right, and when that is satisfied Vaughan knows he has found that spot where the music is ready to be shared.
The Rolling Stones' Keith Richards once said, "The blues. It's probably the most important thing America has ever given the world." To which Jimmie Vaughan would likely add, "Amen."
Charlie Musselwhite
With an induction into the Blues Music Hall of Fame, 35 Blues Music Awards (including three wins in 2014!) and 11 Grammy nominations (including a 2014 win!), American electric blues harmonica player and bandleader Charlie Musselwhite has truly earned legendary status as one of blues music¹s most important artists.
One of the non-black bluesmen who came to prominence in the early 1960s (alongside Mike Bloomfield and Paul Butterfield, among others), Musselwhite was reportedly the inspiration for Dan Aykroyd's character in The Blues Brothers. He was born in Mississippi but spent his formative years in Memphis, TN during the period when rockabilly, western swing, electric blues and other forms of African American music were combining to give birth to rock and roll. Musselwhite supported himself by digging ditches, laying concrete and running moonshine in a 1950 Lincoln automobile. This environment was Musselwhite¹s school for music, as well as life, and where he acquired the nickname "Memphis Charlie."
In true bluesman fashion, Musselwhite then took off to Chicago, where he continued his education on the South Side, making the acquaintance of even more legends including Lew Soloff, Muddy Waters, Junior Wells, Sonny Boy Williamson, Buddy Guy, Howlin' Wolf, Little Walter, and Big Walter Horton. Musselwhite immersed himself completely in the musical life, living in the basement of Big Joe Williams and forging a lifelong friendship with JohnLee Hooker. In time, Musselwhite led his own blues band and in 1966 released the legendary "Stand Back! Here Comes Charley Musselwhite's Southside Band." Since then, Musselwhite has released over 25 albums, as well as guesting on albums by many other notable musicians including Bonnie Raitt, INXS, Tom Waits and The Blind Boys of Alabama, among others. Musselwhite recently teamed up with Ben Harper on "Get Up!" -- the long time coming collaboration that took home the Grammy for Best Blues Album in 2014.