Buddies of NJ, Inc. Celebrates 30 Years

Friday, October 16, 2015 from 7:00 PM to 11:00 PM (EDT)
Event Details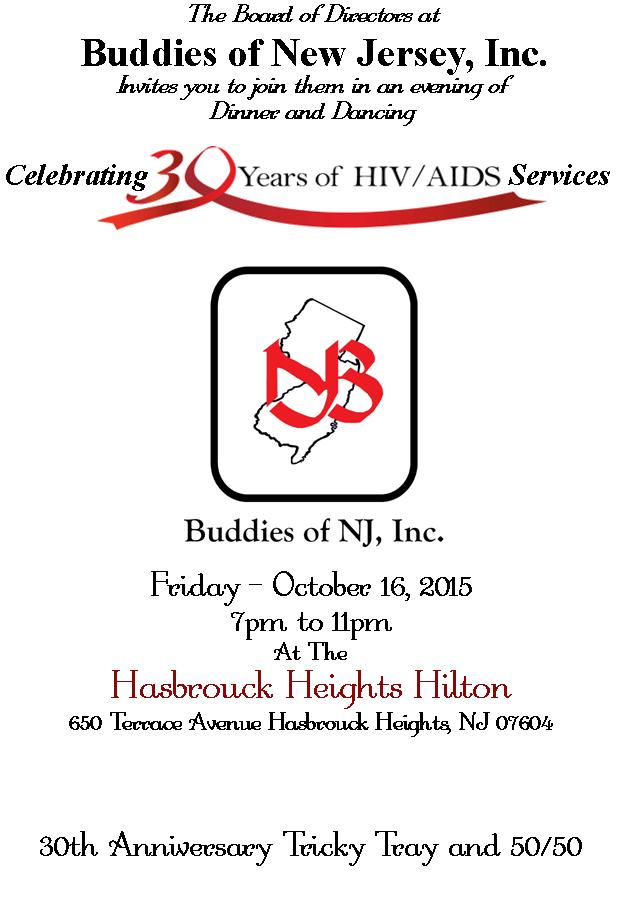 -----------------------------------------------------------------------------------------------------------
This August 22nd Buddies is 30 Years Old.  
We will celebrate being the Reality of Hope for so many people in North Jersey this October 16, 2015 at the Hasbrouck Heights Hilton.  We shall honor Frank Smith, our founder, along with Martin Gilbert and Pat Bain for a combined 150 years of service.  It would be great to have everyone who has ever been part of NJ Buddies be present for a evening of fun, dinner and dancing.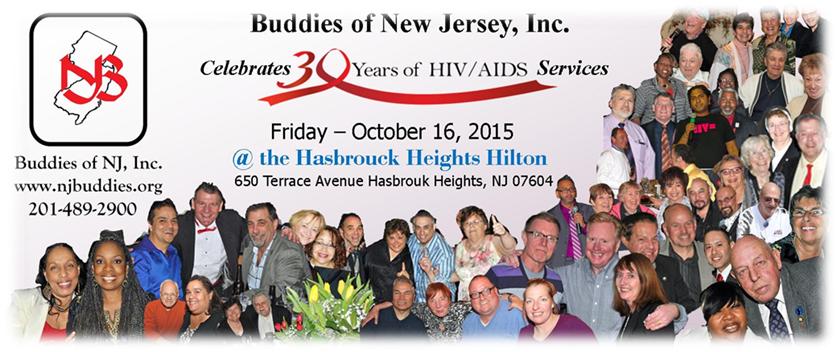 There was a time when people were rapidly deteriorating and dying from an unknown plague.   These people were avoided and kept 'at bay' in fear that it would spread quickly.  The only people strong enough to care beyond their fears courageously became 'buddies' to those in need.  They visited with, cared for, and helped bring life's necessities to society's modern day lepers.
Thirty-Four years ago (1981) the Human Immunodeficiency Virus (AIDS) was first diagnosed.  Two years later (1983) they identified HIV, the virus that causes AIDS.  Two years later (1985) a group of 'buddies' officially incorporated as NJ Buddies (later changed to Buddies of NJ).  Since then we've been trying to shake the stigma of HIV/AIDS being a disease of bad people and undesirables.  Along the way we have been assisted by modern medications and people who minister the miracles of God in a healing way.  We have come a long way since the 1980's but we still have people dying, we still have people not in care, and we still have those who will not even hang an AIDS WALK Poster because of bigoted ideas.  This presents the dangers and compounds the difficulties for one who needs to be in treatment in order to prevent the fatal progression of this disease. 
Today, we know better; "Knowing Is Key!" ... to staying healthy.  We have taken on this new campaign in efforts to get everyone at risk tested and everyone who is HIV(+) in treatment. We also know that viral suppression and prevention is the new road to a cure. We responsibly use this information in all our services in efforts to increase awareness, decrease stigma, and support those infected with and affected by HIV/AIDS.
Your dedication and efforts provide hope to this under served community.  From the tireless efforts of staff members, to the selfless work of our volunteers, to the above and beyond giving of our benefactors, to abounding support of our elected officials... Buddies of NJ, Inc. has been in the forefront of confronting HIV/AIDS head-on while providing dignity to our clients.  As a non-profit organization, we need and value your continued support.
Yes, we have many challenges ahead as the face of this disease morphs and funding disintegrates.  Each day we are faced with new challenges and we continually ask all of you to "step up to the plate".  Right now, however, we want everyone to come together, remember the accomplishments of the past 30 Years, and just have a blast with one another.
Together we make a difference.  Please respond today and join us on October 16th Celebrating NJ Buddies bringing hope to nearly 1.5 million residents of Bergen and Passaic Counties infected with and affected by HIV/AIDS throughout Northern New Jersey.
When & Where

Hilton Hasbrouck Heights/Meadowlands
650 Terrace Avenue
Hasbrouck Heights, NJ 07604


Friday, October 16, 2015 from 7:00 PM to 11:00 PM (EDT)
Add to my calendar
Organizer
Buddies of NJ, Inc.
About Buddies of NJ, Inc.
Buddies of NJ, Inc. (NJB), 501(c)(3) is Bergen and Passaic County's Premier AIDS SERVICE ORGANIZATION.
Your support makes it possible to provide:  Service, Education, Resources, and Care to those infected and affected by HIV/AIDS.
Buddies provides NJHS Licensed Substance Abuse Counseling & Treatment Services; Free Rapid HIV Testing & Counseling; PrEP Counseling, Case Management; Medical Case Management; Housing & Housing Assistance; Dental Services; Counseling Services; 
Young Men's Support Spot; Peer Support Groups;
 Medical Transportation; and a Food Bank.
NJB is supported with federal grants from the Ryan White Care Act, HOPWA (Housing Opportunities for People With AIDS), and the New Jersey Department of Health.  Additional funding is also provided through private foundations, fundraising efforts, and generous contributions from the community at large.  Buddies is a founder and proud Member Organization of the 

New Jersey AIDS Walk

, Inc. Walk the walk... It's In New Jersey... The 1st Sunday in May!
Buddies of NJ, Inc. Celebrates 30 Years