Buddhist Economics: An Enlightened Approach to the Dismal Science
Description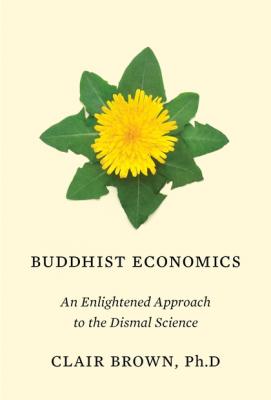 Join us as Clair Brown, Professor of Economics and Director of the Center for Work, Technology, and Society at UC Berkeley, will discuss her new book, Buddhist Economics: An Enlightened Approach to the Dismal Science.
Traditional economics measures the ways in which we spend our income, and doesn't attribute worth to the crucial human interactions that give our lives meaning. Clair Brown, an economist at UC Berkeley and a practicing Buddhist, has developed a holistic model, one based on the notion that quality of life should be measured by more than national income. Brown advocates an approach to organizing the economy that embraces, rather than skirts, questions of values, sustainability, and inequality.
Complementing the award-winning work of Paul Krugman and Jeffrey Sachs, and the paradigm-breaking spirit of Thomas Piketty and Amartya Sen, Brown incorporates the Buddhist emphasis on interconnectedness, capability, and happiness into her vision for a sustainable and compassionate world.
Please note that pre-registration on Eventbrite is required to attend. Priority seating will be given to those who have already registered on Eventbrite and arrive promptly. We cannot guarantee that we will hold your spot if you arrive after the event begins.
Copies of the book will be available for sale from Mrs. Dalloway's Bookstore.
This event is co-sponsored by the UC Berkeley Department of Economics, the Institute for Research in Labor and Employment, and the UC Berkeley Library.

---
DATE
Thursday, March 2, 2017
TIME
3:10 - 3:15 pm: Opening remarks by Christina Maslach
3:15 - 4 pm: Presentation by Clair Brown
4 - 4:30 pm: Reception/Book Signing
LOCATION
Social Science Matrix, 820 Barrows Hall
The Social Science Matrix office is located on the UC Berkeley campus in 820 Barrows Hall (near the corner of Bancroft Avenue and Barrow Lane). We are most easily reached via the east entrance of the building. Take the elevator on your right ("Elevator 2"), which is the only elevator that goes to the 8th floor. There is a special call button for the 8th floor. When you get out of the elevator, turn left and then left again down the long corridor into our office.