About this Event
This clsss is being offered as a weekly five-class series via live-stream starting on October 19th and running through November 16th. Those residing in the Pacific Northwest region of the US (WA, ID, MT & AK; outside this area? Find a Kadampa Center near you) may register, and upon registration will receive a link to enable them to watch and listen by phone, tablet or computer. 
Attend this class series to learn meditations taught by Buddha that engender peace, well-being, and a positive perspective on life's challenges. A new topic will be introduced each week, with ample time to practice meditation on that topic. At the end of this series, attendees will be more familiar with healthy ways of thinking that facilitate:
Continual development of meditation skills
Reduction of anxiety
Balance, peace and perspective
Reduction of conflict with others
Constructive and beneficial engagement with the world
Register here for the discounted series or simply drop in for any individual live-streamed class ($12 for each individual class, $6 students and seniors 62+).
Class Schedule
October 19 - The Clarity of Mind
October 26 - How to Not Sweat the Small Stuff
November 2 - Creating Good Karma
November 9 - Life Is Precious
November 16 - Inner Protection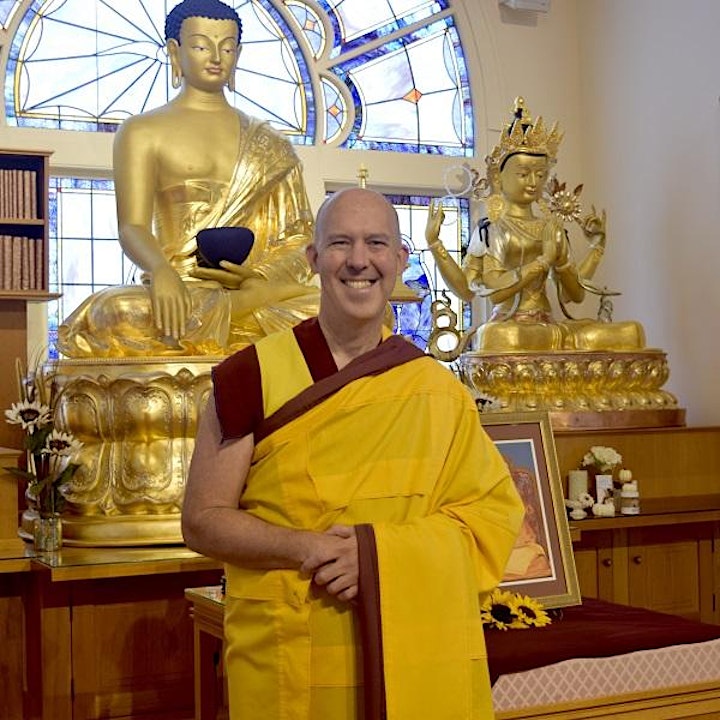 About the Teacher
The Monday Evening Meditation class is taught by Gen Kelsang Rinzin. Gen Rinzin was ordained as a Buddhist monk in 2004 and taught at Heruka Buddhist Center in Fort Collins for 15 years. He began teaching at Kadampa Meditation Center Washington in October 2020. Gen Rinzin communicates his love of Dharma with a down-to-earth approach and humor that helps the listener to appreciate and understand the teachings and put them into practice. His teachings are clear and practical, making them easy to apply to modern life.
Cost
$52 for the series and accompanying benefits described above; $26 for students/seniors 62+. Free for supporters of Kadampa Meditation Center WA.