Description
A group of world-class artists and musicians. A culture of self-development. A community of people eager to make a positive change. Experience one of the most inspiring art and meditation festivals in Los Angeles celebrating the values of kindness, giving, and self-expression.
The exhibition of paintings and installations at the heart of the Festival brings together a group of remarkable artists, who take delight in meditation and translate their personal and very exciting spiritual journeys into shapes and colors. This art captures the pure essence of the spiritual experience and conveys it to the viewer, eliciting feelings of profound love, happiness, and serenity.
In addition to a carefully curated lineup of artworks, the Budart Festival features music performances, meditation sessions, yoga classes, film screenings, food trucks, and much more. So we truly have something for everyone!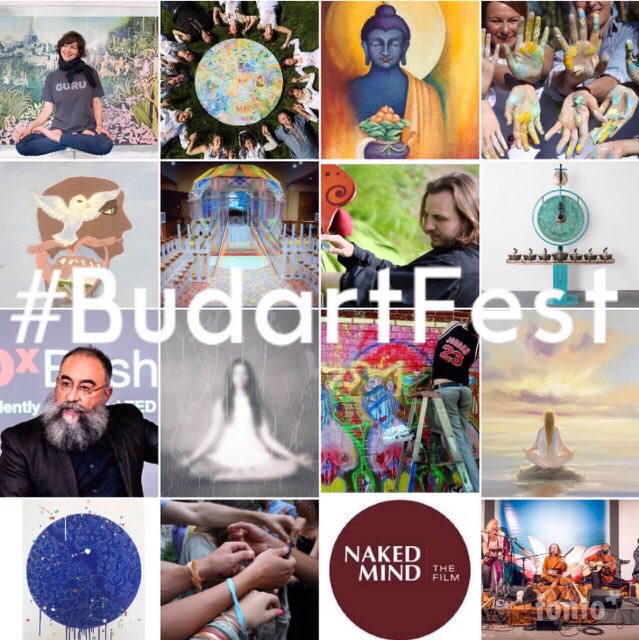 CONCERTS ~
CROSSURRENTS: A Concert of World Music. Denis Kucherov, Kailash Kokopelli, Rajib Karmakar and Amadou Fall
Saturday, September 16, 2017
7:00pm - 9:00pm
SAMHEY and Kailash – outstanding performers of traditional Indian music and world music – will give an unforgettable concert at the opening day of the Budart Festival. Come and abandon yourself to the charming rhythms of the Indian tabla, melancholic Rav drum, Slavic gusli, and a breathtaking sitar… These melodies heal and bring joy to the hearts!
"Sound Healing" by Kailash Kokopelli
Sunday, September 17, 2017
7:00pm - 9:00pm
This sound healing journey offers sacred soundscapes to the source within where all the healing powers can be found. A yoga of song and silence. An inner journey on the soundscapes of the Medicine Drum, Spirit Chants, Native American Flute, Crystal Singing Bowls, Didgeridoo and devotional heart songs. Clarity of body mind and spirit through the power of mantra meditation and sound medicine. Welcome to the nectar pool of the heart flower blossoming - remember who you are.
WORKSHOPS ~
"Interdependent: Lunch Practice" with Katherine Patiño Miranda
Wednesday, September 20, 2017
2:00pm - 5:00pm
All-White Dress code
Join the LUNCH practice to explore possibilities of taking col­lective decisions in one of our daily life activities: eating. The performance starts right on time in the lobby where participants are welcome with a refreshing drink. Together as a group we will proceed to the tables, and tie our wrists to the people next to us and remain tied throughout the whole a night. Drinking, eating and even moving through space are decisions tak­en communally. There is so much knowledge to be gained in mixing up with new people from time to time and experience inter-being!
"Journey to your Future Self" with Peter Oppermann
Sunday, September 17, 2017
11:00am - 2:00pm
In this guided meditation we are leaving linear time and engage in an inner dialogue with your 'Future Self', the part of yourself which already has access to your future state. This can be helpful if you're working on a creative project or are calling in more desirable circumstances at work or in your personal life. You will be able to ask questions relevant to the outcome of your project and learn about the 'Secret Sauce' of your success. Walk away with less anxiety and greater clarity about what the future may hold for you and which inspired action you can take right now.
ADMISSION IS FREE, but we recommend you should plan your visit in advance. The number of seats available for each of the festival events is limited.
How Does It Work?
1. Choose the events you are interested in;
2. Select the quantity of tickets for each of the events;
3. Choose an amount of your donation (certainly, if you wish to).