Budafly Travel Jamaica Takeover 2020

Thursday, June 25, 2020 at 8:00 AM

-

Sunday, June 28, 2020 at 12:00 PM (EST)
Event Details
"THE JAMAICA TAKEOVER"
GRAND PALLADIUM JAMAICA RESORT & SPA
June 25-28, 2020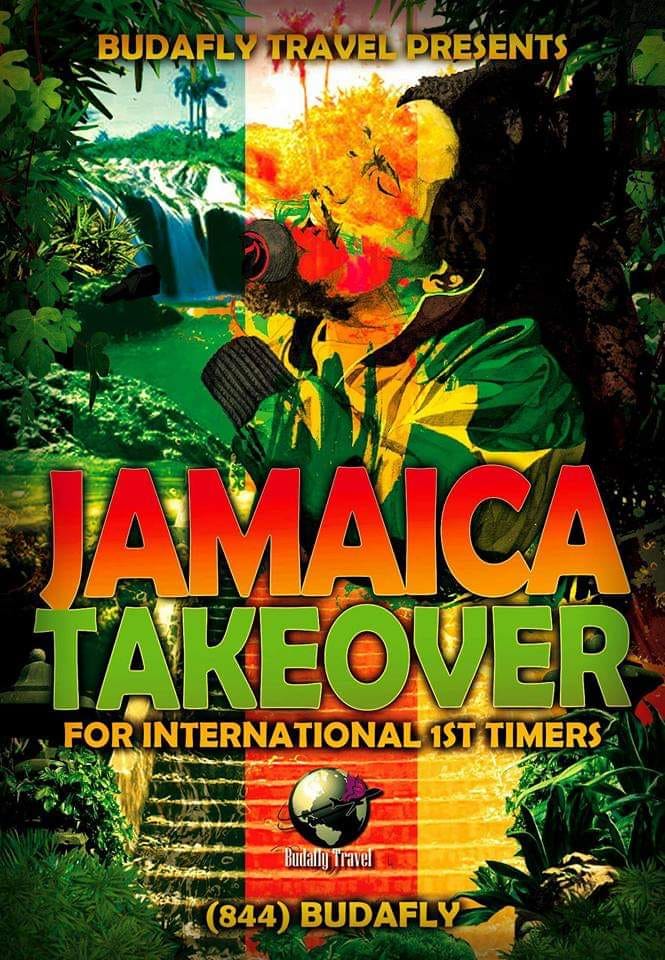 The Grand Palladium Resort & Spa is located beachfront on the breathtaking blue water or the northern Jamaica coast. Only 40 minutes from the Montego Bay airport, this resort features modern design and luxurious facilities that are in perfect harmony with the spectacular, natural surroundings of this remarkable country. The resort shares facilities and services with the neighboring Grand Palladium Lady Hamilton.

The Grand Palladium Resort & Spa consists of 540 rooms distributed into 15 villas of 3 levels each with 36 suites per villa. This All-Inclusive Resort boasts 10 restaurants (7 a la carte restaurants, 3 buffets), 13 bars, 5 pools including the largest pool in Jamaica, a first class spa & wellness center.


All Inclusive:
The all-inclusive evolves beyond excellence. Enjoy your stay with Infinite Indulgence. Services
with no limits, to all our Guests. Please yourself, with no limits. This is what vacations are for, and
this is our inspiration, offering you much more than an all-inclusive plan at Grand Palladium Hotels.
Feed your most exquisite cravings at our 'à la carte' international restaurants.The thirst for good
times, is satisfied with the finest spirits and drinks at every bar of the hotel. Share your joy, you have
free Wi-Fi in all our facilities. Enjoy a relaxing day in our Spa & Wellness Center**, or have fun
with any of our activities and shows.
** Access to the hydrotherapy areas (hot tubs, pool, sauna and steam baths) in our Zentropia
Palladium Spa & Wellnesscenters will have a $35 USD fee per guest, per day for Grand Palladium´s
guests. Also there will be offers and special attentions towards our guests. Guests who purchase
any of our spa treatments at Zentropia Palladium Spa & Wellness will be given free access to our
hydrotherapy areas that day.
Restaurants & Bars

: 
Enjoy a varied and delicious array of cuisine available for you and your companion and/or friends
and family at the Grand Palladium Jamaica Resort and at the 7 exquisite à la carte international
restaurants (Italian, Mexican, Asian, Indian, Grill, Barbeque, Creole-Jamaican and fish and rice). The
resort has three buffet style restaurants where you can choose different dishes as you like and get
taken in by the charm of the different thematic dinners that we offer throughout the week with no
reservation necessary (service subject to availability). The resort also has a Sports Bar serving snacks
and an endless array of options for you to enjoy during your stay (Romantic Dinners, etc.). Come
dance to the rhythm of reggae at our bar "Infinity" while taking in the view of the spacious pool and
the beauty of the Caribbean Sea from the terrace. Try our delicious "Bob Marley" cocktail with the
colours of the Jamaican flag while swimming in one of the largest pools on the island, or try our wide
selection of international and premium beverages at our bar "Miss Lou", complete with air
conditioning and game tables.

Grand Palladium Jamaica Resort & Spa also offer gluten-free menus and a special program for
people with allergies and intolerances.

Information and hours subject to changes.

For gentlemen, shirts or T-shirts with sleeves and long pants or formal bermuda are required in all a
la carte restaurants.
 
Alcoholic beverages are not sold to minors (drinking age – 18 years old).

Guests of the Grand Palladium Jamaica Resort & Spa enjoy free Access to all the bars and
restaurants in the complex.
Room Service:
Grand Palladium Jamaica Resort & Spa offers the highest quality room service included in your stay. Enjoy the
intimacy, comfort and exclusivity of our extensive selection, between 11 am and 11 pm. Our room service
includes starters, main dishes and desserts for all tastes. Salads, sandwiches and wraps are a great option as
starters or for a lighter bite. Quesadillas, hamburgers, pizza and pasta are some of our main dishes. Give in to
your sweet tooth with desserts such as fruit, brownies or crème caramel. Palladium Premium provides a final
elegant touch with gourmet recommendations, wines and cigars at an additional charge.


Sport & Leisure:
Activities and games in the main pools and at the beach.

Kids entertainment during the day and show for kids and mini disco at night.

Shows and games every night in the theater.

Boogie Woogie night club with air conditioning from11:00 pm – 2:00 am.

Catamaran*

Kayak

Snorkelling

Paddle boat

Windsurfing

Excursions*

Diving courses*

Sailing courses*

Windsurfing courses*

Motorized sports*




Golf:
The famous, world renowned golf course (known as the "Tryall Golf") offers guests of the Grand Palladium
Jamaica/Lady Hamilton Resort & Spa the opportunity to enjoy its 18 hole facilities (cart and caddy included). For
more information, please contact the hotel.*


Pools:
5 Pools. Umbrellas, sun beds, towels and showers free of charge. Guests may enjoy free access to all the
facilities of the Grand Palladium Jamaica/Lady Hamilton Resort & Spa.


Main Pool:
Four Built In Jaccuzzi's

Swim up bar

Surface area of 4.500m2

Maximum depth 1,55m
Rosella:
Located in the Grand Palladium Jamaica

Tranquil pool

Maximum depth1,55m
Coral Pool:
Located in the Grand Palladium Lady Hamilton

Adults only pool

Built in jacuzzi

Surface area of 500m2

Maximum depth 1,55m

Open until midnight
Spa Pool:
Lazy river

Built in jacuzzis

Maximum depth1,45m
Package Includes:
4Days/ 3Nights at the Grand Palladium Resort
Roundtrip Transfers (Airport/Resort/Airport)
All Meals, Alcohol & Snacks
Mini-Bar in room w/Beer, Soda & Juices (Refreshed Daily)
Meet & Greet
Group Activities
Raffles, Games & More
All Taxes & Gratuities
** Bonus**
 Mobay is Included
Land Only Packages: (Airfare Not Included)

Super Saver Jr. Suite - Two Double Beds or One King and Queen-Size Pull-Out Sofa; Jaccuzzi Tub in Bathroom; Balcony or Terrace; Garden View.
Double Accommodations (2 in a room)
Jr. Suite $599 per person
Payment Guidelines:
$50 Deposit per person – Now- Aug 1, 2019
$100 Deposit per person AFTER Aug 1, 2019
$30 or More Monthly Payments – August- Feb, 2020
ALL REMAINING BALANCES DUE, if any – March 1, 2020
(NO EXCEPTIONS!)
Policies:
-All payments are NON-REFUNDABLE & NON-TRANSFERABLE.
-Each individual is responsible for their own airfare to Sangster International Airport (MBJ)
-Flight itineraries are due to your agent 45 days prior to departure.

-If flight itineraries are not received 45 days prior to departure, you will be responsible for obtaining your own roundtrip transportation.
-A passport is required for this event.

-Please register in the name shown on your passport. 

-Travel Insurance is available for $118 per person
-It is best to pay your initial deposit as soon as possible to guarantee you are locked in at the above rates. Rates are subject to increase.

-If you fail to make monthly payments, your reservations are subject to cancellation and all monies paid will be forfeited.
-It is imperative to make sure your roommate's payments are made in a timely manner. If your roommate does not make timely payments or decides not to attend, you will be required to pay a higher Occupancy Rate.
-A $100 late fee will be imposed for all payments received after the final payment deadline (NO EXCEPTIONS).

-All correspondence regarding this trip is sent via email. Please provide an email address that is checked frequently.
CLUB MOBAY LOUNGE (VIP ARRIVAL & dEPARTURE)  *INCLUDED*
Imagine escaping from the stress and chaos of security lines and crowded departure halls to a sanctuary where you can relax, unwind or catch up with the office, all while immersed in warm Jamaican hospitality and culture. Whether you're traveling for business or pleasure, Club Mobay's lounge experience enhanced with an unrivaled visual journey through Jamaica's history provides the perfect place to unwind before departure.
With over 11,000 sq. ft of stylish comfort, Club Mobay offers the perfect departure experience whilst indulging in a refreshing beverage from our premium bar or something sweet and savoury from our snack counter. Each room represents a unique cultural experience combined with Jamaican hospitatily making your departure extra special.
VIP Arrival "Meet and Greet" Service you will be:

-Greeted upon disembarking the plane by a dedicated representative with a personalized paddle
-Escorted and expedited through immigration and customs
-Accompanied to our arrival VIP Lounge that provides amenities such as unlimited 
What better way to begin your Jamaican travel experience than with a personalized expedited service throughout the airport? A hassle free process that fast tracks you through immigration, customs and security



Arrivals at Club Mobay :

With our VIP Arrival "Meet and Greet" Service you will be:
-Greeted upon disembarking the plane by a dedicated representative with a personalized paddle
-Escorted and expedited through immigration and customs
-Accompanied to our arrival VIP Lounge that provides amenities such as unlimited complimentary Wi-fi, snacks and beverages, Private rest rooms, Newspaper and magazines all while you wait for your ground transportation

Our Arrivals lounge features the following: 
-Comfortable seating
-Complimentary Wi-Fi
-Complimentary snacks and beverages
-Private restroom and changing facilities
Newspapers and magazines



Departures at Club Mobay :



On your departure savour your last moments while relaxing in a comfortable environment.

Once you have checked in with your airline, our departure will allow: 
-Fast-track privileges through immigration and security
-Complimentary refreshments including fresh fruits, pastries, snacks, sandwiches, tapas, sushi, sliders and Jamaican patties
-Club Mobay Pickney Place; our one-of-a kind sound-controlled children's play-room (Club Mobay Only)
-Complimentary alcoholic and non-alcoholic beverages
-Complimentary Wi-Fi and a fully equipped Digicel business centre
-Dedicated suites reserved for adults-only, family or peace and quiet (Club Mobay Only)
-Shower facilities (Club Mobay Only)
-Free international phone calls to USA, Canada, and UK landlines
-Newspapers and magazines



 Trip Website: www.BTJamaicaTakeover.eventbrite.com
For More Info.... Contact:
LaNise 
Denise
Robena
Keesta
Joyce
(844) BUDAFLY
Save This Event
When & Where

Jamaica


Jamaica

Thursday, June 25, 2020 at 8:00 AM

-

Sunday, June 28, 2020 at 12:00 PM (EST)
Add to my calendar