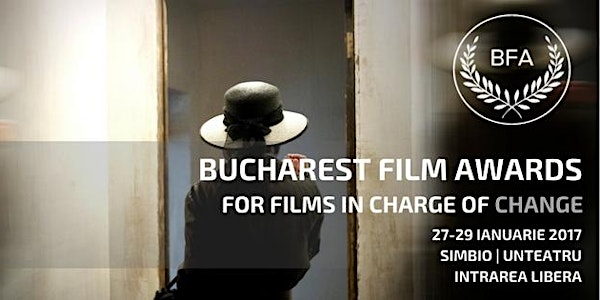 Bucharest Film Awards - For Films in Charge of Change
When and where
Location
Unteatru 44 Strada Sfinții Apostoli 030167 București Romania
Description
Bucharest Film Awards este o competiție internațională de film independent ce vrea să îți prezinte cele mai proaspete producții de film de scurt și lung metraj, găsite prin întreaga lume. Motto-ul nostru? For films in charge of change.
Suntem convinși că ai un top 10 cu cele mai bune filme care ți-au schimbat viața. Și mai știm și că ai o listă cu recomandări sau filme pe care le-ai văzut și revăzut de sute, zeci, mii de ori, cu care ți-ai tot bătut prietenii la cap de-a lungul timpului sau pe care le păstrezi strict în arhiva personală.
Ce-i drept, cu toții avem.
Ce uităm? Că încă mai sunt multe de căutatat, descoperit și vizionat. Alte liste cu filme "once in a lifetime" sunt în așteptare. Uneori, viața bate filmul. Sau invers. Dar chiar și așa, noi ne propunem să-ți mai livrăm ceva titluri de ținut minte încă vreme lungă de acum încolo.
Când? 27 – 29 ianuarie.
Unde? La Unteatru (Str. Sfinții Apostoli, nr.44) & Simbio (Str. Negustori, nr.26)
În trei zile de festival, filmul face diferența! Ne-am ocupat atent de selecție și am delegat specialiști în domeniu, din țări precum România, Mexic, Estonia, Marea Britanie să nu facă rabat de la cele mai bune scenarii, așa că dintr-un total de 550 proiecte înscrise, îți păstrăm spre vizionare 37, dintre cele mai cele. Cu ocazia asta îți mai vindem un pont: Bucharest Film Awards este un festival ce propune, prin întregul concept, o alternativă în raport cu conținutul promovat în industria cinematografică comercială.
Pe scurt: două spații alternative și trei zile pline cu filme pentru toate gusturile, ce aduc schimbări, mai mari sau mai mici.
Mai mult decât atât, includem în programul de festival chiar și un workshop de Scenaristică, susținut de Tudor Voican, cât și unul de muzică de film coordonat de ScoreKraft.
Intrarea este liberă, așa că nu ai scuză să stai în casă!
Pune de o rezervare fix aici: http://bit.ly/2iKhQcx
Evenimentul va beneficia de o serie de proiecții speciale, în parteneriat cu Bucharest ShortCut Cinefest și Feel The Reel - International Film Festival din Glasgow, United Kingdom.