Description
BUBBLY & CAVIAR
at Dallas Fish Market
Thursday, May 26th
6:30 PM - 8:30 PM
Join us for exclusive caviar bites and exquisite Champagne and sparkling tastings at Bubbly & Caviar!
Menu includes:
Paddlefish Caviar
Smoked Trout Roe
Sturgeon Caviar
Arctic Char Roe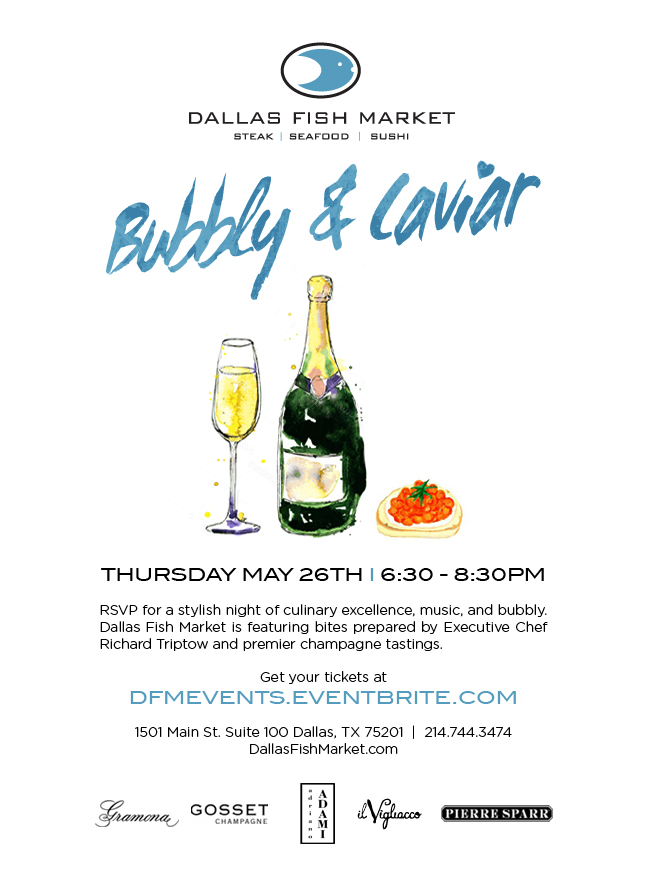 Organizer of Bubbly & Caviar
Dallas Fish Market is an award-winning modern seafood destination on Main Street in Downtown Dallas.  Since 2007, we have served the best seafood in Dallas with finesse - and an expertly trained staff.

Every day, the freshest catch is prepared by a continually acclaimed team of chefs.  Culinary treasures from the world's great food traditions provide an innovative approach to seafood in a stunning and stylish setting.

Start the meal with an appetizer like Prince Edward Island Mussels, followed by entrées like Alaskan Halibut, line caught swordfish and Ahi Tuna. Or, come by after work to try our hand crafted cocktails and watch as our dedicated sushi chef creates the perfect roll for you.

With accolades from Bon Appétit, Texas Monthly, D Magazine, and Best Seafood Restaurant list praise from The Dallas Morning News, Dallas Fish Market is a favorite for fans from around the corner and around the globe.