Bubbly, Bites & Baubles - Rice Village, Houston, TX
Description
Grab a girlfriend and join us for a ladies afternoon of mingling, shopping, light bites and wine tasting in Rice Village. 15% of all purchases benefit the local Houston non-profit The Diaper Foundation.

9.15.16 from 10am - 2pm

BUBBLES: wine tasting and pairings from ONEHOPE Wine
BITES: light snacks provided by Bar Bleu
BAUBLES: handmade precious stone jewelry from local designer Laura J Finery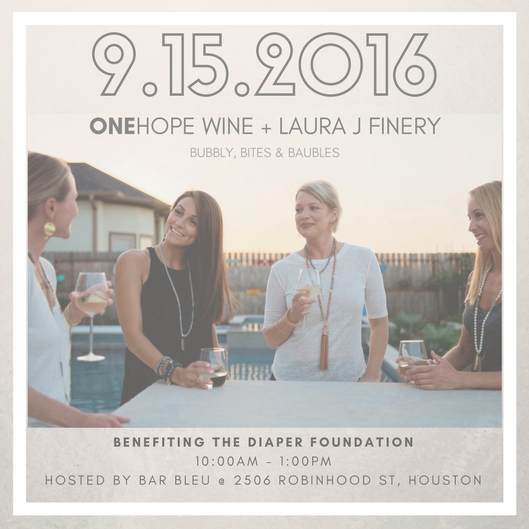 About The Diaper Foundation: We are a 501(c)(3) non-profit organization that helps underprivileged families in the Houston area acquire adequate diapering supplies for their children. In addition to diaper assistance, we focus on raising awareness on poverty issues, and providing families with hope for the future. Our mission is to empower women and their families to live healthily, and help them build a firm foundation of character principles that will support them throughout their lives.

About ONEHOPE: Our mission is to bring people together to celebrate and serve the world. Primarily produced in collaboration with Rob Mondavi Jr., ONEHOPE provides award-winning wine with a measurable social impact.

About LAURA J FINERY: Semi-precious and fine jewelry, hand-crafted and thoughtfully curated in Houston, Texas by designer Laura Jorn. This reputable and popular brand caters to women seeking jewelry that is feminine yet refined.
Save
Save