About this Event
Come join us for a luncheon at the San Francisco offices of Orrick, Herrington & Sutcliffe hosted by Orrick partner, Larry Kane, to learn about the Beat the Streets Bay Area, a local chapter of a national nonprofit organization aimed at empowering youth through the sport of wrestling. Everyone is welcome and we encourage attendees to bring anyone interested in eating free food, making a donation in person or learning more about how to get involved.
Agenda
Board members and other Beat the Streets staff, including Nancy Schultz and Lee Kemp (3x NCAA Champion and 3x World Champion) will provide a brief overview of the Beat the Streets, why wrestling, an update on the initial Oakland programs and future expansion plans.
Food & Drinks: assorted beverages, lights snacks, sandwiches and salad will be served.
Location: 405 Howard St, San Francisco, CA 94105
About Beat the Streets Bay Area
Beat the Streets has positively impacted the over 12,000 youth since 2006 (with over 6,000 in 2018 alone!) and created 200+ new wrestling programs in under-served communities in major cities across the United States, including New York City, Los Angeles, Philadelphia, Providence and Chicago, among others. The aim of Beat the Street Bay Area is to apply the same success strategy to the Bay Area with the initial launch in Oakland where we are currently operating two middle school programs. Using on the mat programming and off the mat resources, including a year-round mentoring programming, Beat the Streets Bay Area aims to develop the full academic and athletic potential of young men and women.
Getting Involved
While we have assembled a talented Board of Directors that includes local business and wrestling community leaders, including Nancy Schultz, Travis Lee (2x NCAA Champion), and Lee Kemp (3x NCAA Champion and 3x World Champion), we are on a mission and continually looking for people who want to get involved as volunteers, coaches, mentors, donors, and board members. If you are interested in getting involved let's have a conversation. For more information on this, please email info@btsba.org.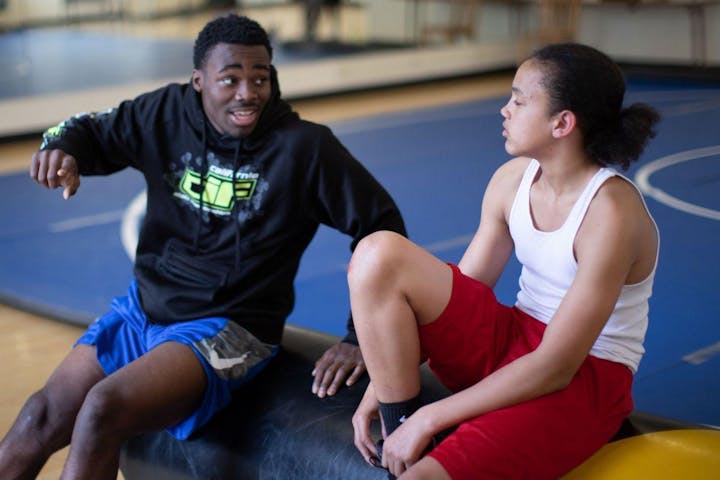 Above: Castlemont High School senior Denzel Mabry working with a middle school student at our Westlake program in Oakland. Denzel is working as an assistant coach in our program and giving back to his community.
Photo by Leonardo Flores