BTOP Program Director Keynotes: What Lessons Are We Learning in Getting Older Americans Online?

Tuesday, May 15, 2012 from 8:00 AM to 10:00 AM (EDT)
Event Details
You are invited....
to an event of the Broadband Breakfast Club, presented in
partnership with GOAL (Getting Older Adults onLine)
To see our event series:
http://broadbandbreakfastseries.eventbrite.com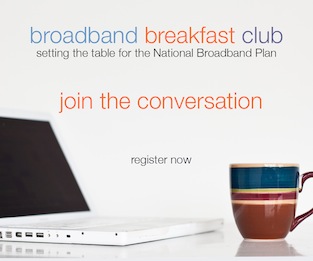 What Lessons Are We Learning in
Getting Older Americans Online?
Broadband could be vital force for older Americans: for connecting to one another, for better health care, for life-long learning, for government services, and for many other life-enhancing applications. And yet, as The Federal Communications Commission's National Broadband Plan found, while 65 percent of the general US population uses broadband, only 35 percent of Americans 65 and older are online. As our nation seeks to move toward universal broadband, what lessons have been learned about the needs and desires of older Americans and their relationship to broadband? This event will explore existing broadband initiatives, technology training programs, and the use of applications for older Americans.
Telecommunications advocates, policy-makers, journalists, top officials and the general public, all seeking to trade insights on these important issues, are invited to attend this event of the Broadband Breakfast Club, which includes full American and Continental breakfasts, for as little as $45.00, plus a modest registration fee.
This event is on the record and open to the public. 
For News and Events on BroadbandBreakfast.com follow us at http://www.twitter.com/broadbandcensus
Event Details
Title:  What Lessons Are We Learning in Getting Older Americans Online?
Date:  Tuesday, May 15th, 2012  8 a.m. - 10 a.m. 
Where:  Clyde's of Gallery Place, 707 7th Street NW, Washington, DC 20001
The breakfast begins at 8 a.m., followed by a discussion, beginning shortly after 8:30 a.m. and ending by 10 a.m.
Keynote Speaker:
Anthony (Tony) Wilhelm, Ph.D.
Director, Broadband Technology Opportunities Program
U.S. Department of Commerce – National Telecommunications & Information Administration
Over the past decade, both inside and outside of government, Anthony (Tony) Wilhelm has spearheaded some of our Nation's most important initiatives to expand the benefits of broadband and digital technology to all Americans, winning the prestigious 2010 Arthur S. Flemming award for exceptional contributions to the federal government and dedication to public service. Dr. Wilhelm is currently the senior executive in charge of the $4 billion Broadband Technology Opportunities Program, an initiative that expands broadband access and adoption in America and lays the groundwork for President Obama's innovation economy of the future.  Prior to running BTOP, Dr. Wilhelm led the successful conversion of America's television sets from analog to digital as one of the directors of the TV Converter Box Coupon Program.  This program has been nominated for numerous awards as one of the most successful public-private education campaigns in recent memory. Dr. Wilhelm has been an executive in private philanthropy and has written and spoken extensively on expanding opportunity in the digital age.  He earned his Ph.D. in public policy from the Claremont Graduate University's School for Politics and Economics in Claremont, California. 
Panel:
Elizabeth Crocker
Executive Director
Foundation for Rural Service
Elizabeth Crocker is the Executive Director of the Foundation for Rural Service(FRS), the philanthropic arm of the National Telecommunications Cooperative Association (NTCA). FRS educates the public about the benefits of a nationwide telecommunications network and promotes rural connectivity as an essential link in this network. The community-based telecommunications providers that FRS works with strive to offer state-of-the-art services to their customers and are proactively involved in making their communities better places to live and work. FRS supports rural telecommunication providers by disseminating programs, information, products and educational opportunities to increase their community involvement. Elizabeth oversees a wide variety of programs, ranging from youth-based initiatives and educational materials to consumer awareness and rural economic development. Recently, FRS released a white paper entitled, "Aging in Place and the Role of Broadband" as part of an NTCA effort to promote smart rural community opportunities and also highlight issues for seniors in rural America. Before coming to FRS, Elizabeth worked with the Wolf Trap Foundation, the office of Senator Joe Lieberman, the office of Secretary of Energy Bill Richardson, and the White House. 
Josh Gottheimer
Senior Counselor to the Chairman
Federal Communications Commission
Mr. Gottheimer serves as Chairman Genachowski's strategic advisor on a wide range of policy and legal matters with particular responsibility over the legislative, communications, intergovernmental affairs, and public liaison functions of the agency. He also focuses on steps the FCC can take - including considering the recommendations in the National Broadband Plan - to help the FCC build a 21st century communications infrastructure the country needs to compete and win in the global economy. Mr. Gottheimer served previously as Executive Vice President, Worldwide at Burson-Marsteller, a global communications firm; Director of Strategic Communications at Ford Motor Company, where he oversaw corporate advertising; Senior Advisor to the United States Commission on Civil Rights; Special Assistant to the President and Presidential Speechwriter to President Bill Clinton; and Deputy Director of Speechwriting and Senior Policy Advisor to the John Kerry for President Campaign.
John Horrigan
Vice President
Policy and Research
TechNet
John Horrigan is Vice President of Policy Research at TechNet, the bipartisan network of technology CEOs, where he is responsible for formulating and carrying out TechNet's research agenda to promote innovation. Prior to that, he was Research Director and member of the leadership team for the National Broadband Plan. He has a PhD in public policy analysis from the University of Texas at Austin. 
Thomas Kamber, Ph.D.
Founding Executive Director
Older Adults Technology Services
Thomas Kamber is the founding executive director of Older Adults Technology Services (OATS), where he has led the creation of the largest municipal technology program for senior citizens in the country—training more than 5000 senior citizens at over 50 locations since 2004 and leveraging over more than two million dollars in public and private financing.  His work at OATS has been covered in local and national print, television, and online media, and has been the subject of several academic studies of the intersection of aging and technology. Prior to launching OATS, Dr. Kamber held senior management positions at nonprofit housing and technology organizations, as well as political campaigns at the local, state, and national level.  He serves on the boards of the Afro-Latin Jazz Alliance, the Park Slope Geriatric Center, and Brooklyn Community Board Six.  In the private sector, he served as a senior brand strategist for D'Arcy advertising, where he helped design and implement communications strategy for Cap Gemini Ernst & Young, a leading global technology services corporation.  Dr. Kamber teaches courses on social entrepreneurship, urban research, and the social impact of technology at Columbia University, is a visiting fellow at the Advanced Communications Law and Policy institute at New York Law School, and has published widely on public policy topics.  He has a B.A. from Columbia College and a Ph.D. from the City University of New York. 
Tom Koutsky
Chief Policy Counsel
Connected Nation
As Chief Policy Counsel, Tom provides vision and leadership for Connected Nation's research and policy initiatives. Tom joined Connected Nation from the Federal Communications Commission where he served as a senior attorney advisor with the team that wrote the first U.S. National Broadband Plan. Tom focused on policy recommendations related to federal, state, and local policies, network infrastructure, the law and economics of middle mile connectivity, wholesale competition rules, and policy and universal service and access charge reform. Prior to his involvement with the National Broadband Plan, Tom served as chair of the FCC's North American Numbering Council.  Tom also was a resident scholar for the Phoenix Center for Advanced Legal and Economic Public Policy Studies, a nonprofit, 501(c)(3) think tank that focused on developing and advancing pro-entry telecommunications and video policies.  Tom has authored several published articles on broadband and telecommunications competition issues; made presentations before Congress, the FCC, and state commissioners; prepared policy bulletins and updates; and organized events, including annual U.S. Telecoms Symposia and State Regulator Retreats. Tom has also served in these roles in Washington DC: Vice President, Law and Public Policy, for Z-Tel Communications, Inc.; Assistant General Counsel for Covad Communications Company; Senior Attorney, Competition Division, Office of the General Counsel, Cable for the FCC; and associate attorney for Steptoe and Johnson. Koutsky earned his J.D. with Honors from The University of Chicago Law School in 1991 and B.A. with Highest University Honors from the University of Illinois in 1988.
Moderator:
This event will be moderated by Josh Smith, Staff Reporter for National Journal. Josh covers technology policy for National Journal. He previously interned at National Journal Daily, a Senate press office, and the Deseret News in Salt Lake City where he covered the state legislature, courts, and crime. In 2009 he graduated with honors from Southern Utah University after managing an award-winning student newspaper as editor-in-chief. Josh has received state, regional and national awards for his political and policy reporting, including first place in CapitolBeat's 2009 Best of Statehouse Reporting competition.
The Broadband Breakfast Club is a "widely attended event" under House of Representatives Rule 25, clause 5(a)(4)(A).
-----
For individuals outside of Washington, or those whose schedule doesn't permit attendance in person, archived webcasts of the Broadband Breakfast Club are available for free on BroadbandBreakfast.com.
The Broadband Breakfast Club seeks sponsorship of our events from interested companies and organizations. For details on sponsorship opportunities, please contact Sylvia Syracuse at 646-262-4630 or sylvia@broadbandcensus.com. The Broadband Breakfast Club is produced by Broadband Census News LLC. 
Follow us on Twitter at www.twitter.com/broadbandcensus
______________________________________________________________
The Broadband Breakfast Club is Sponsored By:





When & Where

Clyde's of Gallery Place
707 7th Street NW
Washington, DC 20001


Tuesday, May 15, 2012 from 8:00 AM to 10:00 AM (EDT)
Add to my calendar
Organizer
Broadband Breakfast Club
BroadbandBreakfast.com is an internet policy news and events service devoted to breaking news on Broadband policy issues including Broadband Stimulus, Wireless, the National Broadband Plan, Universal Service, and more. Our trenchant articles are free at BroadbandBreakfast.com.

To complement our news service, BroadbandBreakfast.com also hosts monthly "Breakfast Club" events and other special events.
Our Broadband Breakfast Club series meets monthly on the THIRD Tuesday of the month (except for August and December).
Events are held at Clyde's of Gallery Place, 707 7th St. NW, Washington, DC. Metro Stop: Chinatown/Gallery Place.
Events are open to the public and held from 8 am - 10 am, with full Continental and American breakfasts served from 8 am - 8:30 am.
To subscribe to our news service go to BroadbandBreakfast.com.
To register for our next event click on
http://broadbandbreakfast.eventbrite.com
To view our past and future events see 
http://broadbandbreakfastseries.eventbrite.com
To view our event videos see
http://broadbandbreakfast.com/category/broadband-tv/
The Broadband Breakfast Club is Sponsored By:



BTOP Program Director Keynotes: What Lessons Are We Learning in Getting Older Americans Online?