Headlining this year will be 2019 Grammy Nominee Danielle Nicole! The Rex Granite Band featuring Sarah Benck plus BluesEd join the DNB!
About this event
The Blues Society of Omaha presents our annual Memorial Day Eve Blues Festival!
Danielle Nicole Schnebelen began music from the moment she was born. Musical influences from generations on both sides of her parent's families ensured that a love of playing music would continue to be passed among her and her siblings.
Nicole began singing publicly with her parent's bands as a youth and took ahold of her full time in her early 20s. "My Father really loved the Blues. He'd go to all the true Blues guys that were around in KC, specifically Little Hatch. He'd played for Abb Locke (saxophonist for Muddy Waters) and we'd get brought along sometimes. The pure, raw emotion relayed through the Blues was what really drew me to it. Its history is the foundation of American Music and is THE one that must be respected and not buried as myth or legend."
As a founding member of the "Heavy Blues" sibling band Trampled Under Foot, she and her brothers took top honors at the International Blues Challenge in the US, propelling them into Canada, Scandinavia, Europe, UK and was featured on several Legendary Rhythm & Blues Cruises. It wasn't until 2015 that Nicole set out on her own with over a decade of touring experience in her purse with the release of "Wolf Den" recorded in New Orleans with Anders Osborne.
Nicole's "distinctive, inventive bass work"—which resulted in her not only becoming the first woman to ever be nominated in the category of Instrumentalist ~ Bass in The Blues Foundation's 2012 Blues Music Awards, but also the first woman to receive the honor—"is the product of years of intensive roadwork. Although she had no experience with the instrument when she became Trampled Under Foot's bassist, now Nicole can't imagine life without it."
Nicole's 2017 release of "Cry No More" ushered in not only a heavier sound and style differentiating Nicole's already broadening voice and writing, but also accrued a slew of accolades including a 2019 Grammy Nomination for Contemporary Blues Album; 2 Blues Music Awards for Contemporary Female Artist and her second Instrumentalist ~ Bass, and 3 Independent Blue Music Awards.
The Rex Granite Band featuring Sarah Benck was the Blues Society of Omaha's winner in the band category in 2020. The 4 piece band made it all the way to the semi-finals in Memphis at the International Blues Challenge.
BluesEd began in 2001 by the Blues Society of Omaha and was created to provide opportunities for talented Middle and High School age musicians to play with other students in a performing band format. Now boasting over 200 alumni the program continues to strive to "Keep the Blues Alive."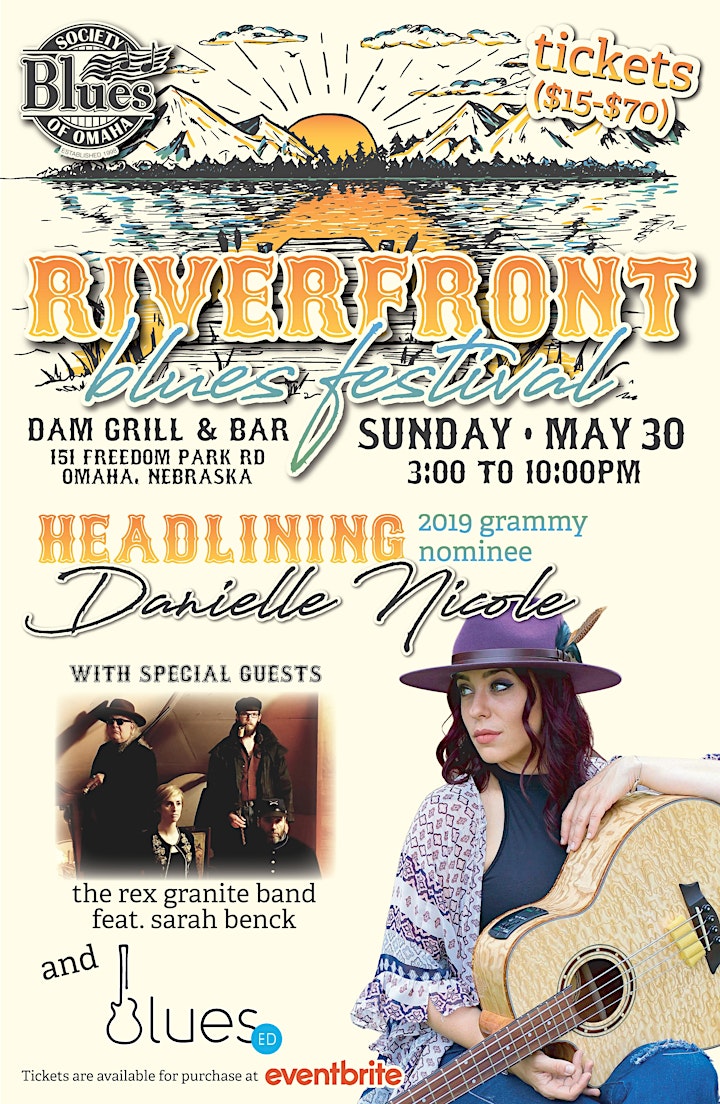 Organizer of BSO Riverfront Blues Fest