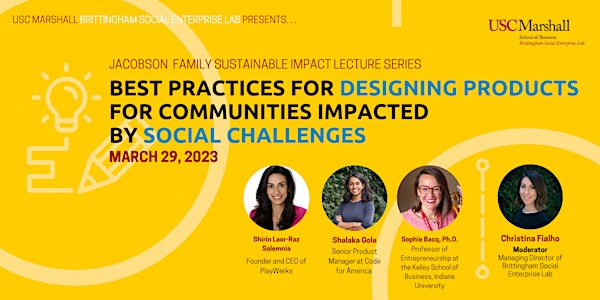 BSEL Jacobson Family Sustainable Impact Lecture Series
Best Practices for Designing Products for Communities Impacted by Social Challenges
By USC Marshall Brittingham Social Enterprise Lab
Date and time
Wednesday, March 29 · 12 - 1pm PDT
About this event
The 2022-2023 Jacobson Family Sustainable Impact Lecture Series addresses the topic "How Businesses are Centering Community in Social Impact."
The fifth lecture of this year's free series will feature a panel discussion and Q&A on Best Practices for Designing Products for Communities Impacted by Social Challenges.
Designing products and measuring their social impact are two sides of the same coin.  Oftentimes, there is a disconnect between those who are designing the products or services and the beneficiaries or users of those products and services.  More and more social impact leaders are shifting their mindset and beginning to work more closely with communities impacted by social challenges rather than working for them.  During our one-hour panel, we will discuss how social entrepreneurs and intrapreneurs are better aligning and understanding value propositions across stakeholders and measuring whether or not product design intentions match up with outcomes. 
Join us on March 29th at 12 pm PST to hear from social impact leaders:
Sophie Bacq, Ph.D., Professor of Entrepreneurship at the Kelley School of Business, Indiana University
Shalaka Gole, Senior Product Manager at Code for America
Shirin Laor-Raz Salemnia, Founder and CEO of PlayWerks
Moderated by Christina Fialho, Managing Director, BSEL
Webinar Link: https://usc.zoom.us/j/91050311859?pwd=RDNoSStkMzVPeGhITkx1emNEMWtadz09
Sophie Bacq, Ph.D., Professor of Entrepreneurship at the Kelley School of Business, Indiana University
Sophie Bacq, PhD is the Larry and Barbara Sharpf Associate Professor of Entrepreneurship at the Kelley School of Business, Indiana University. Her research program centers on entrepreneurial action aiming to solve intractable social and environmental problems. More specifically, Sophie examines and theorizes about social entrepreneurship and societal impact at the individual, organizational, and civic levels of analysis.
A widely recognized thought leader in social entrepreneurship, Sophie has taught and conducted empirical research on social entrepreneurship in Europe, the United States and South Africa. Her research has been published in Academy of Management Annals, Academy of Management Discoveries, Academy of Management Perspectives, Academy of Management Review, Academy of Management Learning & Education, California Management Review, Entrepreneurship: Theory & Practice, Journal of Business Venturing, and Journal of Management Studies, among others. Sophie currently serves as a Field Editor at the Journal of Business Venturing, and is a member of the Editorial Review Boards of the Academy of Management Journal, Entrepreneurship: Theory & Practice, and Journal of Management. She is a representative-at-large for the Entrepreneurship Division at AOM, the co-Director of The Annual Social Entrepreneurship Conference, and faculty of the Annual Social Entrepreneurship Doctoral Seminar.
Shalaka Gole, she / her, Senior Product Manager at Code for America
At Code for America, Shalaka works on the Safety Net portfolio, working directly with state agencies on improving their benefits experiences. In 2021, her team launched and scaled a state-wide application for 9 benefits programs including SNAP & childcare in Minnesota that is mobile-friendly, screen-readable, can be completed in 12 minutes, and available in multiple languages. She now works on Medicaid renewal processes with the state of Minnesota.
Previously, Shalaka worked at Tala as a UX researcher and Product Manager, launching the micro-credit product for India based out of Bangalore, and building repayment tools for teams in Kenya, the Philippines, and Mexico. At Tala, Shalaka was involved in founding Tala's Liberation committee focused on building equity within the organization.
On nights and weekends, Shalaka is a rock climber and volunteer and participant with organizations Brown Girls Climb and Lagartijas to support and celebrate people of the global majority entering the world of climbing. She graduated from USC with her B.S. in Business Administration, where she was a Brittingham Social Enterprise Scholar, Head Admission Ambassador, and founding member of student org USC Code the Change.
Shirin Laor-Raz Salemnia, Founder and CEO of PlayWerks
Shirin Laor-Raz Salemnia is the Founder and CEO of PlayWerks, an interactive media company that creates immersive games and experiences. At WhizGirls Academy students engage in project based learning with tech literacy while acquiring coding skills, entrepreneurship tools, and building confidence as members of their communities with a healthy balanced tech lifestyle slant.
As a thought leader and tech pioneer, Salemnia is also a TEDx speaker and was an esteemed panelist at the Milken Institute Global Conference, one of the most prestigious conferences in the world. Salemnia has been honored with these exemplary distinctions: The Los Angeles City Pioneer Woman of the Year, Tribeca Disruptor Innovation Fellow, and the IJWO Woman of the Year awards.
Christina M. Fialho, Managing Director, Brittingham Social Enterprise Lab
Christina is a social entrepreneur and attorney with over 15 years experience creating and scaling nonprofits and social change programming. Before joining the Lab, Christina served for over a decade as the co-founder/executive director of Freedom for Immigrants, a national nonprofit working to abolish the U.S. immigration detention system and build alternatives. There, she helped draft and pass several groundbreaking laws, such as the first statewide legislation in the United States to stop the expansion of for-profit immigration detention, the Dignity Not Detention Act.
She has been recognized with the 2020 John F. Kennedy New Frontier Award, an Ashoka Fellowship, and an Echoing Green Fellowship, among other awards. In addition, Christina was the first social entrepreneur-in-residence at UC San Diego's Rady School of Management, a consultant on Season 7 of Netflix's Orange Is the New Black, and an appointed member of the California State Bar's first Civil Justice Strategies Task Force. Her research on law, social innovation, and human rights has been published by Oxford University Press, Springer Publishing, and the Forced Migration Review. She also has written for most major news outlets, such as the Los Angeles Times, USA Today, Forbes, and InStyle Magazine. The daughter and granddaughter of immigrants, Christina currently serves on the board of the International Detention Coalition and is a Coach with Social Justice Partners - Los Angeles.