BSC Fireside + Dinner with Leo Kremer, Co-Founder of Dos Toros Taqueria

Monday, March 27, 2017 from 7:00 PM to 9:00 PM (EDT)
Event Details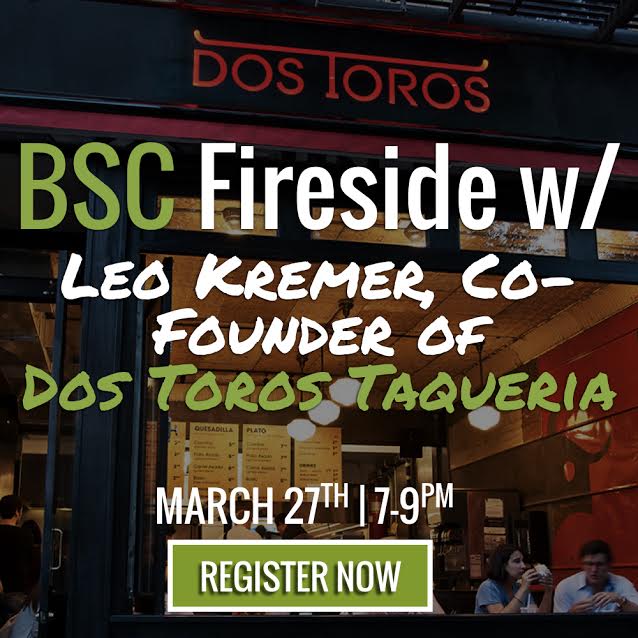 Join Marcos Salazar, Co-founder and Executive Director of Be Social Change, for an intimate fireside chat + dinner with Leo Kremer, Co-Founder of Dos Toros Taqueria, on Monday, March 27th at the Centre for Social Innovation. Marcos and Leo will discuss entrepreneurship, sustainability, trends in the food industry, as well as the journey it took to build one of the most successful Mexican restaurants in NYC.
Dinner will be provided by Dos Toros along with refreshments!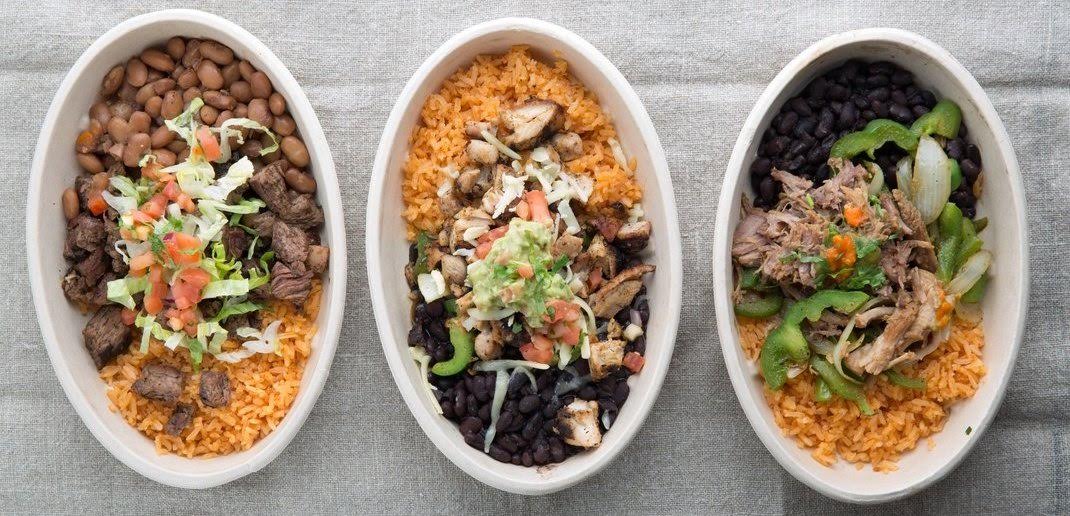 From sourcing naturally and humanely raised meats to composting their kitchen waste, Dos Toros takes sustainability seriously. Here are just a few stats:
Their chicken, steak, and pork are being 100% naturally and humanely raised, antibiotic and hormone free.

All kitchen food wastes are composted as well as their utensils, cups, straws, napkins, bags, and platos are compostable.

Their tables and wainscoting are all made from reclaimed wood.

There are no GMOs in their flour tortillas, corn tortillas, or rice.

Their thermal receipt paper is BPA-free.
SCHEDULE
6:30-7:00pm – Doors Open, Check In, Grab Dinner
7:10-7:50pm – Interview
7:50-8:20pm – Q&A
8:20-9:00pm – Networking
ABOUT BSC FIRESIDES
BSC Firesides are intimate discussions with founders, thought leaders, and innovators in the social impact space. Marcos dives deep with guests about new ideas, best practices, and lessons learned in developing innovative ways of growing purpose + impact. While our "Future of" Series are panel discussions about a specific topic or theme, BSC Fireside provides a space to not only delve into the unique expertise of our guest but also into origin stories of the innovative nonprofit, purpose-driven business or social good startup they are leading as well as the personality behind someone driving a movement or new way of thinking when creating social change.
ABOUT DOS TOROS TAQUERIA
Brothers Leo and Oliver Kremer founded Dos Toros Taqueria, the Bay-Area style eatery pledged to bring a classic West Coast staple to the burrito starved East Coast, as a single location in New York City's Union Square in 2009. Attracting a bevy of NYC Foodies and West Coast transplants alike, the taqueria has reached double-digit locations in Manhattan and Brooklyn since. Reviewed thoroughly in publications including The New York Times, Eater Magazine, & Forbes among others, Dos Toros pledges to "Delight Every Guest in a Way That Inspires Loyalty" and has consistently been ranked nationally for their burritos, tacos and quesadillas. They cook all their recipes in house everyday, using only 100% naturally raised meats & tote sustainability as a core value. Dos Toros Taqueria plans on expanding throughout the East Coast in the coming years.
MORE ABOUT LEO AND OLIVER KREMER
Leo Kremer and Oliver Kremer grew up in Berkeley, California. It was there that they discovered burritos and began frequenting local taquerias in the Bay Area.
Leo Kremer came to the restaurant industry somewhat unexpectedly, having spent a lot of time as a professional musician, with a brief stint in management consulting. In 2007 after graduating from UC Berkeley an opportunity arose to play bass for Bay Area rock band Third Eye Blind. For two and a half years Leo toured with the band, playing in front of thousands across the world, but he ultimately decided to return to his first love – burritos – and build a business with his brother Oliver.
At Washington University in St. Louis, Oliver flexed his entrepreneurial muscles in the business world, cofounding a digital startup devoted to helping students find off-campus housing. After graduating with a degree in finance in 2008, he moved back to San Francisco interested in the field of renewable energy, specifically solar power. However, his love of burritos stayed with him, and he knew his true calling was bringing burritos to the people.
Oliver and Leo spent over a year cooking, tasting, and recipe testing, until they got each flavor just right. After looking at over 30 potential sites in downtown Manhattan, they settled on a tiny storefront just south of Union Square. In October 2009, the first location of Dos Toros Taqueria opened.
Dos Toros has seen steady growth since that time and has increased the pace of growth recently. In June 2016 Dos Toros opened its 11th location!
After a couple months of perfecting the process and a lot of learning, Dos Toros was reviewed in the "$25 and under" section of the New York Times (January 2010). After the glowing review, business exploded and Dos Toros hasn't looked back since. Leo lives in Manhattan with his wife and daughter, they are expecting their second momentarily.
MORE ABOUT MARCOS SALAZAR
Marcos Salazar (@marcossalazar) is asocial entrepreneur,career + life coach,consultant,speaker, and community builder. His passion is working with professionals, entrepreneurs, and creatives to help them pursue work they are passionate about, build authentic personal brands, become financially successful, and create lives that make the world a better place. He does this through1-on-1 coaching,nonprofit and businesses consulting, and on a larger scale as Co-founder + Executive Director of Be Social Change where he's built the largest social impact community and professional development hub in New York City. Marcos earned a B.A. in Psychology from Amherst College as well as a Masters in Organizational Management and an Executive Leadership Coaching certificate from The George Washington University. Marcos is a board member of the Young Professionals Nonprofit Network and an American Express Leadership Academy Fellow. You can learn more about him at www.MarcosSalazar.com.
SPACE PARTNER
The Centre for Social Innovation (@csiSL) is a home for nonprofits and social entrepreneurs in New York City. They're building a movement of passionate people committed to a better world. Learn more at http://nyc.socialinnovation.org/.
===========================================================
Refund Policy: Refunds can be issued in full up to 48 hours prior to the start of the event by contacting Be Social Change.
When & Where

Centre for Social Innovation
601 West 26th Street
#325
New York, NY 10001


Monday, March 27, 2017 from 7:00 PM to 9:00 PM (EDT)
Add to my calendar
Organizer
Be Social Change




Be Social Change is New York's largest social impact community with a mission to educate and connect the next generation of purpose-driven professionals, entrepreneurs, and creatives. Through professional and personal development classes, community-building events, and resource-sharing tools, we empower people from all sectors and industries to pursue meaningful work and create lives that make the world a better place. Learn more >>
BSC Fireside + Dinner with Leo Kremer, Co-Founder of Dos Toros Taqueria