Description
Perfect your downward dog under the trees at our 14th season of outdoor yoga classes, presented by Manduka with instructors curated by Yoga Journal. Manduka provides a colorful selection of mats, no need to bring your own.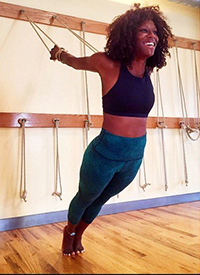 Today's class is led by Misha Hajj. Misha is moved by not only the amazing physical benefits of yoga, but the mental, emotional, karmic and spiritual benefits. You can always find an aligned dynamic vinyasa sequence, a funky arm balance or a challenging inversional flow in her classes. What Misha finds to be an integral aspect of yoga is the kula, or community.
Don't forget to bring your Frequent Yogi card to each class. You'll get a stamp when you check in to earn your way toward rewards from Manduka and Yoga Journal.
---
PHOTO CREDIT: ANGELITO JUSAY PHOTOGRAPHY