Description
PLEASE NOTE TODAY'S CLASS WILL BE HELD AT THE FOUNTAIN TERRACE WITH LIMITED SPACE. PLEASE SHOW UP AT LEAST 30 MINUTES IN ADVANCE TO SECURE YOUR SPOT.
Perfect your downward dog under the trees at our 14th season of outdoor yoga classes, presented by Manduka with instructors curated by Yoga Journal. Manduka provides a colorful selection of mats, no need to bring your own.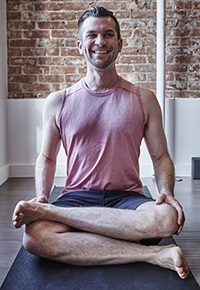 Today's class is led by John Murray, co-founder of Lyons Den Power Yoga in New York City. John has been teaching in NYC exclusively at The Den for the past three years, after completing 200+ hours of training with Baron Baptiste, Paige Elenson and the Baptiste Institute. In addition to his yoga training, John brings a wealth of leadership experience in "the real world" to the mat. John has run some of New York City's biggest restaurant/entertainment properties and most recently served as the Chief Operating Officer for the Craveable Hospitality Group. After teaching business leaders for many years, he is now passionate about teaching leadership and personal development through the practice of yoga.
Don't forget to bring your Frequent Yogi card to each class. You'll get a stamp when you check in to earn your way toward rewards from Manduka and Yoga Journal.
---
PHOTO CREDIT: ANGELITO JUSAY PHOTOGRAPHY