Description
Perfect your downward dog under the trees at our 14th season of outdoor yoga classes, presented by Manduka with instructors curated by Yoga Journal.
Manduka provides a colorful selection of mats - if you would like to secure one, please arrive at least 30 minutes before class begins. Otherwise, feel free to bring your own!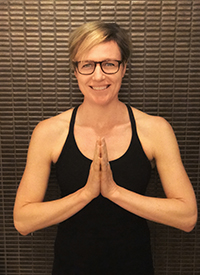 Today's class is led by Danielle Dugan. Danielle has been practicing yoga since 1999 and teaching yoga since 2005. She enjoys incorporating all the aspects of the training she's had in asana, breathing, meditation, therapeutics into every class regardless of the format. Yoga should be accessible to all people and bodies regardless of age or limitations. In this class we will play with basic shapes in the body, infuse them with breath and focus our minds while doing so. The hope is that we will all leave feeling better physically and mentally. All are welcome!
Don't forget to bring your Frequent Yogi card to each class. You'll get a stamp when you check in to earn your way toward rewards from Manduka and Yoga Journal.
---
PHOTO CREDIT: ANGELITO JUSAY PHOTOGRAPHY