Description
Perfect your downward dog under the trees at our 14th season of outdoor yoga classes, presented by Manduka with instructors curated by Yoga Journal. Manduka provides a colorful selection of mats, no need to bring your own.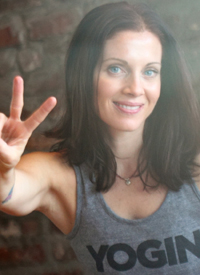 Today's class is led by Danielle Diamond. Danielle, founder of Xen Strength Yoga, is a yoga and lifestyle expert, who has been inspiring others to get happy, strong and calm for over 15 years. Her passion is making all 8 limbs of yoga accessible on and off the mat, so your health and happiness are accessible and non-negotiable. Grab a free yoga video from her site at xenstrength.com
Danielle will be teaching a creative vinyasa flow class in the style of her Xen Strength Yoga with Weights method. No weights, no problem- just bring along two water bottles! This class is accessible to all levels and can be done without any added weights as well. Xen Strength Yoga is a revolutionary method that provides a transformational workout designed to sculpt, lengthen, and challenge every muscle so you'll get flexible and strong all at once!
Don't forget to bring your Frequent Yogi card to each class. You'll get a stamp when you check in to earn your way toward rewards from Manduka and Yoga Journal.
---
PHOTO CREDIT: ANGELITO JUSAY PHOTOGRAPHY