Description
AVF members get 25% reduction. get your COUPON-code by emailing Zjef Van Acker via zva@vertical-farming.net
Brussels Conference – Policy Challenges for Vertical Farming
We subsidize cheap cookies with expensive healthcare!
The Association for Vertical Farming (AVF) is pleased to announce a forum to highlight the outcome of the two day Brussels Vertical Farming Workshop and provide a discussion platform for the participants as well as for a larger audience. Included are also presentations by expert speakers on the subject and engagement network opportunity for all involved.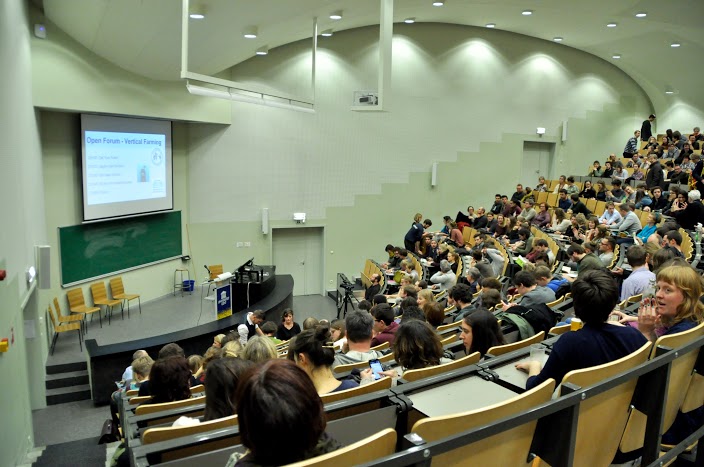 The event of the Brussels Vertical Farming Conference will be held on the 1st of July at the St Lucas Architecture School. Since Brussels is at the heart of policy making for Europe, the conference topic will revolve around this subject and offer experts opinions and insight to engage under the topic "Policy Challenges for Vertical Farming". Clearly, an innovation driven new typology in food production will require adoption of different new policy instruments in metropolitan planning compared to the traditional policy framework for "rural" food production. Policy considerations need to be discussed with the important stakeholders and careful attention to the aim and scope is paramount. Preventing unintended consequences call for serious forward thinking combined with lessons learned from failures as the development of this fragile movement of Vertical Farming is becoming mature.
19.00 Reception and registration
19:30 Introduction Conference and Concept (Thomas Zöllner)
19.35 Introduction by Christine Zimmerman (Chairwoman of AVF)
19:40 Keynote 1 – Mark Horler (AVF operations & Policy, founder Re-Growth.org)
20:00 Keynote 2 – Pieter Jens (Koppert Biological Systems)
20.20 Discussion and Q&A
20.40 Network Break
21:00 AVF-Workshop Session VI: The Public Presentation
20:30 Discussion and Q&A
20:40 Keynote 3 – Tycho Vermeulen (Wageningen University)
21:10 Feedback from expert panel on workshop design
21.30 Final Discussions and Conclusions
21:45 Closing reception
Brussels AVF workshop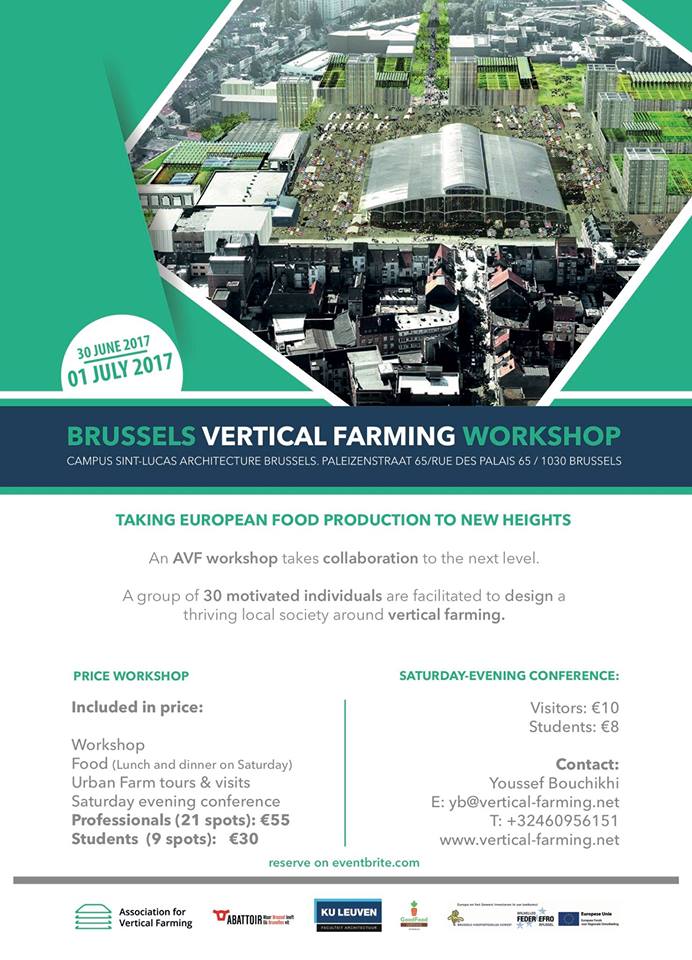 Vertical Farming touches the foundations of our society, it is at the center of the food, water, energy & shelter nexus. So if it is done right, vertical farming has an enormous potential to help transform our society into a truly sustainable one.
And that's what the AVF-workshop is all about, it takes collaboration to the next level.
During the 2-day workshop a group of 30 motivated individuals are facilitated to design a thriving local society around vertical farming. Each team member's background will prove to be of indispensable value to bring the project to a successful conclusion. There is a need for architects, technology wizards, marketeers, finance experts, business people, Law-specialists, cooks, engineers, life-coaches,... all experiences and backgrounds are needed.
The only requirement for participating is that you are passionate about Vertical Farming.
Design a full blown Vertical Farming concept with a team of passionate experts (Photo: La tour vivant by SOA architects)
The rules of engagement
Ways of Working
This workshop is to design a small community of individuals, businesses and other organisations. Hence working together is not as easy as it sounds. Only with a solid foundation of respect and openness, a community of individuals with many different ideas and backgrounds, can come up with fantastic solutions. That's why for the AVF-workshop, there is a code of to work together .
Find more details about the AVF-workshops via this link.
The Six Sessions
To facilitate the AVF-workshop, 6 sessions have been predefined. However, everyone should know that a plan is only a plan and is always subjected to change. Hence, the sessions are guidelines and not rules. If the participants come up with better or more creative ideas, the sessions will change accordingly.
Session I – Workshop Warm Up (weeks before the event)
Session II – Introduction to the Urban Jungle (Day 1)
Session III – Brainstorm the Ecosystem (Day 1)
Session IV – Designing the Ecosystem (Day 2)
Session V – The Ultimate Proposal (Day 2)
Session VI – The Public Presentation (Day 2)
The Urban Farming Movement
During the event many important players from the local and international Urban and Vertical Farming Movement will be present. They will support the participants with their knowledge and experiences.
AVF members get 25% reduction. get your COUPON-code by emailing Zjef Van Acker via zva@vertical-farming.net
Agenda of the Brussels workshop
Friday June 30th, 2017
06.45 - Registration at Abattoir
07.00 - Start tour abattoir
08.30 - Welcome & Introduction by AVF
09.00 Case speakers
10.00 - Tour by Champignons de BXL
11.00 KnowHow Boost (5 short but informative presentations)
Prof. Danny Geelen (Uni of Ghent)

Ir Tycho Vermeulen (Wageningen Uni)
Bart Mertens (Millibeter)
Mark Horler (AVF operations and policy, Re-Growth.org founder)
Vasileios Vallas (PLantHive)
12.30 - Lunch by Cultureghem
14.00 Gathering at Campus Sint Lucas Architecture
14.15 Introduction to the Biggest Brainstorm
14.30 Start the Biggest brainstorm
16.00 4min Pitches of the 6 teams
16.30 Election of the best Model to go forward with
16.45 Short group discussion about the chosen model
17.00 Wrap up of Day 1
17.15 After Talks @ local bar: De zotten Ezel
Saturday July 1st, 2017
08.30 Gathering at Campus Sint Lucas Architecture
09.00 Introduction to Session IV
09.15 Break up into teams and start planning specific parts of the Ecosystem
11.30 4min pitches of the morning creativity
12.00 Group Discussion
12.30 Informal lunch
13. 00 Introduction to Session V
13.15 Breaking up into groups and start finishing the plan
16.30 4 min pitches of afternoon creations
17.00 Group Discussion on final plan
17.30 Wrap up workshop Day 2
17.45 Allocation of tasks for Final Presentations Preparations and food
20.00 Start Conference - click on this link for the Agenda
The Case - The Abattoir
The Abattoir is French for "Slaughterhouse", and although that's still one of the activities that are happening at the site, it's hard to describe what the Abattoir actually is. There's so many things happening these days: Huge markets, many Urban Farming projects, social gatherings and projects, parties, housing, offices,... and so much more.
The Abattoir is a hot spot in Brussels, and that is why it is the perfect case for a Vertical Farm.
In 2009, the Abattoir started looking at the possibilities for future development of their huge site. The goal is to transform the temporary market trading places into more permanent accommodation and strengthen the Abattoir vision for new commercial short-term developments. These developments have to support the traders, but also of the entire neighbourhood and its inhabitants.
About the Association for Vertical Farming
The Association for Vertical Farming (AVF) is an internationally active non-profit organization fostering the sustainable growth of the vertical farming industry through education and collaboration. The AVF focuses on advancing Urban and Vertical Farming technologies, designs and businesses.
Location
Campus Sint-Lucas Architecture Brussels
Paleizenstraat 65/rue des palais 65
1030 Brussels
Price workshop
Included in price:
Workshop

Food (Lunch and dinner on Saturday)

Urban Farm tours & visits

Saturday evening conference
Professionals (21 spots): €55
Students (9 spots): €30
Saturday-evening presentations:
Visitors: €10
Students: €8
There's only 30 spots available so don't hesitate and register now via this link

AVF members get 25% reduction. get your COUPON-code by emailing Zjef Van Acker via zva@vertical-farming.net
For more information contact
Youssef Bouchikhi
E: yb@vertical-farming.net
T: +32460956151
www.vertical-farming.net
AVF members get 25% reduction. get your COUPON-code by emailing Zjef Van Acker via zva@vertical-farming.net