Description
Escape the Summer heat, and join us for an evening of cool, brush lettering! Working with a pointed brush and watercolors, you'll get a great introduction to the basics of this very popular lettering style. Your experienced instructor will guide you through the basic strokes, rhythmic patterns, and full brush-lettering alphabet. You'l create dynamic letterforms and create colorful words, phrases and quotes to take home.
No previous lettering experience necessary.
Note: Brushes, watercolors, instructional handouts, and some paper will be provided for use in the class. (Brushes will also be available for purchase at cost.)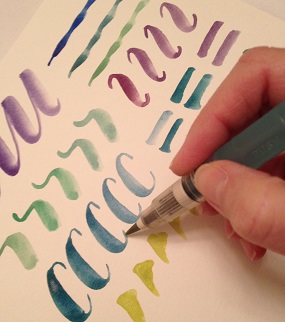 Image and course description copyright by Debra Dick, 2016.
Instructor: Lettering Artist, Debra Dick---Deb has taught people of all ages in her calligraphy workshops and artist's residencies at schools, libraries and museums. She has been a rostered artist with the PA Council on the Arts, Arts in Education Program since 2001. Deb also teaches through the Society of Scribes NYC and the Philadelphia Calligraphers' Society.