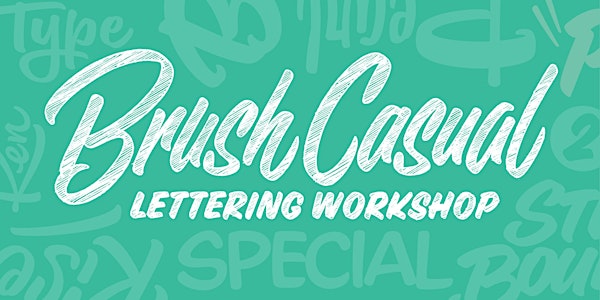 Brush Casual Lettering
Learn practical pencil-sketching techniques for drawing a unique variety of informal brush lettering styles without even picking up a brush!
Refund Policy
Refunds up to 7 days before event
Eventbrite's fee is nonrefundable.
About this event
Did you know that you can create killer brush lettering without using an actual brush? In fact, a lot of professional letterers draw brush-like letterforms completely by hand. During this fun and informative class, you'll learn pencil-sketching techniques for drawing the versatile sans serif Brush Casual style. Much like its script sibling, Brush Casual can express loads of different moods, which means that it's perfect for adding warmth and personality to your hand-lettering. Whether you're a complete beginner or an experienced artist, you'll gain the know-how for drawing unconnected Brush Casual lettering across a broad spectrum of weights and styles.
The workshop will begin with a visual presentation detailing the origins of Brush Casual in commercial advertising and sign making. Next, we'll review the different tools responsible for giving brush strokes their distinctive appearance. After you understand how the letters have been traditionally made, I'll show you drawing techniques during a live demonstration so you can imitate a variety of brush styles just by using an ordinary pen or pencil. Most important, you'll learn how to modify the contours of Brush Casual letters to create unique lettering only possible by the drawing process. This is an especially useful method for creating logos, inked lettering, digital artwork, vector outlines, fonts, and any other letterforms that require clean simple silhouettes. Friendly, forceful, easy-going, or assertive, the attitudes that you can express with Brush Casual letters are endless!
All of these details and more will be presented during informative slide presentations, and illustrated in real time through live lettering demonstrations. Draw with me and ask questions, or simply watch and follow along. In addition to the eye-opening Q&A and hands-on instructional sessions, you'll gain a greater command of Brush Casual with the help of a comprehensive PDF guidebook!
In this class, you'll learn:
• How to produce Brush Casual lettering in a variety of styles
• How traditional tools have given brush letters their unique look
• Pencil drawing methods to imitate Brush Casual forms
• Techniques for modifying the contours of brush lettering
• Correct sizing and spacing of brush letterforms
• Common mistakes to avoid while drawing brush letters
This class is ideal for:
• Enthusiastic beginners eager to establish good practices for drawing Brush Casual lettering
• Experienced letterers who want to expand their knowledge of brush letters, and add to their repertoire of styles
• Designers seeking a deeper understanding of brush forms to aid in font selection and type pairing
• Art directors who want to confidently hire skilled lettering artists, and improve their communication with professional letterers
• Illustrators and other artists interested in adding informal sans serif brush letters in their work
You'll need these materials if you choose to draw along with me:
• a stable internet connection and access to the Zoom app
• pencil and sharpener
• an eraser
• some tracing paper
• grid/graph paper
• a ruler
Optional materials:
• pointed brush markers (Tombow Dual Brush, Faber-Castell PITT artist pen Big Brush, and Sharpie Brush are some of my favorites.)
• assorted markers, like Crayola and chisel-tipped markers
• an iPad with Procreate if that's your thing. However, no hardware/software instruction will be given.
• a copy of the House Industries Lettering Manual is strongly recommended
Interested in personal instruction?
Although I won't be able to comment on attendees' individual lettering pieces during the workshop, students who would like one-on-one instruction are encouraged to purchase an add-on ticket for one-hour private lettering instruction.
Because the focus of the class is on creating a unique live experience for attendees, please note that there will not be a recording of the event available after the workshop.
Brush Casual Lettering is open to enthusiastic students of all skill levels—register today!

Example of hand-drawn Brush Casual pencil sketch and the final lettering

Hi! I'm Ken Barber, a letterer, type designer, author, and instructor. I blame Don Martin comics, Santa Cruz skateboard graphics, and speed metal logos for my obsession with letterforms. For over 25 years I've produced distinctive logos for global brands, in addition to a number of award-winning fonts. My work is part of a few fancy institutions, including the Cooper-Hewitt National Design Museum, and the Henry Ford Museum of American Innovation. I'm the type director and studio letterer at House Industries, and I teach at The Cooper Union in New York City. I've authored three graphic design books, the most recent of which is my Lettering Manual released in 2020.