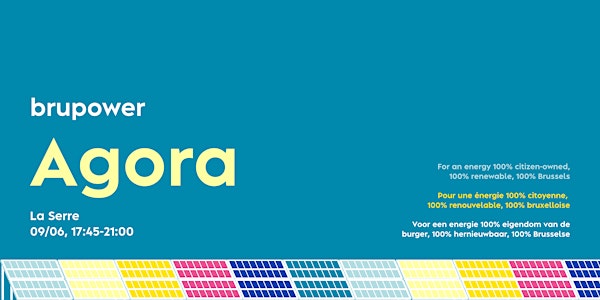 brupower Agora
Mark your calendars / À notez dans votre agenda / Noteer in jullie agenda: brupower Agora!
Date and time
Friday, June 9 · 6 - 9pm CEST
Location
La Serre (Communa asbl) 171 Rue Gray 1050 Ixelles Belgium
About this event
English
brupower: the new citizen energy cooperative of Brussels. For an energy 100% citizen-owned, 100% renewable, 100% Brussels.
---
Mark your calendars for the brupower Agora! On 9 June, the brupower community will meet to discuss the latest updates of the cooperative, look back at what has been achieved, as well as what is coming up! More importantly, this is an excellent opportunity to meet each other again and enjoy!
Français
brupower: la nouvelle coopérative d'énergie citoyenne de la Région bruxelloise. Une énergie 100% citoyenne, 100% renouvelable, 100% bruxelloise.
---
À notez dans votre agenda: brupower Agora! Rendez-vous le 9 juin à 18h pour découvrir Brupower et ses coopérateurs. C'est une occasion de mieux comprendre les projets de la coopérative, ses avancées et la dynamique collective. Vous souhaitez en savoir plus ? c'est le bon moment pour se rencontrer et échanger.
Nederlands
brupower: de nieuwe energiecoöperatie van het Brussels Gewest! 100% eigen, 100% brussels, 100% hernieuwbare energie.
---
Noteer in jullie agenda: Brupower Agora! Afspraak 9 juni om 18 uur om Brupower en zijn cooperanten te ontdekken. Het is de gelegenheid de projecten van de cooperatie, de voortgang en de nieuwigheden te ontdekken! Wilt u er meer weten? Dit is het moment elkaar te ontmoeten en uit te wisselen.
Agenda
17:45 Welcoming drinks / Accueil / Ontvangst
18:15 brupower news and testimonies / Les nouvelles de la coopérative et témoignages de coopérateurs / Nieuws van de coöperatie en getuigenissen van de coöperanten
19:05 Quiz on renewable energy / Quizz des énergies renouvelables citoyennes / Decentrale hernieuwbare energiequiz
19:25 Participatory workshops on the cooperative's work / Ateliers participatifs sur les enjeux de la coopérative / Hands-on workshops over de uitdagingen van de coöperatie
The bar will be open between 18h and 21h! / Bar et petite restauration ouvert de 18h à 21h! / Bar met kleine hapjes open tussen 18h en 21h!