#BRUNCHWITHSOUL @VSS

Sunday, April 19, 2015 from 10:00 AM to 12:00 PM (PDT)
Event Details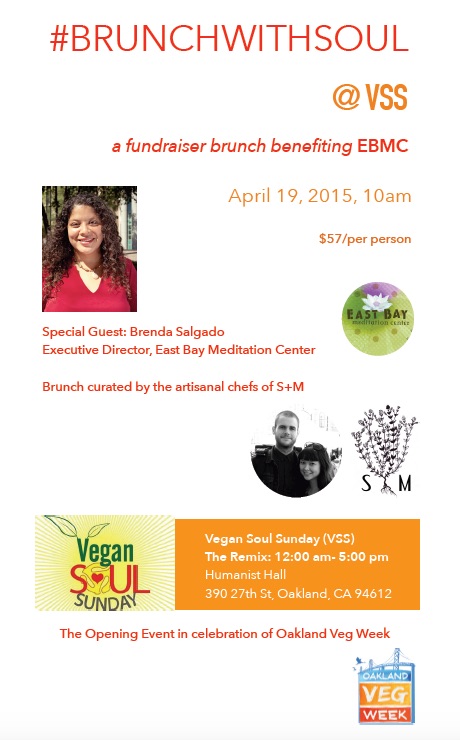 About the East Bay Meditation Center 
Founded to provide a welcoming environment for people of color, members of the LGBTQI community, people with disabilities, and other underrepresented communities, the East Bay Meditation Center welcomes everyone seeking to end suffering and cultivate happiness.  Our mission is to foster liberation, personal and interpersonal healing, social action, and inclusive community building.  We offer mindfulness practices and teachings on wisdom and compassion from Buddhist and other spiritual traditions. Rooted in our commitment to diversity, we operate with transparent democratic governance, generosity-based economics, and environmental sustainability.

Brenda Salgado, Special Guest
Brenda Salgado, is the Executive Director of the East Bay Meditation Center. With over 13 years of experience in nonprofit leadership and management, facilitation, strategy and consulting.  She has worked in the areas of environmental health and justice, women's health and health equity. Throughout Brenda's career, she has served organizations such as the Movement Strategy Center, Breast Cancer Action, Literacy for Environmental Justice and Kids for the Bay.  Brenda is first generation Nicaraguan-American, born and raised in the San Francisco Bay Area. She draws on the healing powers of the natural world to inform and guide her work. She is grateful to her mentors, parents, and ancestors for instilling the cultural and spiritual values that have led her to social justice and nonprofit work. She is committed to the role of practice, culture, ceremony, relationship building and community wisdom in creating a society filled with wholeness and beauty.

About Brunch
Us at S+M Vegan couldn't be more excited to cook brunch for you on Vegan Soul Sunday! Our menu will be gluten free, all vegan, and all flavor. Expect buckwheat crêpes benedict, a fresh Spring salad, homefries, and more deliciousness to kick off Oakland Veg Week. A portion of the proceeds will benefit the East Bay Meditation Center, to support their inspiring community building effort. Seating is limited.


When & Where

Humanist Hall
390 27th Street
Oakland, CA 94612


Sunday, April 19, 2015 from 10:00 AM to 12:00 PM (PDT)
Add to my calendar
Organizer

Bee Uytiepo, Vegan
Healing is Giving, Principal Facilitator & Beelight, Owner
Bee Uytiepo is the owner of Beelight, a women's wellness practice. She is the founder and principal facilitator of Healing is Giving. Healing is Giving hosts community events and vegan retreats, hosted by vegans.


She has studied and practiced meditation since she was 13 years old. She has taught meditation as a volunteer throughout Southern and Northern California for over 10 years. In Bee's wellness practice, she offers wholistic options for chronic pain relief, optimal fertility, pelvic health and sexual reproductive health.
Beelight offers natural, potentially adjunct, therapies like Mecier Therapy and Neuromuscular Reprogramming to support comprehensive healing.
Bee has been fascinated by body-mind healing arts throughout her whole life. Bee studied performing arts, interpersonal relations, voice, dance and movement which led her to the study of healing arts and meditation all over the world. She is an organizer for Marin Vegans, SF Bay Area Vegan Business Owners, and founder of VIBE (vegan. inspired. business. empowerment) Resource Group. Bee co-organizes Vegan Soul Sunday in Oakland. Bee lives in Marin County, CA with her dog and cat.
Bee originally opened her wellness practice in San Rafael. She continues to offer compassionate self-care services in Larkspur, San Rafael and throughout Northern California.


Jasmin Singer, Vegan
Author and Activist Extraordinaire
Jasmin Singer is the author of the memoir, Always Too Much and Never Enough (Penguin Random House Berkley; 2016), which documents her
journey to find herself through juicing, veganism, and love, as she went
from fat to thin and from feeding her emotions to feeding her soul. Jasmin was named a 2016 "40 Under 40" by The Advocate Magazine and a 2015 "Eco-Preneur" by Go Magazine. The Our Hen House podcast – which
Jasmin co-hosts – has been honored twice by the coveted Webby Awards. In addition to co-hosting Our Hen House, now in its seventh year, Jasmin is the host of the Teaching Jasmin How to Cook Vegan Podcast, can be
seen in the award-winning documentaries Vegucated and The Ghosts In Our Machine, and has also appeared on the Dr. Oz Show and HuffPo Live. She has contributed to several anthologies (including Defiant Daughters,
Running Eating Thinking, and Circles of Compassion), and is a contributing writer for VegNews Magazine. When she's not traveling around giving book talks or presenting workshops on veganism and activism, Jasmin spends her downtime at home in New York City. Follow Jasmin on Twitter: @ourhenhouse @jasmin_singer, and visit
jasminsinger.com for updates.
Psalm Lewis
Vegan Chef & Nutrition Coach
Psalm Lewis is a Certified Chef and Health Coach based in Oakland, California. Trained as a Raw Food Chef and Low Glycemic Cuisine Chef, received my training at the Institute of Integrative Nutrition in New York City, the Alissa Cohen Living on Live Food program in Boston, MA, and Pure Joy Culinary Academy in Patagonia, AZ. Psalm has experienced the benefits of a plant based diet and have been able to walk away from a lifestyle of morbid obesity. She has been maintaining a weight loss of over 200 lbs. Whole foods have played a significant role in my ability to transform her body and life.
By 2009, Psalm's commitment to greater wellness lead me to develop a business that would allow her to demonstrate how vegan cooking can be affordable and accessible.The emphasis on whole foods and plant based menus for home cooking is essential to recover derailed health.
Her mission is to inspire individuals and families to incorporate more vegetables, nuts, seeds,
and grains, in their dining traditions. Psalm founded Collard Gal to marry her personal triumphs with her culinary and nutritional training. The result is conscious nourishment cuisine which is a style of cooking tasty nutrient rich food. Conscious Nourishment Cuisine is influenced by the ingredients available locally, economic conditions, modern life, and the guidelines of vegetarianism.


Yesica Arredondo, Vegan
Yoga Teacher
Yesica fell in love with yoga back in 2004 and has been practicing yoga on and off the mat ever since. She is a 200-hour trained RYT yoga teacher. She particularly enjoys teaching those who are brand new to yoga offering an introductory class that helps them understand the fundamentals of yoga poses and build confidence to enter a public yoga class.
Yesica's mission is to promote positive body image by practicing yoga on and off the mat as well as creating a space of inclusivity without judgement.
She manages the yoga program at The Mindful Body, San Francisco. Additionally, Yesica has worked in the vegan food business for 9 years helping vegan brands with community outreach. On her downtime you can find Yesica volunteering at local events and photographing her vegan journey on instagram (@digiyesica).