AN EARLY AFTERNOON OF BRUNCH, NETWORKING & GETTING DOWN TO BUSINESS
About this event
There's no fluff stuff here! So,get your pitch, business cards and appetite ready to be filled with the real, raw and truth about starting, operating and maintaining a business as an Entrepreneur, all while learning HOW TO LOVE AND LIVE in YOUR best selves! So if you want that good, the bad and ugly, this is truly the event for you!
The first of our Business Networking and Brunches hosted by Ericka Porter Mba Media Maven Worldwide includes: The Interactive Panel "My Bag, My Business". Panelists Include: Cassandra Bell, Tiffany Thigpen, Que Johnson, Nakita Nicci, Viola Nicholson and Lakita Montgomery and will be moderated by Chicago's Favorite, Cabryl Chats.
"My Bag,My Business" will feature Chicago's Own Amazingly, Talented Women who are Powerhouse Entrepreneurs in the Arts, Entertainment and Media Industries, who have had some major life changing experiences that have encouraged them to PUSH towards their dreams. Women who empower and inspire others. And of course, Women who's hustle is on overflow! These Divas are Women who are fearless in sharing the Raw Truth, No Sugar Coating!
The afternoon also includes an Elevator Pitch Session to introduce your product, service or brand to the attendees (Limited Spaces available) and Special Offers. This is a Free RSVP ONLY entry!$30.00 Brunch Buffet and $15.00 Unlimited Mimosas are not INCLUDED and will be available to purchase at the restaurant.
Vendor opportunities are available!
**Table seating for attendees who patronize the establishment.
LIMITED SPACES ARE AVAILABLE!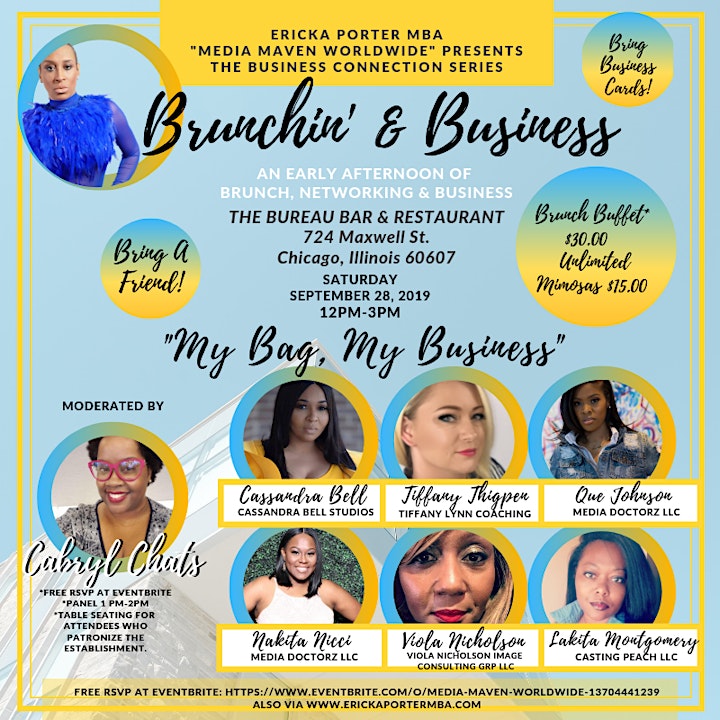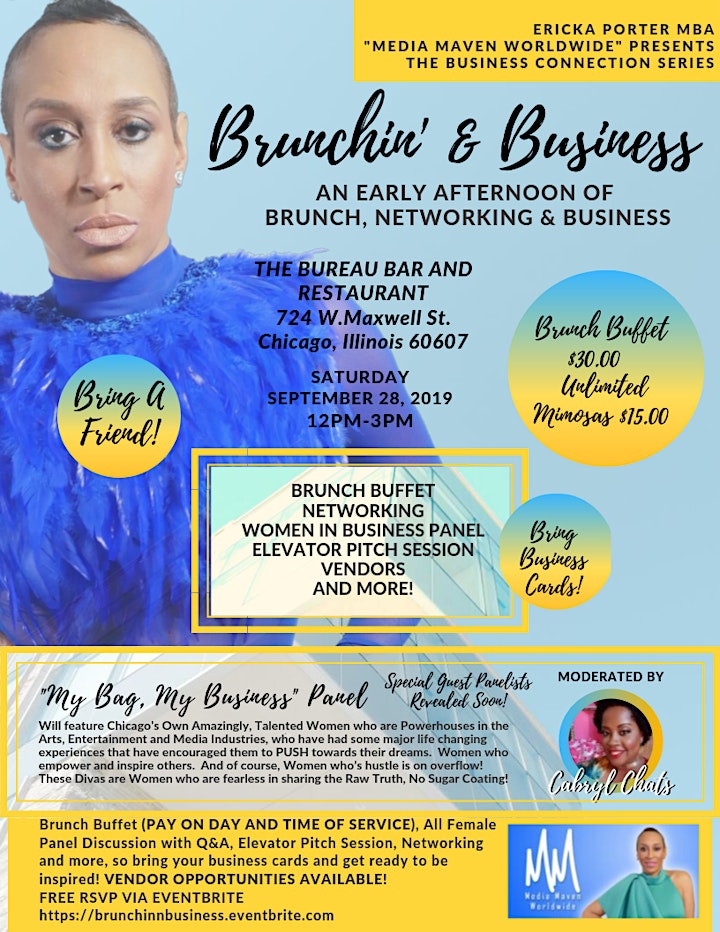 Organizer of Brunchin & Business