About this Event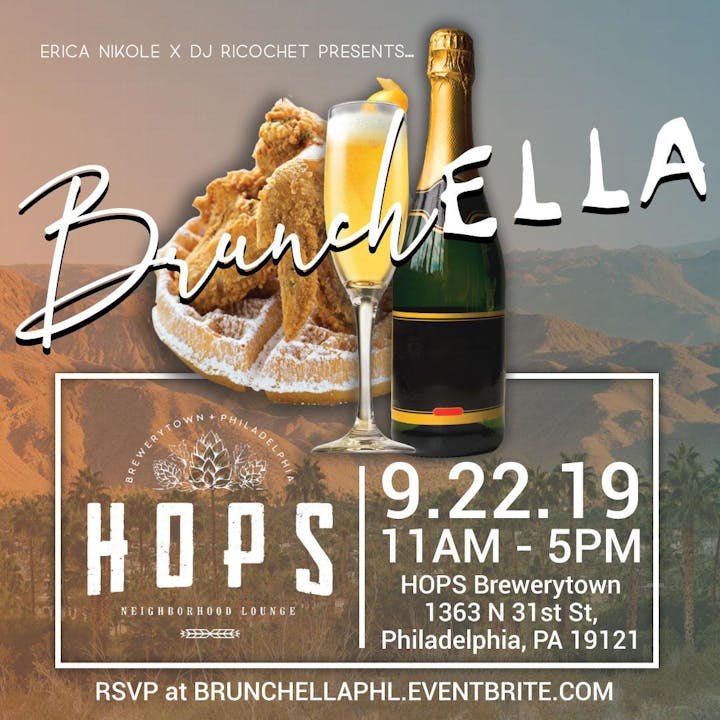 Ladies and Gentlemen, We are BACK to deliver to you a prestigious brunch event that will surely exceed your expectations!

B R U N C H E L L A.
Delectable food? ✔️
Bottomless Mimosas? ✔️
Aesthetically pleasing atmosphere? ✔️
Unmatched sound mixing and vibes? ✔️
Top notch service? ✔️
A helluva good time? ✔️✔️✔️



Welcome to Brunchella!
Brought to you by Erica Nikole and DJ Ricochet!...

Curated to deliver an elite social life experience, this event will undoubtedly elevate what you may know as 'brunch'. We invite you to HOPS Brewerytown, a modish, environmentally forward bi-level, instagram worthy restaurant, bar, and lounge offering exquisite eats and bottomless mimosas [1.5 hour blocks].

Basically, on 9/22/19, you and your friends have somewhere to be!!!

With 'Coachella' influences, the purpose of BRUNCHELLA is to deliver a fabulous experience delivered through channels of music, dance, arts and every possible window of interaction open to an individual. Brunch meets the fun of Coachella and YOU are the STAR!!!

RSVP's are REQUIRED to attend however, this DOES NOT GUARANTEE SEATING. To secure definite seating, please call the restaurant directly at (267.886.8402) to make a reservation for brunch seating or use OPENTABLE to make your reservation . ALL TABLES HAVE A 90 MINUTE SEATING LIMIT, please make sure your entire party arrives at once. Afterwards, we invite you to join us in our bar area for the remainder of the brunch party! Bar and outdoor seating are on a First come / First Serve basis. WALK INS ARE WELCOMED WITH A RSVP!

BRUNCH will end at 3pm.
Happy Hour begins with drink specials at 3pm - 5pm.
Bottle Service is available.

This EVENT is RSVP ONLY!!!!!!

- IF YOU DO NOT RSVP, YOU WILL NOT BE ADMITTED! NO EXCEPTIONS!!!!