Description
Brunchaholic Seafood Sundays
Each & Every Sunday...
Crisis Bar
913 Broadway Brooklyn, NY

Doors open 2pm-11pm

Lit music by Top DJs! Don't miss the turn up at Crisis!!
Dj Snap, Dj Prince NYC, Dj Johnny Hanson,
Dj Big Lou, Dj Crowd Control
Dj Kaos, Dj Korrek, Dj Will & Dj Supa Cee
For reservations text 347- 699-6596
ENJOY YOUR SUNDAY FUNDAY AT CRISIS BAR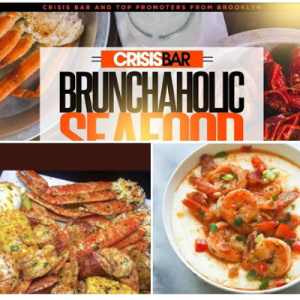 Large pitchers of Rum Punch $30
WITH FOUR OR MORE GUESTS YOU
Celebrate With Us And Get Catered To Like Royalty!
PERSONAL BIRTHDAY FLYER
BIRTHDAY SHOUT OUTS
Shrimp & Lobster Loaded Nachos
Shrimp or Fish Quesadilla
Bakes & Salt-fish with plantains & avocado
Two clusters Snow Crab Legs, sweet corn on
the cob & potatoes in the cajun-creole sauce.
1pc Fish, Fried Shrimp, Calamari & Fries
Golden Fried Shrimp with Juicy Steak
(NY Strip steak, Salmon with mashed potatoes)
CELEBRATIONS, RESERVATIONS,
QUESTIONS CONTACT 347 699 6596