Watch Chef Anthony Chittum from his kitchen at Iron Gate as he prepares a signature dish to make your New Year brunch tastier than ever.
About this Event
Awarded for his inspired Greek and Italian cuisine, Chef Chittum will teach you how to bring those sun-ripened flavors to your table.
In this 30-minute cooking demo, you'll learn the skills and techniques you'll need to prepare a delicious brunch at home for your family. From how to source the best local ingredients to the proper way to hold a knife, Chef Chittum will offer his practical tips to have you preparing brunch from home like a pro.
This event will be streamed online.
We want to keep everyone safe. In response to COVID-19, this cooking demo will be streamed online on New Year's Day as part of our lineup of free National Bell Festival experiences. Sign up to receive connection and streaming details right to your inbox.
What's brunch got to do with it?
Washingtonians take brunch seriously – and that's especially true for us here at the National Bell Festival. New Year's Day was made for brunch! The exquisite balance of sweet and savory goodness; the acknowledgement that on New Year's Day we might roll out of bed a little later than usual; the scintillation of a bubbling mimosa…all combine to make brunch the perfect meal. Now, you can enjoy the best of brunch from home!
Eggs in Purgatory, delivered.
Prepare brunch alongside Chef Chittum in your own kitchen! Download the complete recipe for Iron Gate's "Eggs in Purgatory" – which Chef Chittum will prepare on New Year's Day – and taste the hearty goodness of a home-cooked brunch. Even better: we're partnering with Neighborhood Provisions to bring the ingredients right to your door!
Pre-order Chef Chittum's sourdough focaccia, one dozen eggs, and all accompanying ingredients pre-measured for you, along with his recipe and instructions. The whole kit will be delivered to your door on Dec. 31, 2020 (available in D.C. metro area only). Pre-order now!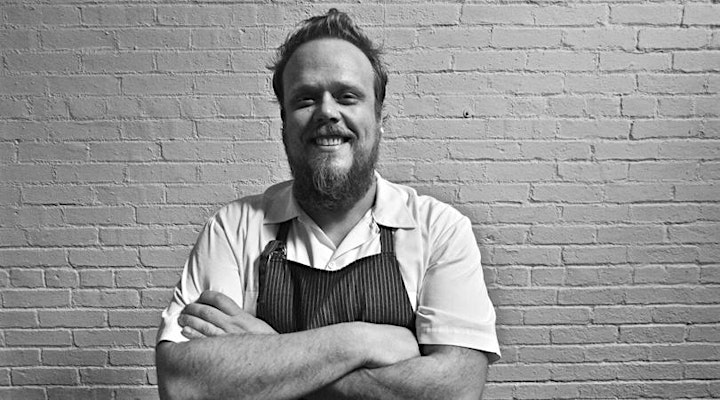 Meet the chef.
Anthony Chittum takes inspiration from the cuisines of Greece, Sicily, Sardinia, and Southern Italy, and interprets those traditions and techniques through the use of the finest products of the Mid-Atlantic foodshed. A native of Maryland's Eastern Shore, he has earned a reputation not only for his cooking, but also for his commitment to sourcing from an ever-expanding network of local farmers, watermen, and food artisans.
As the executive chef of Iron Gate, Chef Chittum has earned three stars from The Washington Post and was named a Semifinalist by the James Beard Foundation in 2015. Chef Chittum has been featured in The New York Times, The Washington Post, USA Today, Capitol File, and more.
In late 2013, he led the revitalization and reopening of what was, until closing temporarily during the coronavirus pandemic, the oldest continuously operating restaurant in Washington, D.C., having first opened its doors in 1923. The Iron Gate restaurant encompasses three distinct areas: a sixty-foot-long archway that forms the entry to the space and serves as a dining and bar area; an intimate indoor dining room in what was originally a stable in the 1800s; and a large courtyard overhung by grapevines and a century-old wisteria vine. At Iron Gate, Chef Chittum maintains this commitment to the best of the region as he reinterprets the classic cooking traditions and techniques of Southern Italy and Greece, eschewing imported products in favor of local alternatives whenever possible and utilizing the rotisserie, wood burning grill and oven.