Description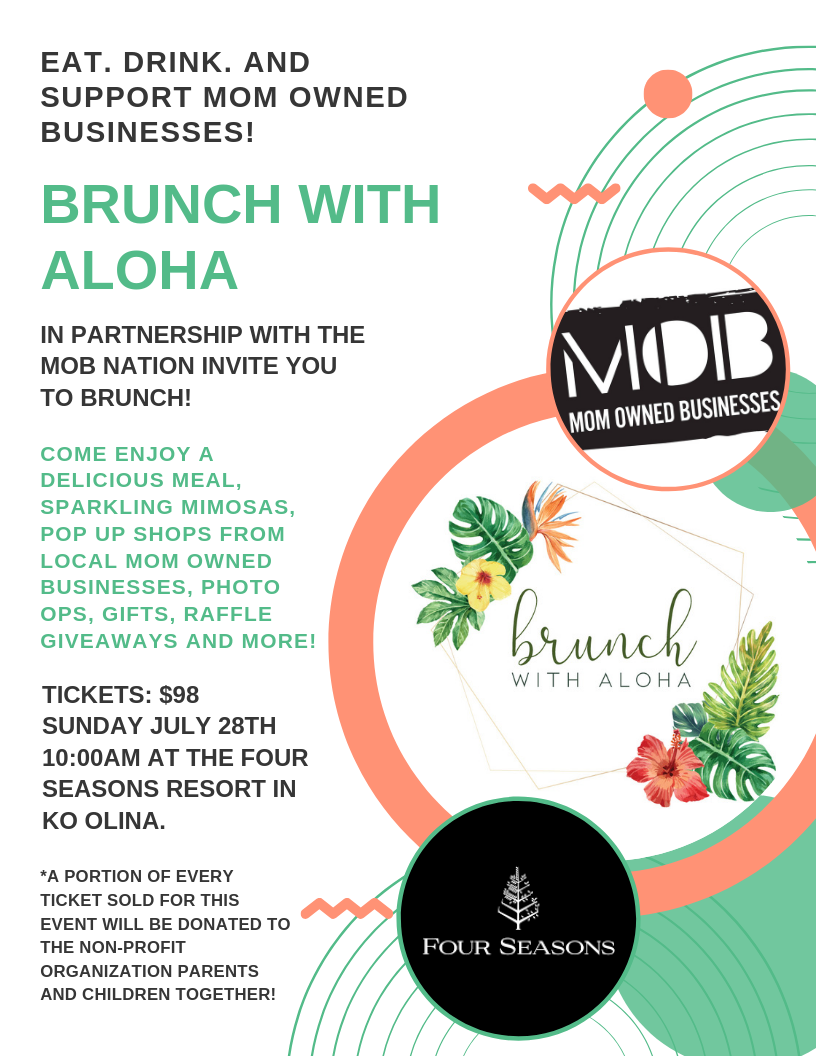 Aloha Ladies!!
Great news! Our next brunch is here and I am beyond excited because this month we will be working with some really incredible organizations that you won't want to miss!
---
Starting with our partner for this brunch, The MOB Nation!
The MOB Nation is a national alliance of Mom-Owned businesses. With twenty-seven chapters across the US including one on Oahu!
www.themobnation.com
www.instagram.com/themobhi
www.instagram.com/the.mobnation
---
Our Pop Up Shops for this event will include:
Live & Love Aloha
Water & Seed Hawaii
Ziya Active
Kehaulani Professions
---
Our nonprofit of choice for the month will be Parents and Children Together and a portion of every ticket we sell for this event will go directly to them! Parents And Children Together promotes meaningful and healthy relationships between parents and children, while creating support systems that empower people who often have nowhere else to turn.
www.pacthawaii.org
www.instagram.com/pacthawaii
---

And last but not least this fantastic event is going to be held at the Four Seasons Resort in Ko olina!! With AMAZING food and the most perfect setting you could ask for, the Four Seasons is just the place to come together for our official rebranding launch!

---
Tickets include an amazing Full Breakfast Buffet:
MENU:
Sliced Island Seasonal Domestic Fruits and Berries
Assorted Cereals, Nuts and Seeds with Plain Yogurt, Granola, Skim Milk, Whole Milk and Soy Milk
Fresh Baked Croissants, Malasadas, Muffins, Sweet Butter, Jams and Local Honey
Hawaiian Sweet Bread French Toast, Pineapple Compote, Candied Macadamia Nuts, Maple and Coconut Syrup
Free-Range Egg Scramble with Fine Herbs
Paniolo Roasted Potatoes with Kula Sweet Peppers and Onions
Applewood Smoked Bacon and Portugese Sausage
Beverages:
Tropical Mixe POG
Pineapple Juice
Fresh Orange Juice
Coffee & Tea
Mimosas
---
Tickets will also include a dessert bar and some fantastic take home gifts and swag from The MOB Nation!
---
Some additional fun will be had with photo ops and a fantastic raffle including prizes from:
The MOB Nation
Island Bronzed Tans
Keiki and Plow
Kehaulani Professions
The Sunnyside & Co.
Cookies by @malhbotts
And more!!!
---
Don't miss out on this fantastic event and the chance to eat some great food, score some great swag, give back to your community AND support Mom owned businesses!! We can't wait to see you there!
Aloha!
Brunch with Aloha & The MOB Nation