Description
Ladies, are you ready to hear from the men?! Wondering why he doesn't call, or what he's really looking for? Many times we sit and talk among ourselves, but its time to have healthy conversation amongst the opposite sex. We're excited to host a panel discussion with 4 amazing, god-fearing men, single and married, who are prepared to share insight from the male perspective on dating, marriage, love, relationships, and more.
Join us for a delectable catered brunch, networking opportunities with like-minded women, gift bags & giveaways, and a lively, transparent, and enligthening open conversation that will surely bring perspectve and insight to your deepest questions and concerns.
CALL FOR SWAG! Have a product that our amazing woman will adore? We are NOW accepting product submissions from amazing companies to fill our gift bags! We're looking for businesses that cater to the needs of the millenial woman. If you would like to collaborate with us, please submit your interest to us directly at info@kristinkimble.com
Brunch & Vision is a quarterly women empowerment event to encourage and foster healthy relationships and conversations amongst women regarding various topics related to their everyday life and walk with Christ with intentional goal setting and vision development and execution.
K & K Ministries, LLC was founded by Kristin Kimble in 2016 with a leap of faith and a love for God and His people. It was created to challenge and encourage others in their walk with Christ. Through blogging, hosting events, and public speaking, teaching, and preaching, Kristin seeks to spread the love of Jesus Christ to the farthest place possible with the biggest God there is!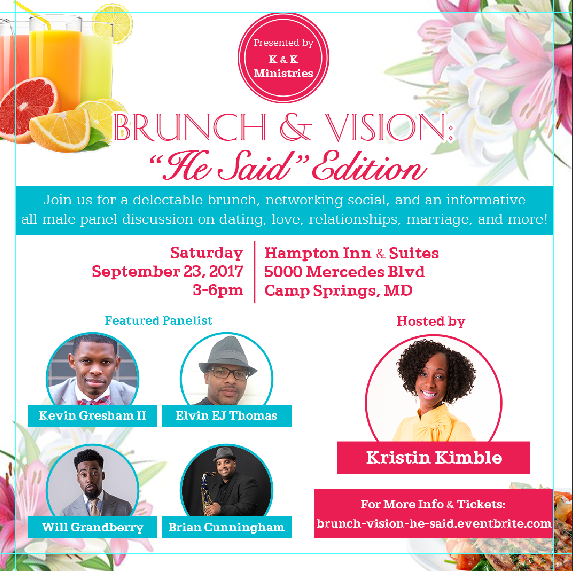 Our all male panelist will include:
Will Grandberry
Single and in his early 30s, Will is a Mentor, Motivator, Leader, Activist and Youth and Young Adult Pastor at the Greater Mount Calvary Holy Church in Washington, D.C. He is the founder and CEO of WGIII ministries, and founder of the Wise Gentlemen mentorship program. He has been recognized and awarded with several honors, one of which was featured in the July 2015 edition of Black Enterprise top 100 black male professionals "Be Modern Male" segment.
Brian Cunningham
Married and in his late 20s, Brian is a minister and a well known saxophonist, with experience performing on the national and international stage, developing his own unique style to use music to connect with people from all walks of life. He currently serves as the Director of Music at First Baptist Church of District Heights under the leadership of Senior Pastor Bobby Manning.
Kevin Gresham II
Married and in his early 30s, Kevin authored his first book in August 2015 entitled ''Dead End or Divine Encounter? - Discovering Opportunity Through Adversity''. He became a licensed minister of the gospel in 2013 and founded two bible study groups in Afghanistan and the United Kingdom while on a work assignment. He is also the father to a beautiful little girl named Kallie, and currently serves as the young adult minister at Israel Baptist Church in Baltimore, MD.
Elvin "EJ" Thomas
Single and in his late 30s, EJ is a singer, songwriter, keyboardist, and producer who doubles as an IT Support Officer for a non-profit organization.  He currently is the music director of God's Restored Gentlemen (GRG), member of the Brian Cunningham Project (BCP), and the minister of music at Refuge Baptist Assembly in Clinton, MD. In addition, he performs with several other artists in the DMV area. He currently resides in Bowie, and is the father of one beautiful daughter, Nia.
FAQs
What are my transportation/parking options for getting to and from the event?
There is plenty of FREE parking at the hotel. The hotel is also located a few blocks from the Branch Ave. Metro Station
How can I contact the organizer with any questions?
Email us at info@kristinkimble.com
What's the refund policy?
No Refunds
What's the dress code?
Cute & chic (there will be a photographer)