Description
Homecoming season is approaching and March Madness is here, so The Alumni Group (TAG) is bringing you Brunch So Hard, a unique brunch and day party experience that will finally answer the age-old question of who parties harder -- HBCUs or PWIs (predominately white institutions). The BGLOs will also be in the house, so don't be surprised if a party walk pops off in the middle of your meal. DJ Woodly(Phi Beta Sigma/LIU Brooklyn alum) and DJ K-Leel (Kappa Alpha Psi/Morehouse College alum) will go head to head to provide the perfect brunch soundtrack. Let's see which crew gets more #turnt -- PWIs or HBCUs. Grab your frat, bring your sorors, link up with your classmates and represent your set! Come out to Brunch So Hard and end this debate once and for all!
*Contact host/organizer to accommodate birthdays/special occasions and large parties.*
**Seating during brunch is on a first come first served. RSVP does not guarantee seating**
***Once you are done dining please be considerate of others waiting and relinquish your seats***
****Please use #TAGBRUNCH when sharing socially.****
Follow @The_Alumni_Group to follow our brunch parties.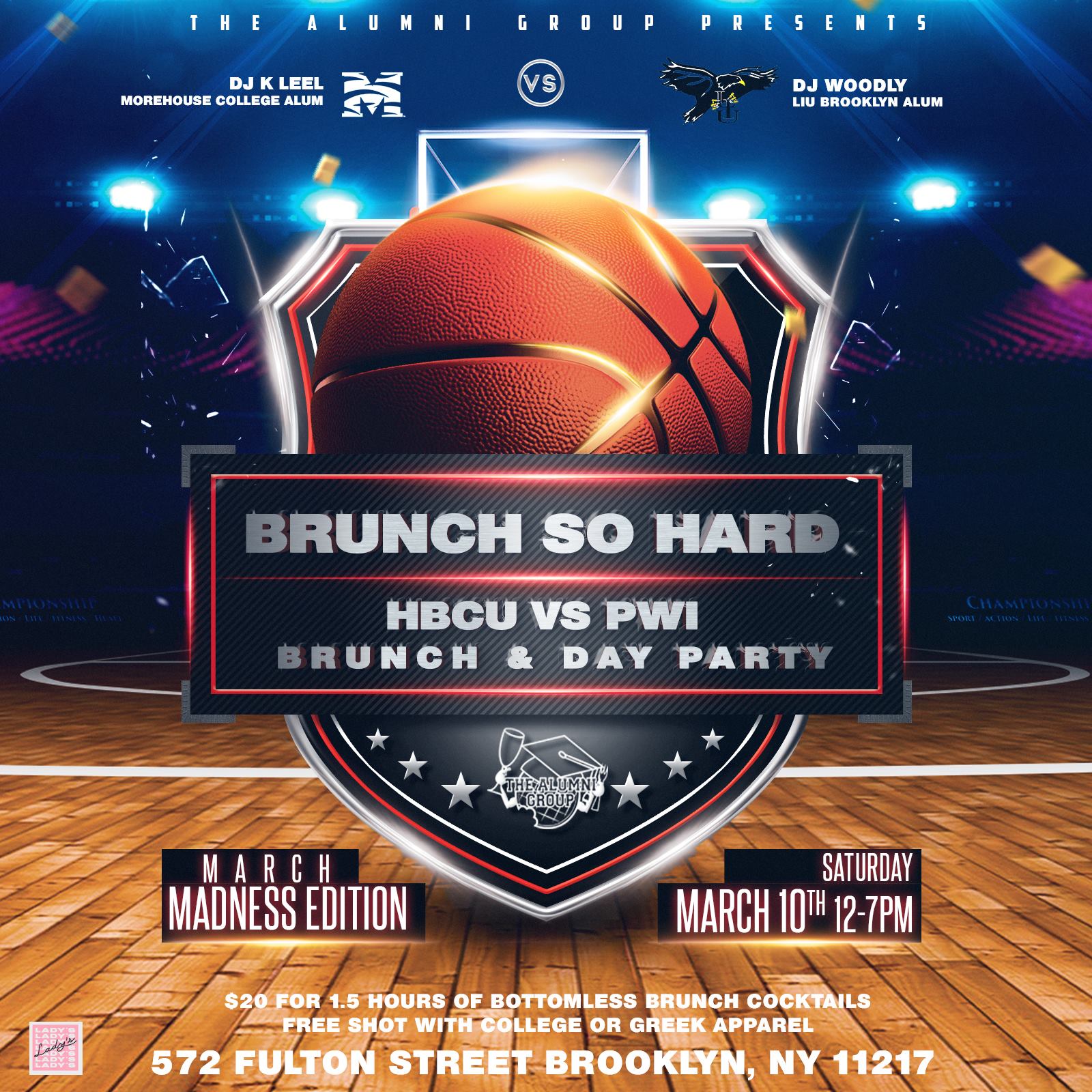 Add $25 for 1.5 Hours of Bottomless Brunch Cocktails
Brunch Cocktails
Mimosa
Bellini
Sangria
Rum Punch
Salads
LADY'S SALAD $16
romaine, arugula, cucumbers, tomatoes, red onions, olives, heart of palm, avocado, passion fruit vinaigrette
CAESAR SALAD $12
garlic croutons, anchovy, parmesan lemon dressing
SPINACH SALAD $12
roasted walnuts, cranberry, celery, blue cheese, balsamic
ADD AVOCADO $2 / GRILLED CHICKEN $5 HOTHOUSE SMOKED SALMON OR SHRIMP $6
Pizza
RIPLEY'S PIE $14
marinara sauce, fresh mozzarella, basil

HANGOVER PIZZA $17
poached egg, marinara sauce, bacon, prosciutto, mozzarella
VIRTUOUS BRUNCH PIZZA $15
scrambled eggs, white sauce, mozzarella, swiss chard, leeks, ricotta
MAKE ANY PIZZA GLUTEN FREE FOR $3

Brunch
CLASSIC BREAKFAST $12
two organic eggs any style, served with homefries, salad
ADD FOR $2 / EACH EXTRA EGG / CHEESE / AVOCADO / BACON MUSHROOMS / SAUSAGE
ADD HOUSE HOT HOUSE SMOKED SALMON FOR $6

GRANOLA $14
fresh seasonal fruit, organic yogurt, honey

FRENCH TOAST $14
thick cut toast, drizzled with banana glaze and fresh seasonal fruit

LOBSTER MAC + CHEESE $16
shell pasta covered in our 3 cheese blend, crispy croutons, scallions

HOTHOUSE SMOKED SALMON $14
home fries, dry tomatoes, roasted red peppers, salad

FRIED CHICKEN & BISCUIT $16
butter biscuit, housemade coleslaw, honey chipotle

STEAK & EGGS $18
strip steak, scrambled eggs, homefries, salad
The Benedicts
ALL SERVED ON BUTTER BISCUITS
COMES WITH TWO ORGANIC POACHED EGGS, HOMEFRIES, AND SALAD

CLASSIC $13
prosciutto cotto ham, hollandaise sauce

AVOCADO $14
seasoned avocado (with or without hollandaise sauce)

EL CRUDO $15
smoky slab bacon, hollandaise sauce
ADD AN ORGANIC EGG FOR $2
Shrimp & Grits
Sandwiches & Burgers
ALL ARE SERVED WITH L.T.O.P AND FRIES

B.L.A.T $14
smoky slab bacon, romaine, creamy avocado, tomato
GRILLED CHICKEN $13
L.T.O, creamy avocado, garlic aioli, sourdough
CLASSIC LADY'S BURGER $12

ADD CHEESE FOR $1.50 / EACH CHEDDAR / BLUE CHEESE / MOZZARELLA
ADD FOR $2 / EACH EGG / AVOCADO ADD FOR $3 SMOKY SLAB BACON

Sides
FRENCH FRIES $6
SWEET POTATO FRIES $6
SEASONAL FRUIT $6