Brunch + Networking: Ultimate Woman Network Official Launch
Description
JOIN US TO CELEBRATE THE OFFICIAL LAUNCH OF THE ULTIMATE WOMAN NETWORK!
This event is OPEN TO THE PUBLIC.
Come out and enjoy a delicious brunch buffet, speakers, networking and more as you learn more about the Ultimate Woman Network!
BRUNCH BUFFET INCLUDES:

OMELET STATION
Made to order with mushrooms, peppers, onions, diced tomatoes, bacon, ham and cheese
CARVING STATION
Mustard and brown sugar glazed ham
Tequila lime marinated flank steak
BUFFET ITEMS
Whole and sliced seasonal fruits
Assorted cold healthy breakfast cereals with whole and skim milk
Individual regular and low-fat fruit flavored yogurts with granola topping
Whole wheat and plain bagels
Seven grain bread, croissants & English muffins
Honey, butter, fruit preserves regular and light cream cheese
Classic Caesar salad with focaccia croutons, shaved parmesan cheese and Caesar dressing
Gruyere, smoked gouda & cave-aged cheddar cheeses
Charcuterie board of surryano Virginia ham, salami & smoked turkey
Red bliss breakfast potatoes
Scrambled eggs accompanied by shredded cheddar cheese
Hickory smoked bacon
Pan seared chicken Provençal with tomato, onion ragout and fine herbs
Assorted dessert selection
BEVERAGES
Mimosas and Bellinis
Assorted chilled fruit juices
Gourmet Bean regular and decaffeinated coffee and assortment of herbal teas
Bottles of flavored iced teas and waters
Assorted regular and diet soft drinks
Vasa & San Pellegrino still and sparkling waters
WHAT TO EXPECT:
We have planned a great launch event that will include:
Opportunities to Meet, Greet, and Network!

Welcome and purpose from the UWN Founder, Tamika Josephs-Smith

Delicious Brunch

Guest Speakers - Business Affiliates/Partners - Stay tuned for announcement!
Fantastic Networking and Connections!

Learn about some of our Sponsors
Chance to win with our Free Raffle Giveaways!
And more surprises!!!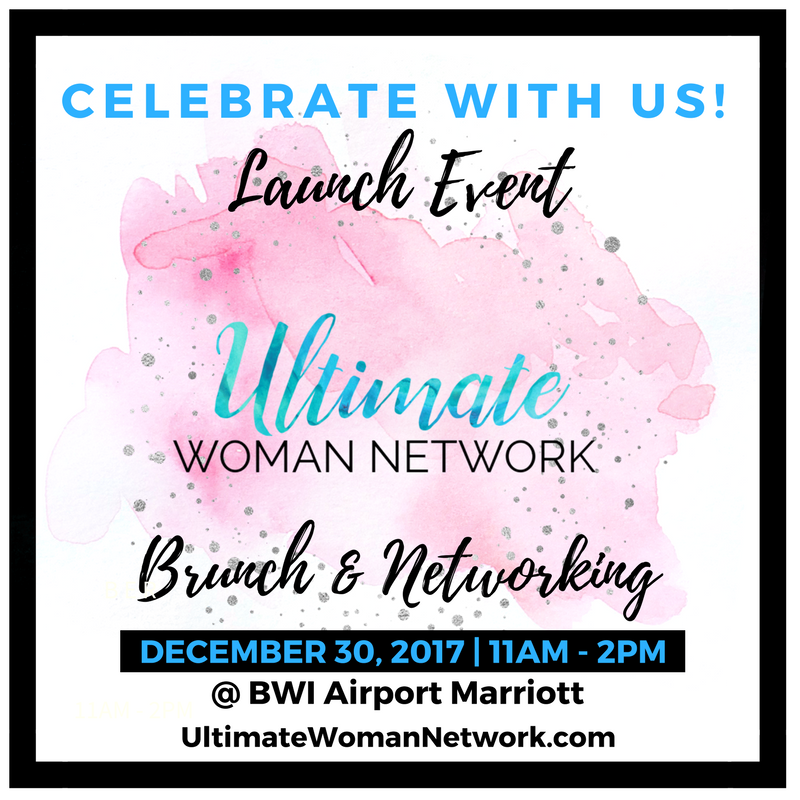 Visit our website for details and updates: UltimateWomanNetwork.com

For sponsor opportunities or interest in being a business partner or affiliate, please email info@UltimateWomanNetwork.com.
CONNECT WITH THE ULTIMATE WOMAN NETWORK ON YOUR FAVORITE SOCIAL MEDIA SITE!
FACEBOOK: Facebook.com/UltimateWomanNetwork
INSTAGRAM at @UltimateWoman
TWITTER at @UltimateWomanUS