Description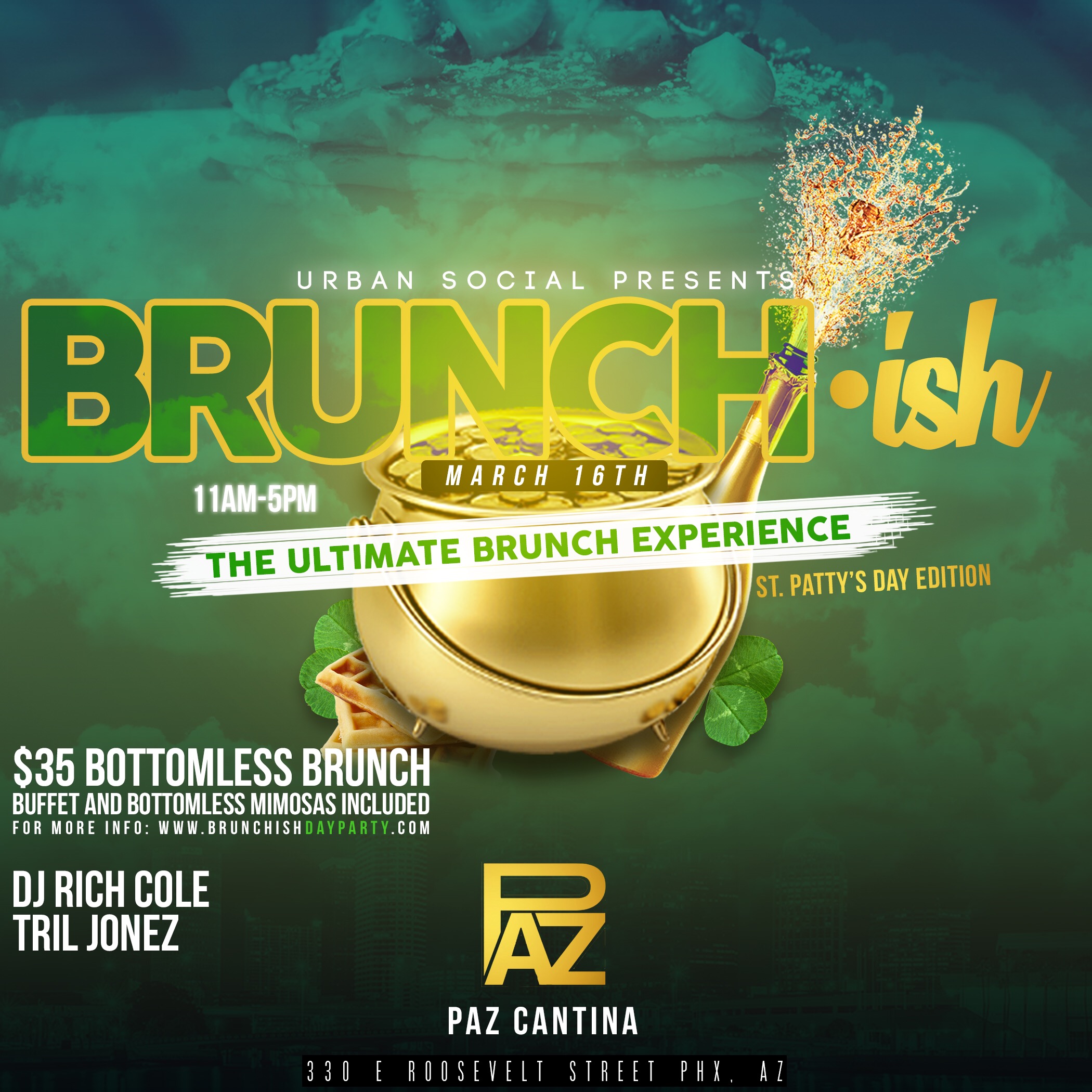 Why wait until Sunday to have a fun day? Urban Social's brunch· ish is the best brunch experience in the valley. This brunch party is a great way to jumpstart your Saturday, meet new people, celebrate a birthday, and so much more.
Urban Social is going to bring you another morning of good vibes and eclectic sounds at PAZ Cantina by providing your favorite Old School Hip-Hop and R&B tunes throughout brunch.
Our Bottomless brunch includes a brunch buffet and bottomless mimosas for $30.00 with the official Brunch-ish cup!
*Contact host/organizer to accommodate birthdays/special occasions and large parties.*
** Seating is first come, first served. Table Reservations are highly recommended**
***Please use #BRUNCHISHAZ when sharing socially***
Please follow us on Instagram @PHOENIXURBANSOCIAL
PLEASE NOTE: THE BUFFET STOPS AT 2PM AND MIMOSAS ENDS AT 3PM; DAY PARTY COMMENCES AFTERWARDS.
*$5 for Non-brunch attendees in advance
*$10 for Non-brunch attendees at the door
*$30 BOTTOMLESS BRUNCH WITH THE OFFICIAL BRUNCH-ISH CUP Eventbrite Only
**PLEASE NOTE THAT WE HAVE THE RIGHT TO LIMIT YOUR PARTY TO A TWO HOUR TIME LIMIT AT YOUR TABLE WITHOUT A RESERVATION**
PLEASE NOTE: TABLES AND HOOKAHS ARE ADD-ONS! YOU HAVE TO PURCHASE A GENERAL ADMISSION TICKET OR BOTTOMLESS BRUNCH TO ENTER.

Special Guest DJs:
DJ RICH COLE
DJ TRIL
DJ PEST
---
Bottomless Brunch Menu
Nacho Bar
Scrambled Egg Station
Bacon + Sausage
Southwestern Potatoes
Assorted Fruit
French Toast
Secret Speciality Item*
*Available for a limited time while supplies last.
---
By entering the premises, you understand that you may be photographed, filmed, or videotaped and you hereby give Urban Social, LLC the unqualified right to take pictures and/or recordings of you and grant the perpetual right to use your likeness, image, photo (collectively, "image"), without compensation, for broadcast or exhibition in any medium and to put the finished pictures/recordings to a legitimate use without limitation or reservation. You hereby waive, release and forever discharge Urban Social, LLC from and against any and all claims or actions arising out of or resulting from any use of your image.