Description
We know for sure that today's urban professional loves three things: Brunch, Booze, and Banging Beats! So come out to Angel of Harlem on July 2 from 12:00 to 7:00 PM where we're serving a heaping helping of all three at the "Brunch, Booze, & Beats" Brunch Party! Angel, located at the corner of W. 122nd Street & Frederick Douglass Boulevard in the heart of Harlem's Restaurant Row, features a delicious and reasonably priced brunch menu.
Order a brunch entree and for an additional $20, you'll have the flexibility to alternate between unlimited brunch cocktails (mimosas, sangria, and rum punch). Sit inside and listen to the sounds of NYCs hottest DJs or sit outside and enjoy the sights and sounds of Harlem.
This event, hosted by The Alumni Group, draws a crowd of sophisticated alumni from prominent HBCUs and PWIs who look forward to unwinding after a strenuous work week. Join us and turn all the way up with some brunch, booze, and beats! You won't be disappointed!
Brunch: We'll have a conversational brunch from 12:00 to 2:00 PM that will give you a chance to catch up with old friends and make new ones ;-). Brunch is served until 5:00.
Day Party: The #turnup begins at 2:00 PM! DJ Nett, DJ Mailman, & DJ Kando will be bringing you the hottest sounds of summer from Trap Muzik to Top 40 to Afro Beats! We'll wrap-up around 7:00 -- just in time for you to rest up and get ready for the week ahead!
Bottomless brunch cocktails can be added to any entree up until 7:00 PM!
Indoor and outdoor seating available (2-hour seating limit may be imposed). After 5:00 PM we will transition to the bar menu (see below), and the brunch menu will no longer available. Bottomless brunch cocktails are available until 7:00 PM.
*Contact host/organizer to accommodate birthdays/special occasions and large parties.*
**Seating during brunch is on a first come first served. RSVP does not guarantee seating**
***Once you are done dining please be considerate of others waiting and relinquish your seats***
****Please use #TAGBRUNCH or #SRBRUNCH when sharing socially.****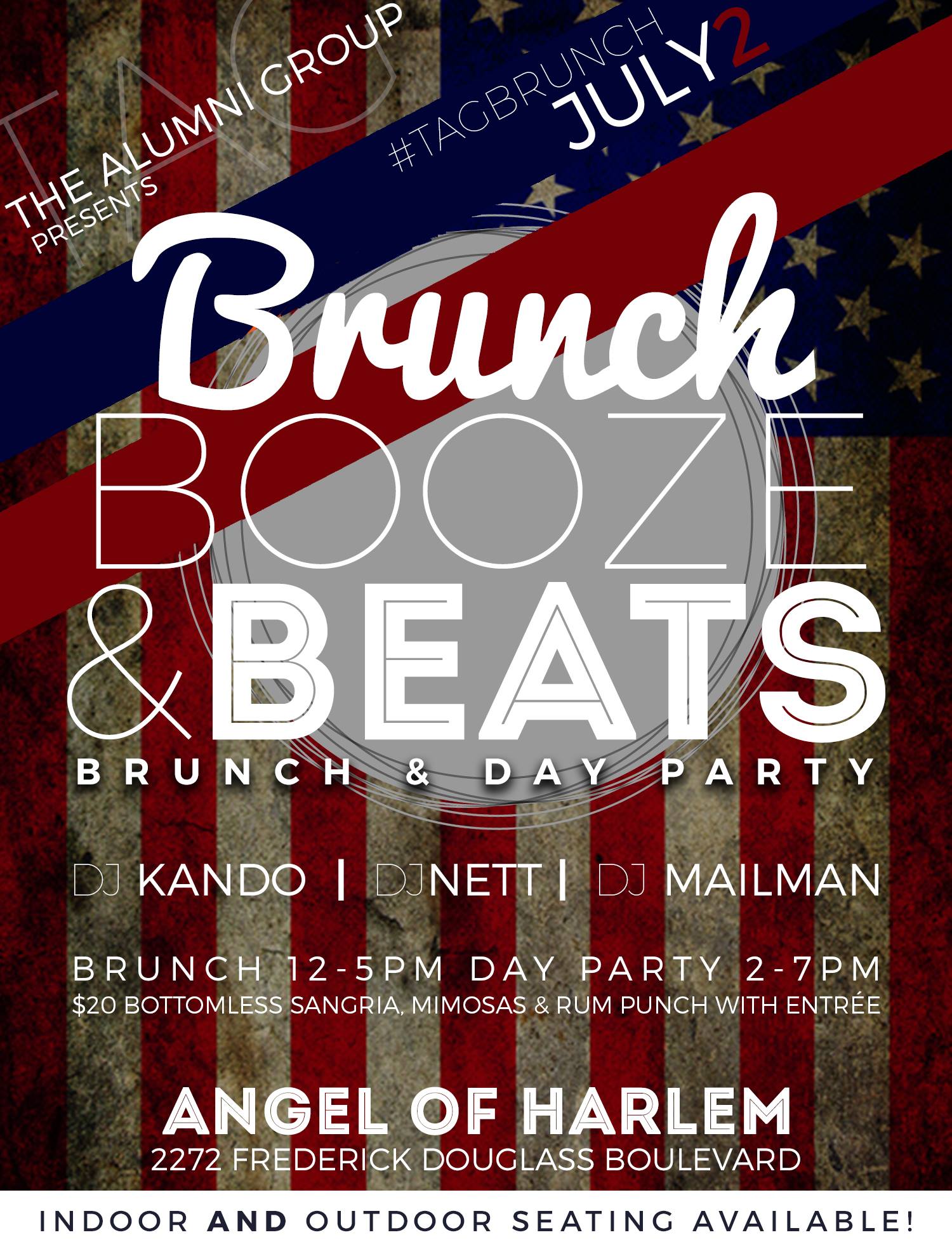 BRUNCH MENU
Bottomless Mimosa With Purchase of Entree - $15 (1.5-hour limit)
Bottomless Sangria/Rum Punch with Purchase of Entree - $20 (1.5-hour limit)
Angel Salad (Gluten Free) $10
Roasted Pear, Green Olives, Queso Fresco, Honey Lemon Dressing
Add: Grilled Shrimp $6
Add: Chicken $4
Kale Salad (Gluten Free) $12
Apple, Pomegranate, Queso Fresco, Honey Lemon Dressing
Add: Grilled Shrimp $6
Add: Chicken $4
Angel's Breakfast $16
2 Eggs Any Style, Choice of Bacon or Sausage, Plantain Hash, Grilled Tomato Fresh Fruit, Brioche
Eggs Rancheros $18
Fried Beans, Guacamole, Diced Jalapenos, Tortilla Chips
Filet Mignon Benedict $19
Spinach, Hollandaise Sauce, English Muffin, Potato Croquette
Shrimp & Grits (Gluten Free) $18
Ackee & Saltfish $18
Fried Maduros, Scotch Bonnet Sauce
Buttermilk Fried Chicken & Belgian Waffles $17
Potato, Apple, and Corn Salad
Crab Cake & Eggs $19
Mixed Greens, Roasted Peppers, Guacamole, Served with Two Eggs Any Style
Skirt Steak & Eggs $18
Balsamic Glazed Eggs of Your Choice, Red Bliss Potato Timbale
Lobster Ravioli $19
Wine, Tomato Basil Sauce
Frederick Douglass Burger $14
Angus Beef, Lettuce, Tomato, Red Onion, Brioche Bun, Angel Sauce
Add: Sauteed Onions, Avocado, Jalapeno, Cheddar, Provolone or Manchego Cheese for $2 each; Add Bacon $3
Sides $5
Belgian Waffles
Apple Smoked Bacon
Turkey Bacon
Pork Sausage
Plantain Hash
Grits
BAR MENU (after 4pm)
Sliders $14
Choice of 3 Turkey or 3 Beef; Cheddar Cheese, Romaine Lettuce, Tomato, Onion, Tomato Aioli, Brioche Bun
Guava BBQ or Buffalo Wings $12
Zesty Remoulade Sauce
Nachos $13
Three Cheese Sauce, Sour Cream, Guacamole, Pico De Gallo, Corn Tortilla Chips
Add Choice of:
Shredded Chicken $4
Fried Shrimp $6
Short Rib $6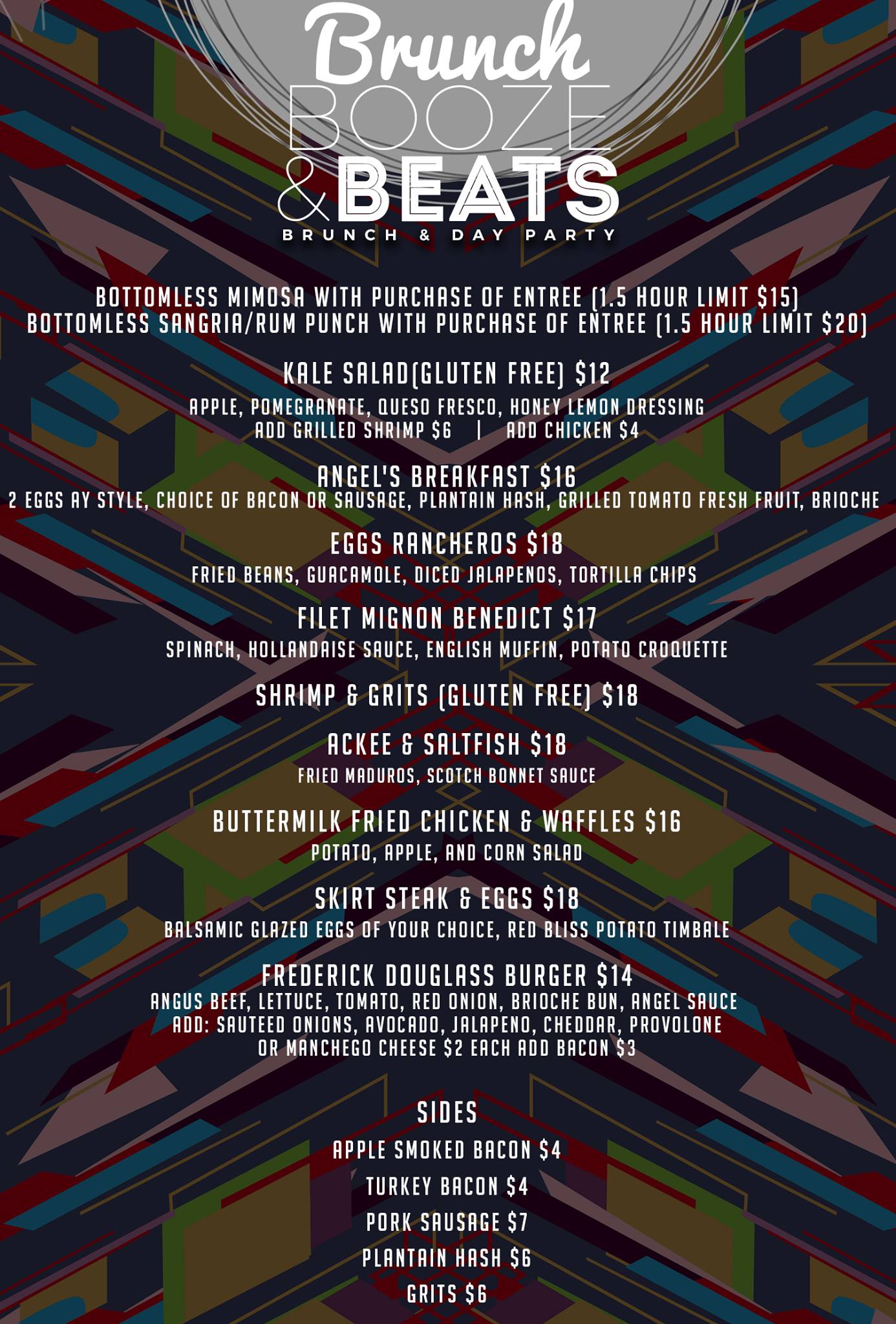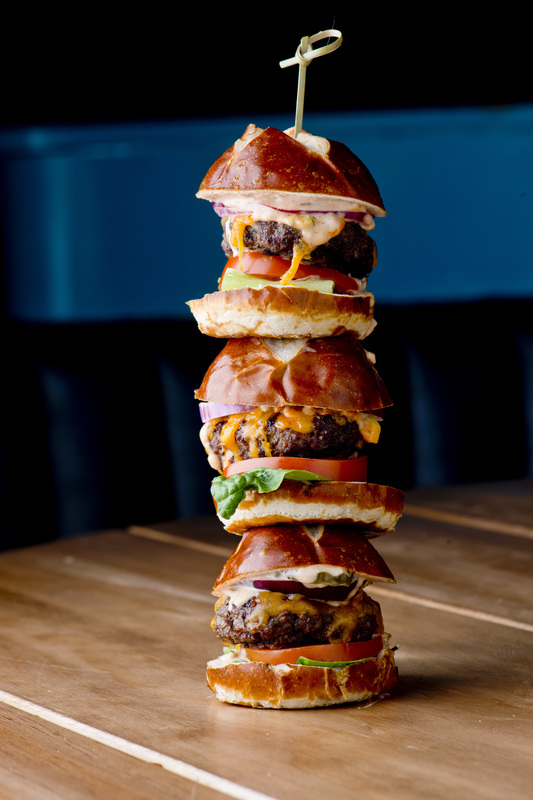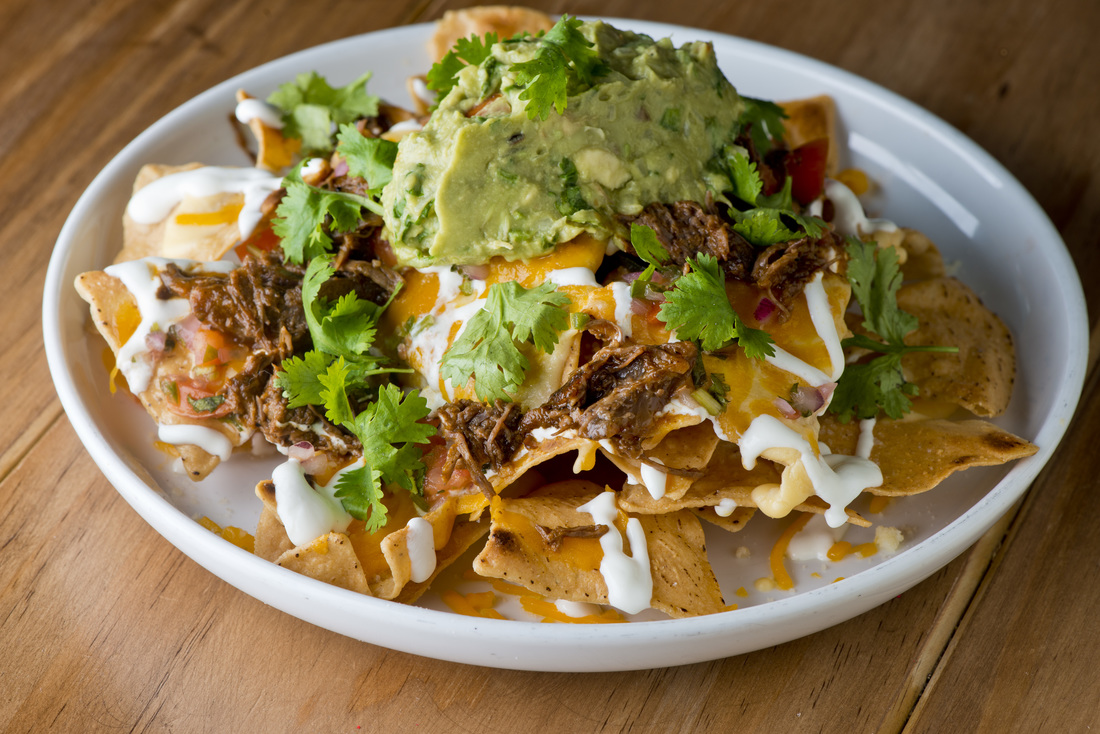 BOTTLE LIST (Must be ordered in advance)
Vodka
Absolut $200
Belvedere $275
Grey Goose $300
Ciroc $300
Gin
Hendricks $300
Tequila
Patron Silver $300
Don Julio Silver $300
Whiskey
Jameson $250
Jack Daniels $250
Maker's Mark $250
Cognac
D'USSE $250
Hennessey $300
Hennessey Privilege $350
Rum
Bacardi $250
Champagne:
Moet & Chandon $200
Moet & Chandon Nectar Imperial $275
**Please use #TAGBRUNCH when sharing socially.**