Description
We know for sure that today's urban professional loves three things: Brunch, Booze, and Banging Beats! So come out to B51 Restaurant & Bar on Sunday, August 18th from 12:00 to 8:00 PM where we're serving a heaping helping of all three at the "Brunch, Booze, & Beats" Brunch Party! B51 Restaurant & Bar, located in Atlanta, GA features a delicious and reasonably priced brunch menu. The venue was formerly a Wet Willies so that means we've got Daiquiris on deck! If that wasn't enough the spot also has hookah!
Order a brunch entrée and for an additional $20, you'll have the flexibility to alternate between unlimited brunch cocktails (mimosas and bellinis). Sit inside and listen to the sounds of ATL's hottest DJs or sit outside and enjoy the sights and sounds of Atlanta, GA.
This event, hosted by The Alumni Group, draws a crowd of sophisticated alumni from prominent HBCUs and PWIs who look forward to unwinding after a strenuous work week. Join us and turn all the way up with some brunch, booze, and beats! You won't be disappointed!
Day Party: The #turnup begins at 12:00 PM! ATL's DJs Rob & Myster-E will be bringing you the hottest sounds of spring from Trap Muzik to Top 40 to Afro Beats! We'll wrap-up around 8:00 -- just in time for you to rest up and get ready for the week ahead!

*Contact host/organizer for birthdays/special occasions and large party accomodations.*
*Parking close to venue and venue validates parking*
****Please use #TAGBRUNCH or when sharing socially.****
***Please follow us on instagram @The_Alumni_Group***
MEDIA DISCLAIMER, photos and videos are occasionally taken at our events. The Alumni Group reserves the right to use any photograph/video without the expressed written permission of those included within the photograph/video. The Alumni Group may use the photograph/video in publications or other media material produced, used or contracted by The Alumni Group including but not limited to: brochures, invitations, books, newspapers, magazines, television, websites, etc.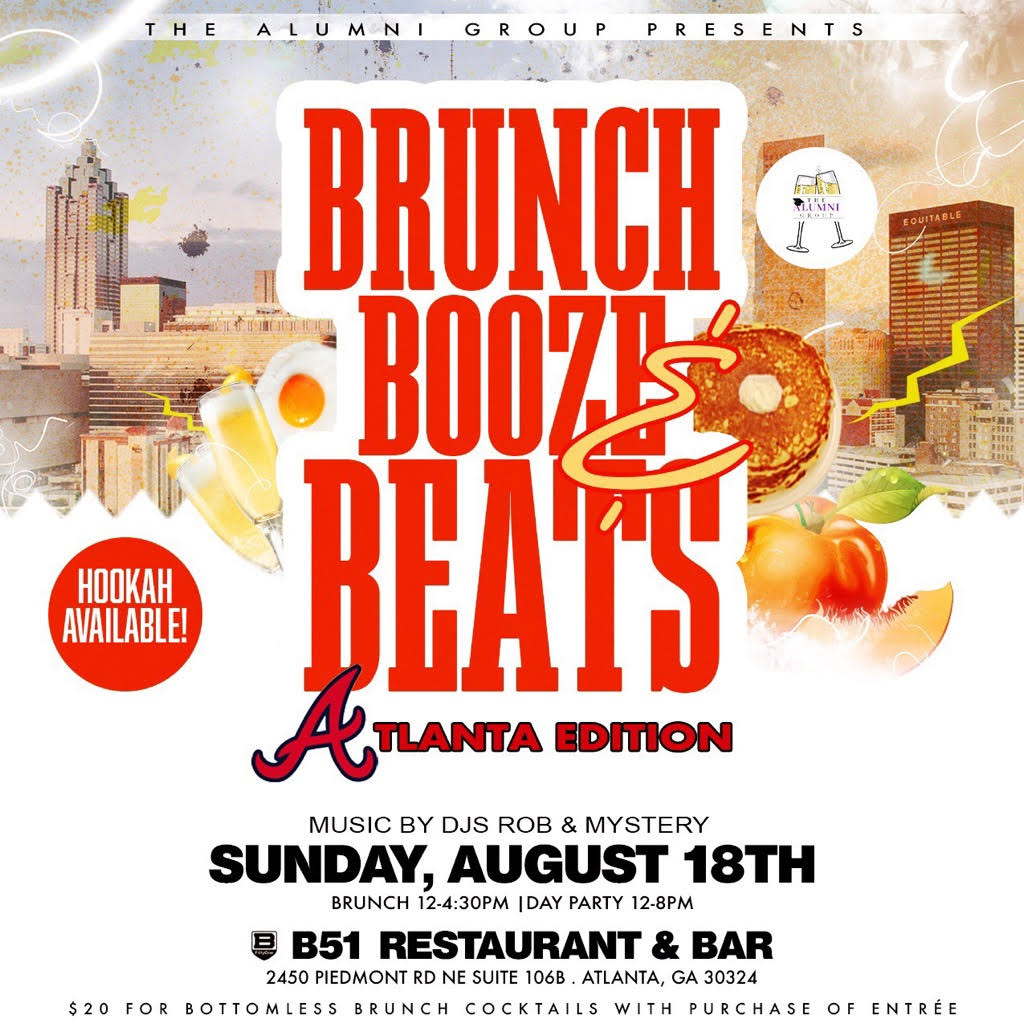 Bottomless Brunch Cocktails $20 for bottomless brunch cocktails (Mimosas & Bellinis) for the duration of brunch with purchase of entree
Brunch Menu
B51 Classic Breakfast $11
Smoked Gouda Grits, 2 Eggs your way, your choice of protein and a buttermilk biscuit
Shrimp & Grits $15
Your choice of Grilled or Fried Shrimp with Smoked Gouda Grits topped with Cajun Creole Sauce and diced Chicken Sausage
Chicken & Waffles $13.50
Homemade Waffle, Fried Chicken Breast served w/ Warm maple syrup

B51 Western Omelet $11
3 Eggs with Diced Green and Red Peppers, Diced Onions, and White American Cheese, your choice of Pork Sausage, Chicken Sausage, or Bacon served with Buttermilk Biscuit

French Toast or Pancakes $12
Served with your choice of protein and eggs any style.

Bacon Egg & Cheese Sandwich / Sausage Egg & Cheese Sandwich $11
Eggs, American Cheese & your choice of Sausage or Bacon on Texas Toast Served with Home Fries.

Chicken & Biscuit $12
Buttermilk Biscuit Served with a Fried Chicken Breast, Scrambled eggs, and Home Fries

Sides
Smoked Gouda Grits $4
Sautéed Spinach $5
Asparagus $5
Home Fries/ French Fries $5
Eggs Any Style $3
Bacon $3
Chicken Sausage $3
Pork Sausage Patties $3
Waffle $7
Buttermilk Biscuits $2
Pancakes $6
Small House Salad 44
Mac & Cheese $5
French Toast $6
Drink Menu
Daiquiri Prices
Small(12oz) $9
Medium (16oz) $10
Large (20oz) $11
Daiquiri Menu
Yac Attack - A Classic Bar favorite! Delicious Coke Flavor Mixed with Cognac
Sour Apple - Crisp Green Apple Taste with just the right amount of sweetness and tart flavor mixed with vodka
Mango - Refreshing Mango Sweetness Mixed with Rum.
Plan B - Our Strongest Drink!! Mixed with the flavors of cherry and fresh strawberries and plenty of 190 grain alcohol and rum.
Blue Pill - Very Strong! Amazing Blue Raspberry flavor combined with plenty of 190 grain alcohol.
Orange Crush - Very Strong! Refreshing orange flavor mixed with 190 grain alcohol, Bacardi rum, and Bacardi select.
Sex on the Beach - Delicious mix of raspberry, peach, cranberry, and plenty of vodka
Strawberry - Traditional Strawberry daiquiri blended with fresh strawberries and plenty of rum
Pina Colada - A Cool Refreshing Coconut, pineapple, ice cream and plenty of rum. Makes you feel like you're on an island.
Vodka Red Bull - The Perfect mix of red bull flavor and plenty of vodka combined to make a classic bar favorite.
Well Shots $5
Jaeger Bomb $6
High Balls $9-12
Domestic Beer $4
Imported Beer $5
Wine $7
Red Bull $5
Bottled Water $3