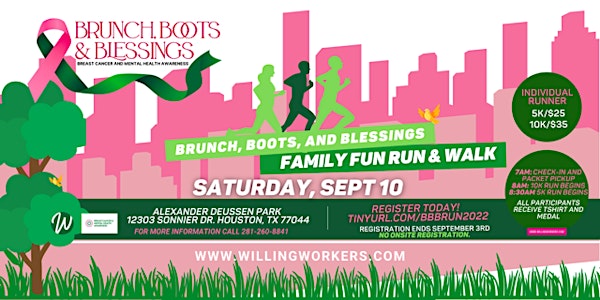 Brunch, Boots & Blessings Family Fun Walk/Run 5k & 10k
Women of Excellence WWBC hosts it's 1st Annual 5K/10K Family Fun Walk/Run which will promote Mental Health and Breast Cancer Awareness.
When and where
Location
Alexander Deussen Park 12303 Sonnier Street Houston, TX 77044
About this event
Every year, the Women of Excellence with Willing Workers Baptist Church (WWBC) strives to achieve excellence by creating a platform that brings awareness to two very important topics; mental health and breast cancer. The Willing Workers Baptist Church will help bring awareness to the mental health and breast cancer concerns by hosting its first inaugural 5k/10k Family Fun Walk/Run event, which will be held on Saturday, September 10, 2022 beginning at 8am. It will be held at Alexander Deussen Park 12303 Sonnier Drive Houston, Texas 77044.
This event's platform includes celebrating each individual through their journey of mental health and breast cancer. The highlight of the event is to have each participant identify what they would like to claim VICTORY over. Once each participant has completed their race, they will be able to take their "burden" and change the narrative of their story by demonstrating their ability to be VICTORIOUS over all situations. The Women of Excellence with Willing Workers Baptist Church are joining the efforts of many by helping to eliminate the stigmas so many experience. The goal is to create a community for everyone to embrace their purpose, revitalize their strengths, renew their power through transparency, be open and honest about their mental health and/or breast cancer journey. We cultivate the belief that, "you don't have to look like what we're going through or what we've been through but when we reach those valley moments it's safe and okay to be honest about them."
The Walk/Run will kick off on Saturday, September 10th promptly at 8:00 a.m. Check in will begin at 7am. Encourage your friends and family to participate. Can't wait to see you there. We would love to have you join us as we work to build a stronger and healthier community! Together, our shared vision is to continue destigmatizing attitudes and systems that marginalize individuals and families that are living with mental illnesses and/or breast cancer. We will continue striving to advocate for and get the appropriate support until everyone has access to quality and equal care.
Please make sure you are familiar with the Conditions of Use which you acknowledge when you complete checkout. Women of Excellence with Willing Workers Baptist Church (WWBC), our Volunteers and Sponsors are not responsible for injury or illness, conditions may change, no refunds.