Brunch & Beach - 'A Good' Education: The Costs & How to Win! | RIISE Martha...
Description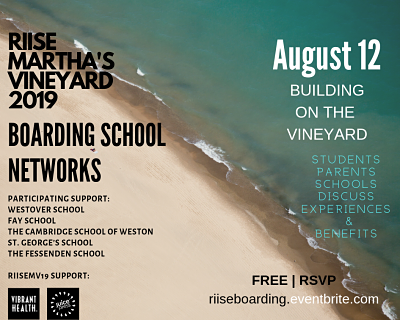 Welcome Families & those passionate about educating students of color,
Tuesday, 8.13, 12:00p-3:30pRIISE Brunch & Beach @Winnetu Oceanside Resort
RSVP - Free 18/under, $125/adult
The expectation is that investing in 'a good education' will guarantee our next generation economic mobility and social respectability.
With few guarantees, many of us are more than willing to take the risk and bet on selective/private k-12 college-prep schools & institutions of higher learning to get a good education.
But, what are the real costs of 'a good education' and how do we ensure our children will win and are not over-burdened with debt doing so? How do we make sure students of color have social-emotional support and professional networks to thrive and not just survive.
On Tuesday, August 13, we brunch again at the beautiful Winnetu Resort with a salon discussion
Intellect + Skill - Value of an Education Today for Students of Color
Twice As Good & Cold Ice - Navigating PWI's
The Cost - Financial, Social, Emotional
Continuing Legacy - Strategies for Winning
The Future - Ideas + Networks That Uplift Us & Whole Communities
Industry thought-leader, Richelle Parham, legacy wealth thought-leader, Dr. Pamela Jolly and educational thought-leaders Trina Gary, along with Elon Collins - Riverdale '19 & Brown '23, will dive-in and consider with us the present-day virtues are of 'a good education', the stakes involved with it, and how to thrive, not just survive.
There will be plenty of food for thought, the soul, the body, and a ton of fun for the whole family!.
**We head to South Beach afterward, bring your beach gear.
Thank you to our supporting schools: Riverdale Country School, Horace Mann School, Ethical Culture Fieldston School, Westover School, Fay School, The Cambridge School of Weston, St. George's School, The Fessenden School
Join the 'critical conversations by the sea' and empower yourself with valuable considerations that will impact educating future generations.
The day before we are building boarding school networks at Edgartown Public Library - 8.12 https.riiseboarding.eventbrite.com
*Accommodations: 20% discount at Winnetu Oceanside Resort when you mention RIISE MV Events.