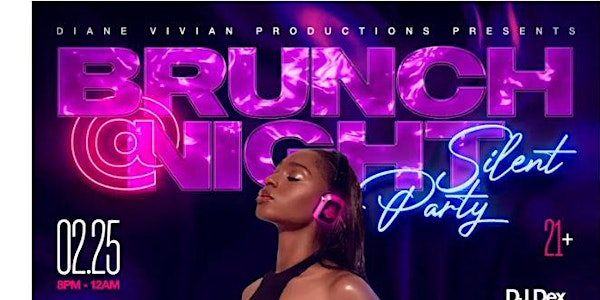 BRUNCH AT NIGHT SILENT PARTY
BRUNCH @ NIGHT SILENT PARTY | VIBE.EAT.DANCE.DRINK
By Diane Vivian Productions
Date and time
February 25 · 8pm - February 26 · 12am EST
Location
Veterans of Foreign Wars 84 Eastern Avenue Dedham, MA 02026
About this event
BRUNCH @ NIGHT SILENT PARTY IS BAAAAAAAAAAAAAAAACCCKKKK!!!!!!!!!!!!!!!!!!!!!!
Are youuuuuuuuuu reeeeeeaaaaaadyyyyyy????????????????!!!!!!!!!!!!!!!!!
[After being on pause since our first installment in pre-covid Feb 2020 we are excited to open up the Brunch Doors once again!!!!! ]
Taste great eats from Multiple Caterers while enjoying a unique social experience! Brunch @ Night is a cultural ambiance of a lifetime!
Diane Vivian Productions consistently defines the spirit of Unity & Fun with a totally unique atmosphere and is sure to leave you with unforgettable memories.
This experience is a totaaaal Viiiiiibe of FUN , Good EATS (Vegan Options avail) Brunch Caterers will be available, Shopping a few of your fantastic local entrepreneurs, Making New Friends, and dancing and singing your life away !!!!!!!!!
Have you ever had BRUNCH @ NIGHT??? If so, definitely NOT like this!!!
Check out the newest nightlife pop up event poppin' in the city! Did we mention the Shenanigans of the silent party ???? oooooooohhhhh itssssss a tiiiime and our last event was a BLAST!!!!
SILENT HEADPHONES SPONSORED BY : SILENT PARTY KING (SPK) I.G @spkheadphones www.silentpartyking.com
TRAP |HipHop VERSUS SOCA | Dancehall | Afro Beats VERSUS RNB
What's your favorite music genre?? Which team will you be representing????
Team BLUE : 💙 DJ MastaMind| ATeam |Soca & Dance Hall
Team RED ❤ DJ Dex| Team Jerk | RNB
Team GREEN💚 DJ Rozay B | Trap & Hip Hop
With limited capacity and Birthday tables, the proactive patron can guarantee their entry by purchasing a ticket &/or Birthday table today.
Get ready to party and be entertained while smakin' on some delicious eats provided by some of Boston's Top Caterers! Get a taste of Soul, Caribbean and Vegan staples! Amazingly delicious Brunch menus are in preparation!!
(Pssst... I heard that there may be red velvet wafflesssssss)
Tasty food options for all........vegans, vegetarians and all of us in between!! We want everyone's inner foodie doing cart wheels!!!
Note* ( Food cost is separate from the ticket purchase)
~~~~~~~~~~~~~~~~~~~~~~~~~~~~~~~~~~~~~~~~~~~~~~~~~~
Boston's City shaker DJ'S will be in the building! So please be ready for floors to Tremble!!!
Issa WHOLE VIBE!
DJ Mastamind will be blazing us with the taste of soca and all Caribbean tunes!
DeeJay Dex of Team Jerk will vibe out with all RNB 90s up to 2023!
Get ready to dance, eat, drink and saaaannnggg!!
DJ RozayB will be taking us on a trap tour stopping at some of hip hop's legendary tunes !!! Blazing beats and rhythms your soul won't deny!!!
Call all the besties, the crew, your boo or fly solo dolo
Let's go Boston, it's Brunch @ Night!!!!!!!!!!!!!!!!!!!!!!!!!
More Details to Come!!!!!!!
Advance Tickets are the ONLY way to GUARANTEE Entry. This is a capacity event will be even more limited with social distancing measures strictly enforced to ensure a safe and enjoyable event for all.
_______________________________________________________________________________________________
IMPORTANT EVENT INFO BELOW FAQS:
CELEBRAITING A BIRTHDAY ??? A few Birthday Tables will be available check out our ticket options
( Cost Inclusive of Birthday Cake, Candles, balloon bouquet, Cake Plates, utensils, cake cutter, and entry line skip for party of 8 )
Tickets cover entry AND headphones for silent party ONLY food cost is seperate
21+ ID Required
Security Check- In
Off Street Parking available
Seats can not be reserved unless birthday package is purchased!
Local Entrepreneurs will be onsite with product for purchase, please be ready to be kind and support!
CASH BAR CASH BAR CASH BAR
(((((((No Ticket Refunds)))))))))))_____________________(((((((No Ticket Refunds))))))))))
____________________________________________________
CONTACT :
dianevivianproductions@gmail.com
Text : 781-888-2167
____________________________________________________
Diane Vivian Productions is the creator and founder of the following LIT social event series:
Brunch @ Night Silent Party
Facebook.com/dianevivianproductionsIG: @diane_vivian_productionsIG: @thebeantrapnpaint
Let's Brunch @ night Baybeeee!!!