Brunch and a Book: Susan Dworkin Talks About Her New Novel, The Garden Lady, with Yona Zeldis McDonough

Sunday, June 2, 2019 from 11:00 AM to 1:00 PM (EDT)
Event Details
Brooklyn Social Media invites you to another fabulous literary event that will not disappoint.
Susan Dworkin's The Garden Lady is a fast-paced, suspense-filled novel of love, complicity and redemption (Divided Light Projects, LLC, June 15, 2019).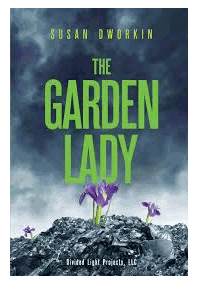 "Dworkin's books and plays have the ability to draw us into new dreams of justice and to make them irresistibly practical, humorous and human." —Gloria Steinem
Maxie Dash, the heroine of The Garden Lady, is a famous beauty, a fashion icon.  Pushing 50, aware that time has her number, she marries for wealth and future security, finding love as well with her new husband.  He indulges her every desire.  All he asks in return is that she gives him her love and her unswerving loyalty and agree to know nothing -- absolutely nothing -- about his business. 
Urgent and compelling, the story resonates with today's headlines as it poses the ethical question: How do we live with what we know but choose not to think about or act upon?

As an added feature, radio host and progressive comedian Katie Halper will entertain us.  $45 Admission includes a bagels and lox brunch with unlimited mimosas and a copy of The Garden Lady.
Susan Dworkin co-wrote the New York Times bestseller The Nazi Officer's Wife, a tale of love and terror in the Third Reich, with the woman who lived the story, the late Edith Hahn Beer. Other books include Making Tootsie, the inside story of the great film comedy with Dustin Hoffman; Stolen Goods, a novel of love and larceny; and The Commons, about an agrarian revolt led by a pop star and set in the not-so-distant future. Susan was a long-time contributing editor to Ms. Magazine. 
Yona Zeldis McDonough is the author of eight novels for adults and 28 books for children, as well as numerous essays, articles and short stories that have appeared in national and literary publications. Her most recent novel, Not Our Kind, was published under the name Kitty Zeldis and explores anti-Semitism in post-WWII New York and Connecticut. She is also the Fiction Editor of Lilith Magazine, a feminist/Jewish quarterly. She and her husband, photographer Paul McDonough, have lived in Park Slope since 1992. 
Katie Halper was born and raised on the mean streets of Manhattan's Upper West Side, Katie Halper is a radio show host, writer and comedian. Her writing can be found at Rolling Stone, The Nation, The Guardian, Vice, and New York Magazine and she's appeared on MSNBC and on The Young Turks where she hosts video interviews. She identifies as a feminist Bernie Bro. She was hung up on by Sirius Radio and called "cute and somewhat brainy," by the right wing rag The National Review. She is a host for The Young Turks Interviews.
Brooklyn Social Media brings a human and tech savvy approach to publicity and promotion. Founded in 2012 by acclaimed blogger Louise Crawford, and joined by Linda Quigley in 2015, we are enthusiastic advocates for people and projects we believe in. We aim to tell your story, get the word out, and create some buzz. It all starts with strategic and creative thinking, which leads to dynamic messaging, eloquent and eye-catching press materials, persistent media outreach, authentic social media, website design and event planning. As one client writes: "I felt both championed and nurtured. It's as hard to promote a book as it is to write it, and it would have been impossible to survive the process without BSM's enthusiasm and perseverance."
Have questions about Brunch and a Book: Susan Dworkin Talks About Her New Novel, The Garden Lady, with Yona Zeldis McDonough?  Contact http://brooklynsocialmedia.net/

Have questions about Brunch and a Book: Susan Dworkin Talks About Her New Novel, The Garden Lady, with Yona Zeldis McDonough?
Contact Brooklyn Social Media
When & Where

Old Stone House & Washington Park
336 3rd Street
Brooklyn, NY 11215


Sunday, June 2, 2019 from 11:00 AM to 1:00 PM (EDT)
Add to my calendar