After over a year away in the panorama-- WE'RE BACK!!! We expanded the brand but we never put down our mimosas. #B2BForever
About this event
WE 2 BOMB COVID-19 PROCEDURE
As a brand, creating and maintaining a safe space for the entire We 2 Bomb family is and will always be our main priority. If you have been exposed to COVID-19 within the last 30 days, if you are feeling ill, have shortness of breath or had a fever within five days of the event date do not attend the event. Though we cannot control or guarantee all guests' compliance, as a member of the #B2BFamily we both respectfully ask and expect you to take COVID-19 seriously out of respect for yourself and those around you.
Please be responsible for yourself and respectful of the health and wellness of others at all times. Thank you for your commitment to helping us maintain and protect what we have built together since 2017.
VACCINATION + TESTING
To ensure all guests are empowered to freely experience and enjoy the familiar atmosphere of Brunch 2 Bomb we will require proof of vaccination to attend the event or proof of a negative COVID test taken within 48 hours of the event start time.
MASKS + VACCINATION DESIGNATIONS
Vaccinated guests will be provided a wristband at check in to communicate their vaccination to other guests. Non vaccinated guests along with members of the food, service, and security staff will be required to wear masks throughout the event for the safety of all guests throughout the event.
QUESTIONNAIRE
To ensure the safety of our guests and ourselves, all attendees must complete a COVID-19 questionnaire to assess your status at the time of purchase and again when you arrive at the event. Please note, the onsite COVID questionnaires are both designed and mandated by the building owners.
ADMISSION PROCESS
The following is listed in every presale ticket---
Ticket guarantees entry before 2pm, NOT AFTER
Doors for admission will close at 3pm
Ticket does NOT guarantee seating.
Seating is available on a first come, first serve basis.
COVID friendly communal dining is practiced in open seating areas.
Early arrival is STRONGLY SUGGESTED.
Due to cancellations and no-shows, we opt for more RSVPs than seats.
Food & beverage are NOT included in ticket price UNLESS listed.
Food and/or beverage purchase REQUIRED at the venue.
Outside food and beverage are NOT permitted.
NO refunds.
SEATING
Seating at a B2B event is like a family BBQ--- first come, first serve, and communal.
FIRST COME, FIRST SERVE SEATING
Family begin arriving as 9:30am to have first dibs on their seat. Seating is not necessary to enjoy the Brunch 2 Bomb experience, it's all about what you prefer.
OPEN & COMMUNAL
We practice COVID friendly communal seating at B2B, be prepared to make a room for a new friend or two! Be welcoming! If your party of 3 is at a four person table, we encourage you to invite a solo guest to join your table if they are looking for a seat. Our growing community model is a big piece of why guests are required to present their proof of vaccination or negative test results to attend the event.
BRUNCH + BOTTLE SERVICE MENU
COMING SOON
SUMMER BOMB PASS
VIP Admission To Three (3) Brunch 2 Bomb Events By We 2 Bomb -- June, July, August 2021 | ($160-200 Estimated Value)
Free Access To Rsvp To Private Vip Partner Events* (Happy Hours, Screenings, Exhibitions, Activations, Receptions And More)
Special Vip Admission Line/Entrance At Brunch 2 Bomb Events By We 2 Bomb |(Priceless Value)
Complimentary Welcome Cocktail -- Pre-determined By Brunch 2 Bomb + Issued Upon Arrival ($60 Estimated Value)
Early Access To Reserve One (1) Bottle Service Table* Per Brunch 2 Bomb Event By We 2 Bomb - (Priceless Value)
Early Access To Reserve Parking When Available* Per Brunch 2 Bomb Event By We 2 Bomb | (Up To $25 Value)
Subscription Box Filled With Branded We 2 Bomb + Partner/Affiliate Products Shipped To Your Home At The End Of The Summer Season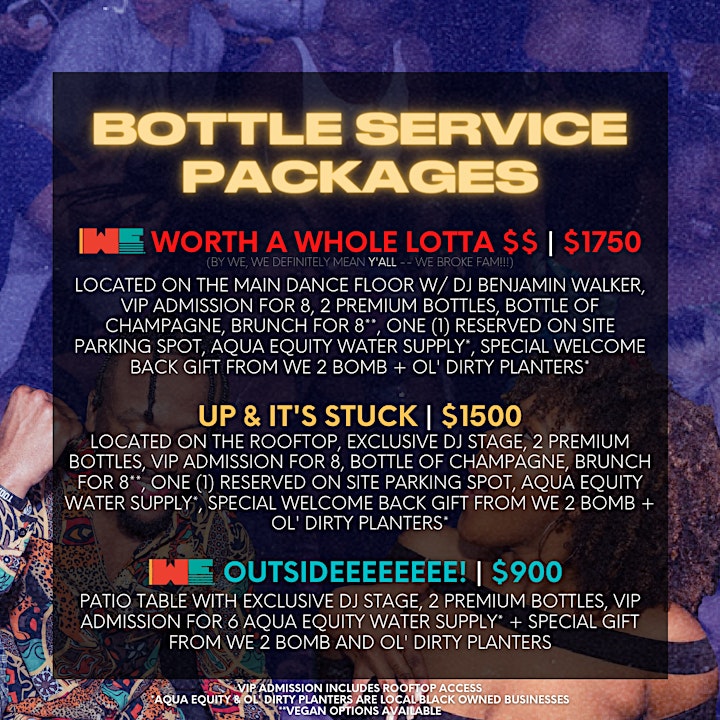 BOTTLE SERVICE PACKAGES
Following your bottle service reservation, a designated member of the Brunch 2 Bomb Concierge team will contact you to build out your bottle experience including your bottle order, table placement, and guest list.
Bottle service reservation deposits hold your VIP Table reservation until 1pm. At 1pm, your table(s) will be released for purchase to a new potential buyer. You must arrive for check-in prior to 1pm for your deposit to be credited to your table tab. No refunds will be processed for guests who arrive after 1pm PST, Sunday, June 27, 2021 |
WE WORTH A WHOLE LOTTA MONEY | $1750
(by we, we definitely mean y'all -- we broke fam!!!)
Located on the main dance floor with DJ Benjamin Walker
VIP Rooftop All-Access Admission for 8 with Brunch
(2) Premium Bottles from the Bottle Menu
(1) Bottle of Champagne
(1) Reserved On Site Parking Spot
Aqua Equity Water Supply
Special Welcome Back Gift from We 2 Bomb + Ol' Dirty Planters'
UP & IT'S STUCK | $1500
Located on the rooftop floor with an exclusive DJ Stage
VIP Rooftop All-Access Admission for 8 with Brunch
(2) Premium Bottles from the Bottle Menu
(1) Bottle of Champagne
(1) Reserved On Site Parking Spot
Aqua Equity Water Supply
Special Welcome Back Gift from We 2 Bomb + Ol' Dirty Planters'
WE OUTSIDEEEEEEEEEE! | $900
Located on one of our four patios near a DJ Stage
VIP Rooftop All-Access Admission for 6
(2) Premium Bottles from the Bottle Menu
Aqua Equity Water Supply
Special Welcome Back Gift from We 2 Bomb + Ol' Dirty Planters'
VENDORS
Interested in a vendor booth?
Access the ticket description by typing access code BLACKPARADE in the promotional code box- AVAILABLE MONDAY, JUNE 21 at 12pm PST
Vendors must be on site no later than 9:00am on Sunday, June 27, 2021.
Vendors may arrive as early as 8:30am on Sunday, June 27, 2021 to set up.
Booth set up must be completed by 9:45am on Sunday, June 27, 2021.
Vendor Garden will be open from Sunday, June 27, 2021 10:30am-4:30pm.
Booths must be broken down, area cleared, and off of the premises by Sunday, June 27, 2021 at 5pm.
Limited electricity will be available for booths, tents are NOT allowed.
Vendors are invited to have an information table and/or sell non-food products such as clothing, art, jewelry, candles, etc.
Vendors are responsible for processing payment for their own sales.
Vendor garden will be located inside the venue, on the perimeter of the party.
Hamba, Inc is not responsible for the selling or security of vendor products, property, or money. Following vendor booth purchase, vendors will be contacted for additional information required for the booth. Booth purchase includes admission for two, standard disclosures apply. Food and/or beverage from the restaurant is not included with your purchase and still required.
FAQs
Are there ID or minimum age requirements to enter the event?
Yes, 21 years old.
What are my transportation/parking options for getting to and from the event?
Ride Shares, Valet, metered street parking available. Parking is available at this venue. Please note, ride share and the metro are strongly suggested transportation options.
What time should I arrive?
The earlier the better, all seating is first come first serve as is capacity.
How can I contact the organizer with any questions?
Email we2bomb@thehambagroup.co
If I miss pre-sale tickets what should I do?
Scold yourself for being silly and taking too long, then roll up and see what we can do. There are limited same day tickets available at the door. No guarantees.
How do same day tickets work?
Show up early-- the earlier the better. Limited same day tickets are accounted for in the overall capacity. At 2pm, presale tickets no longer guarantee admission and additional same day tickets will be released. We can't tell you when to show up, you have to do what's best for you.
What's the refund policy?
No refunds
Do I have to bring my printed ticket to the event?
No, all check in's are digital.
What if I don't have a ticket but I want to buy a bottle?
We don't really do that. Bottles should be reserved in advance. We do not bump family from their tables for bottle sales. Sorry.
PHOTO RELEASE
As a condition of your attendance, you agree and irrevocably consent to your image and/or likeness being captured on film and or video, the benefit of which shall vest in 'The Hamba Group' 'We 2 Bomb' 'Brunch 2 Bomb', its licensees, successors and assigns, and may be distributed throughout the world in perpetuity, without limitation.
To the extent permitted by Applicable Law, each party releases the other party and its Affiliates, and its and their employees, agents and representatives from any and all liability, damage, loss, cost or expense incurred by the releasing party (whether or not due to the negligence or other acts or omissions of the Persons so released) to the extent such liability, damage, loss, cost or expense is paid to the releasing party by an insurer under any applicable insurance policies.
Organizer of Brunch 2 Bomb - THE RETURN
Brunch 2 Bomb is a rapidly growing, monthly 90's R&B brunch for professional millennials
looking for a "Sunday Funday" unlike the standard "Hollywood" experience in LA.
Marketed using throwback television/movie favorites we aim to create an experience for young professionals sans judgment, bottle service requirements for seats, or shallow assessments for entry. You work hard, play hard too! Celebrate like you're in college again, be home by 6pm, and enjoy LA's favorite meal--BRUNCH (the right way...the B2B way)!