BRT Weekend: "Atlantic City, NJ" Beach Music Festival | July 10th-12th 2020
#BRTweekend "Atlantic City, NJ" July 2019 3 Days of Beach Events | Eat & Drink Free All Weekend!
About this Event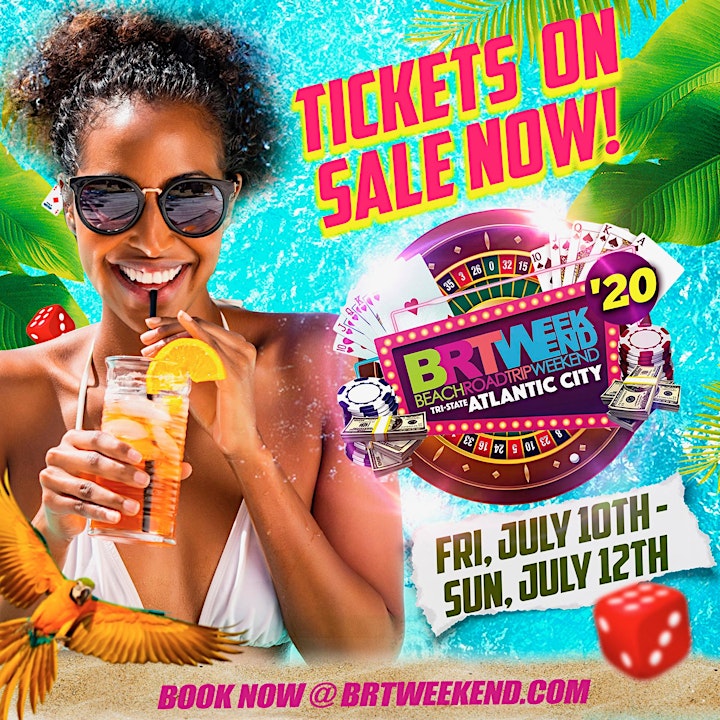 "Atlantic City, NJ" 2020 Schedule:
Day 1: Friday, July 10th
• Brunch In The Park (10am-3pm)
• Maui Wowi "Bonfire" (6pm-11pm)
Day 2: Saturday, July 11th
• Xtreme Wet 'N Wild (11:30am-5pm)
• BRT "All White" (6:30pm-11pm)
Day 3: Sunday, July 12th
• Jouvert "Breakfast Party" (9am-2pm)
• Yacht Club "Members Only" Finale Day Party (5pm-11pm)
FAQ:
What is BRT Weekend?
Created in 2012, Beach Road Trip Weekend, or #BRTweekend simply put, is the ultimate destination, day-party series. Now in several amazing cities, patrons from around the world take a road trip to party, vacation, and revel in each other's company for an entire weekend. Inspired by Caribbean culture, each of our festivals includes 6 uniquely themed events, all-inclusive with free drinks & food, across a multi-day span in a beautiful resort location.
What Is A Weekend Pass?
Weekend Pass Tickets are always the best option. With a Weekend Pass, you'll get entry to all main events including The Welcome "Brunch In The Park, Maui Wowi "Bonfire", Xtreme Wet 'N Wild, BRT "All White", Jouvert Breakfast Party, & Yacht club "Members Only" Finale Day Party! We'll provide Free Drinks & Food at each of these events. Also enjoy extra bonus benefits at the additional events associated with our weekend.
VIP Weekend Pass Benefits:
Your VIP Weekend Pass will give you access to all VIP sections for the main events throughout the weekend. You'll get to skip all lines for the main 6 events + Your VIP ticket also includes premium all-inclusive drinks & food at each of the 6 main events.
VIP Ticket Upgrades:
VIP ticket upgrade options are not available in advance & are not guaranteed to be available at the event. If they are, they may be in the range of $150-200 for each upgrade.
VIP Day Pass:
VIP Day Passes do not exist. If you'd like to be in VIP, please purchase a VIP Weekend Pass.
Recommended Airport:
(ACY) Atlantic City International Airport: 101 Atlantic City International Airport, Egg Harbor Township, NJ 08234
Hotels & Flights:
Everyone is responsible for booking their own hotel, flight, and transportation as they are not included in your BRT Weekend ticket. Recommend Hotels are on this page underneath event flyer!
Event Age Restrictions:
The legal drinking age in the United States is 21+, so you must be 21 or older to attend this event.
Event Ticket Refunds, Transfers, Cancellations, & Event Policy:
All sales are final & non-transferable. Purchaser agrees that there are no refunds nor exchanges once ticket is purchased. Locations, venues, dates, & times for each event are subject to change at any time by event organizer.
Event Themes & Attire:
Each event has it's own unique theme. Please save our event schedule and dress to match the theme at your own discretion. Most events take place on the sand, so feel free to dress in beach attire.
Food Inclusive:
Unlimited food is guaranteed for the first 3 hours of each event. food will be served on 7" plates. We will have mixed menus at each event with famous foods from the Caribbean such as Jerk Chicken, Rice & Peas, Doubles, Seafood Pasta, Curry Chicken, Brown Stew Chicken, Fruits, Salads, Desserts Etc. You're allowed to re-enter the food line as many times as you want.
Drink Inclusive:
The amount of free alcoholic drinks given to each person, per each event, is determined and regulated by the state of New Jersey. We are not allowed to serve anyone that is already drunk. If there is a drink limit of 2 or 3 drinks per person, at each event, this limit was given by the state of New Jersey and we must honor it. General Admission Bars will serve "Well" Mixed Drinks. The definition of "Well" Mixed drinks means the most inexpensive liquor possible ex: generic brands of Vodka, Tequila, White Rum, & Dark Rum. VIP Bars will serve "Top Shelf" Mix Drinks. The definition of "Top Shelf" Mixed drinks means the highest quality of liquor possible ex: Bacardi Rum, Appleton Rum, Absolute Vodka, Smirnoff Vodka, Sky Vodka, Tequila.
750ML Premium Bottle Service: (Available At All Times)
Hennessy VS - $200
Johnnie Walker Black Label - $200
Ciroc (all flavors) - $200
Belvedère Vodka - $200
Patron - $220
Moët Rosé Nectar Impérial - $250
Don Julio 1942 - $500
Ace of Spades - $900
High-Top Table: (on floor)
* $500 minimum spend per event
Elevated High-Top Table: (on stage)
* $1,000 minimum spend per event
Private Elevated Cabana: (on stage)
* $2,500 minimum spend for private cabana on elevated stage
For more information, please visit brtweekend.com or call us anytime (561) 880-5043.