Description
BRT Weekend 2017 Tour!
Last Day To Buy A Tour Pass: Sun, March 22nd, 2017 (11:30pm)
Dominican Republic • California • NY / Tri-State Are • FL Keys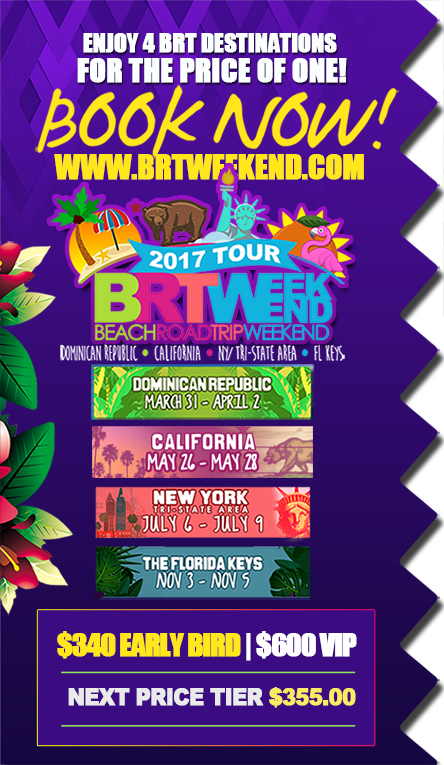 After 5 prosperous years, #BRTweekend simply put, is the ultimate destination day-party series. Now expanding to 4 amazing locations, patrons from around the world take a road trip to party, vacation, and revel in each other's company for an entire weekend. Inspired by Caribbean culture, each of our festivals include 6-8 uniquely themed events, all-inclusive with free drinks & food, across a 3-4 day span in a beautiful resort location. With our new tour exclusive package, you pay one low price and enjoy admission to all 4 location events!
Dominican Republic Tickets On Sale Now!
Click Here: https://brtdominicanrepublic.eventbrite.com
$215 Early Bird Weekend Pass | $325 VIP (price raise March 19th @ 11:30pm)
---
Depending on your purchase, your ticket includes All-Inclusive or VIP All-Inclusive access for all (4) events across the entire "BRT Weekend 2017 Tour."
Individual event tickets will be sent to you via email 90 days prior to each BRT event.
locations, venues, & dates for each event are subject to change at any time by event organizer. all sales are final & non-transferable. purchaser agrees that there are no refunds nor exchanges once ticket is purchased.

must be 18+ to party | 21+ to drink.
for more information, please visit brtweekend.com or call us anytime (954) 805-4544.