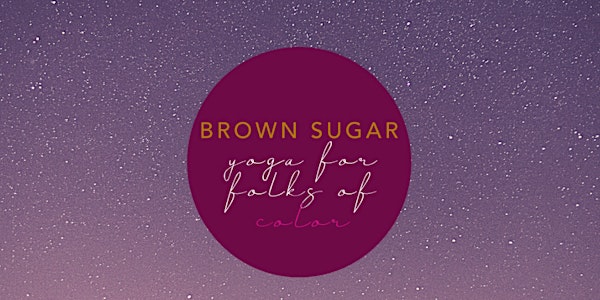 Brown Sugar Yoga: Heeding Ancestor Wisdom with Calia Marshall
Saturday 11/ 7 at 4:30-6:30PM EST on Zoom This Registration link is free for Black folks only. All other POC pls sign up on thirdroot.org
About this event
Our ancestors want us to thrive. That's why they risked their lives to steal away in the middle of the night to head north. Why they embodied ahimsa (non-violence) so completely that they were able to come out of the shadow of British rule. Why they staged revolts, gaining their independence from European countries. They experienced unthinkable atrocities so that we could thrive.
Our practice this month falls during the week after Halloween, Día de los Muertos and Election Day and just one week before Diwali. Yes, a powerful time of the year. We don't know what the results of the Presidential election will be, but we can use this practice to support one another in our joys and/or fears, as well as to call on the wisdom of our ancestors. We can recommit to moving steadily toward knowledge, illumination, and goodness. Our journeys are supported and our ancestors have lit the way. We will gather, holding the wisdom of our ancestors, those whose names we know and those we don't, to continue moving ourselves and one another toward liberation.
"To acknowledge our ancestors means we are aware that we did not make ourselves...We remember them because it is an easy thing to forget: that we are not the first to suffer, rebel, fight, love, and die."
― Alice Walker
Calia Marshall (she/her) is a yoga instructor, musician, doula, Reiki practitioner and workshop facilitator, as well as being a dance instructor/choreographer and Equity Advocate at National Dance Institute. She has been teaching movement and healing practices to children and adults for 20 years. Calia received her 200 hour yoga teaching certification from Laughing Lotus Yoga Center in 2002 and her 300 hour advanced certification through Ritam Healing Arts with Saul David Raye in 2015. She has deepened her yoga study through working with Seane Corn, Hala Khouri and Suzanne Sterling (Off the Mat, Into the World), Cathy Calderon, Johnathan FitzGordon, Alison West, and Kevin & Erin Maile O'Keefe (Circus Yoga). In 2014 she founded Brown Sugar: Yoga for Folks of Color, a yoga and mindfulness practice and community. Calia finds constant inspiration from the magic that occurs when communities join together to practice yoga, to dance, to sing, and to play. In sharing her yoga practice, Calia strives to honor the roots of yoga, while making it relevant for the people she is sharing it with. She is so grateful to all of her teachers and is honored to share her curiosity, fascination, love of movement and music, and magic-making with her community.
This practice is open level - we strive to make this an accessible space for all. If there are any access needs and special requests you would like us to be aware of prior to this workshop or questions about it's appropriateness for you, please feel free to reach out at brownsugaryoganyc@gmail.com.
Brown Sugar is a yoga and mindfulness practice for people of color, as well as a community in NYC. We offer nurturing, flowing yoga classes to help people of color connect deeply to ourselves and others, learn tools for reducing stress and trauma, and build resilience and joy. Brown Sugar is taught by compassionate and experienced teachers, who are committed to holding space for people of color to move, breath and circle together in mindful yogic practices. The magic of this class is created by the energy of each person who enters this sacred space. We intend to provide a healing and empowering affinity space for people of color, recognizing that often when black, brown and indigenous people show up to yoga in the US we may be the only one, or one of just a few – or we may not show up at all. Brown Sugar is a space for people of color, because the racism that exists in our society also shows up in yoga spaces, and can be yet another source of stress and (re) traumatization. We aim to provide a warm, nurturing yoga class and community that centers on people of color.