The Brown Bag Lunchtime Series are conversations designed to inspire, challenge, and educate while connecting as a community.
About this event
The most popular 2021 New Year's resolution was "doing more exercise or improving my fitness," published by Statista Research Department, May 5, 2021. Whether this is among your 2022 goals or not, your overall health is a critical component of your success. As busy entrepreneurs, business leaders, parents, students, etc., it can be challenging to stay consistent with a good nutrition and fitness routine when you're constantly tempted with grab-n-go options. Let's bust the myths and talk about it with the experts!
Join me and my passionate "lunch buddies" for the first Brown Bag Virtual Lunchtime Session of 2022, "Fit for the Race," a discussion about fitness, nutrition, and overall health to carry out God's plan for your life.
Robin G. Parson, CEO/Founder of Partnerships in Fitness, LLC a Fitness and Health & Wellness Consultant dedicated to developing innovative fitness, nutrition, and health & wellness programs for schools, colleges, and universities, as well as worksite wellness programs for non-profit organizations, businesses, companies, and government agencies.
Dawn Wells is the founder of DWF Wellness and a certified and licensed Medical Fitness Practitioner specializing in clinical fitness. Dawn holds several other certifications in wellness coaching, personal training, group fitness, nutrition, sports nutrition training, stress eating, and self-coaching.
Facilitated by Dr. Andrea Bowens-Jones, President & CEO, IDG Vision Consulting & Training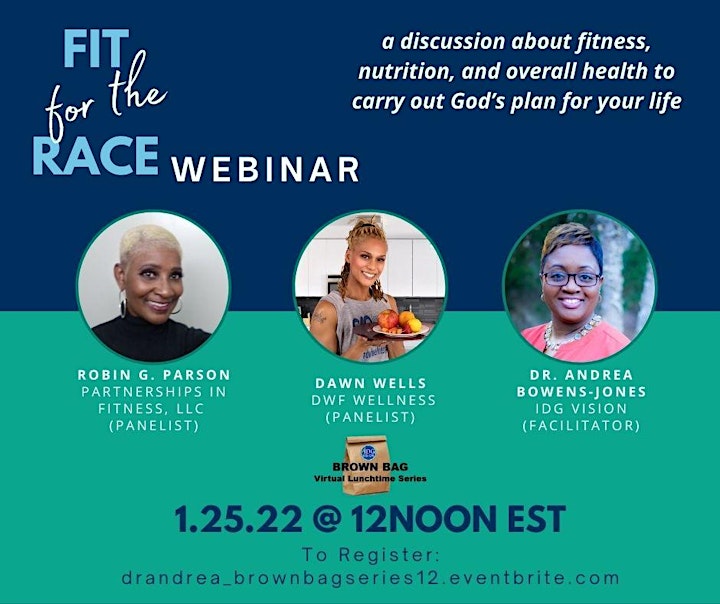 Organizer of Brown Bag Series - "Fit for the Race" Webinar
Dr. Andrea is a former Procter & Gamble (P&G) Research & Development Section Head. She has managed multi–discipline teams of scientists and engineers to drive technology, formulation, and process development for top personal care brands such as Secret, Old Spice, and Gillette. After over 15 years, Dr. Andrea left her corporate job to pursue her passion.  As President/CEO of IDG Vision, LLC and Certified John Maxwell Coach, Speaker, and Trainer, Dr. Andrea leverages her experiences to inspire, develop, and grow the vision inside of all her clients.  She offers one-on-one / group coaching, mastermind classes, and workshops on topics of personal development, leadership, communication and teamwork.  To learn more visit www.idgvision.com.