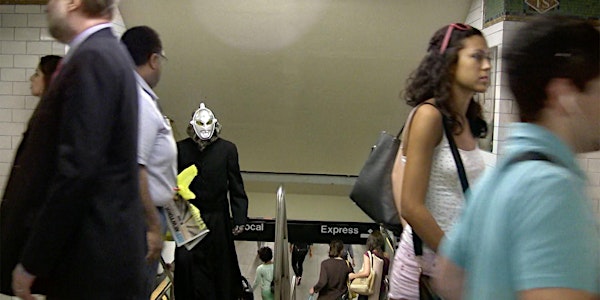 Brown Bag Lunch Series: The Black Show with Anthony Elms
By Institute of Contemporary Art
When and where
Date and time
Friday, June 3, 2016 · 12 - 1pm EDT
Location
Institute of Contemporary Art 118 South 36th Street Philadelphia, PA 19104
Description
Bring your lunch and join us on the mezzanine for a new educational series with ICA curators about the process behind organizing exhibitions. Informal in nature, these sessions will take place over 45 minutes at lunchtime featuring discussions about shows currently on view at ICA. An ideal break from the workday or studying, the Brown Bags are perfect for those interested in learning more about contemporary art and what informs the work that goes on the walls in our galleries.

On June 3, we'll discuss The Black Show with Chief Curator Anthony Elms.
Rodney McMillian's (born 1969 Columbia, SC; lives Los Angeles) broad artistic range forms an extended physical meditation on the United States. These sculptures, paintings, room-sized constructions, videos, and performances embody our social fabric in patterns cut by class, economic status, culture, race, gender, and history. Deeply attuned to the social systems and policy decisions that economically and psychologically shape our bodies, McMillian engages the gestures of these forces directly: going large in scale through small actions, using post-consumer objects to reveal latent ideologies, exposing the violent strata by which a vulnerable citizenship is built. Added to this melting pot, here McMillian draws upon a fascination with science fiction to envision a place where fantastical physical transformation might express the unraveling of social injustices.
Anthony Elms joined ICA as Associate Curator in 2011. He is currently co-organizing an exhibition of the work of Christopher Knowles with writer Hilton Als. He organized White Petals Surround Your Yellow Heart (2013) which presented the work of artists engaged with clothing, adornment, and self-presentation, and served as the organizing curator for Stefan Sagmeister The Happy Show (2012). He is also a writer and editor of the publishing imprint White Walls Inc. Elms's writings have appeared in various periodicals, including Afterall, Art Asia Pacific, ART PAPERS, Cakewalk, May Revue, Modern Painters, and New Art Examiner. He has written essays for many catalogues and edited collections such as Cosey Complex (Koenig Books) and the forthcoming Terry Adkins: Recital (Prestel). He has independently curated many exhibitions, including: Interstellar Low Ways (with Huey Copeland); A Unicorn Basking in the Light of Three Glowing Suns (with Philip von Zweck); and Sun Ra, El Saturn & Chicago's Afro-Futurist Underground, 1954-68 (with John Corbett and Terri Kapsalis), which traveled to ICA in 2009. Having received both a BFA and MFA as an artist, Elms has been included in projects exhibited at Situation Room (Los Angeles), Beaufort Beyond Borders (Belgium), and peregrineprogram (Chicago), among other places. Previously, he worked at Gallery 400 at the University of Illinois at Chicago, and before that, the Renaissance Society at the University of Chicago. He was co-curator of the 2014 Whitney Biennial.
About the organizer
The Institute of Contemporary Art at the University of Pennsylvania believes in the power of art and artists to inform and inspire. The ICA is free for all to engage and connect with the art of our time.