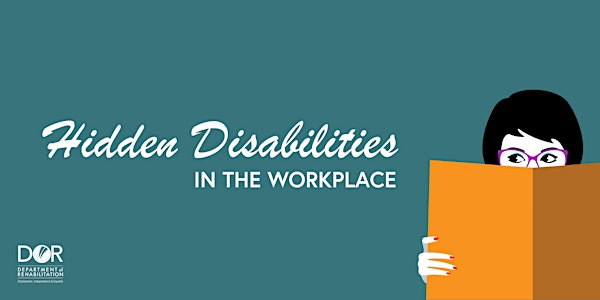 Brown Bag Lunch: Hidden Disabilities in the Workplace
When and where
Location
California Department of Rehabilitation 721 Capitol Mall Conference Room 242 Sacramento, CA 95814
Description
WE HAVE REACHED CAPACITY FOR THIS BROWN BAG LUNCH. There is a waitlist if you'd like to register and you will be notified if a spot becomes available. Thank you for your interest in attending this event.


Lunch and Learn with DOR's Disability Advisory Committee (DAC)
We are all familiar with physical disabilities, including blindness, deafness, paraplegia, and many more, and we can usually figure out the most appropriate reasonable accommodations that will enable our coworkers with these disabilities to complete their job tasks. But what about our coworkers who have disabilities we cannot see? Hidden disabilities can be much more challenging to accommodate. Even medical professionals often have a difficult time diagnosing invisible disabilities! These include learning disabilities, developmental disabilities, traumatic brain injuries, and so many more.
Please join us as the Disability Access Services (DAS) section facilitates this event with activities that promotes awareness of the challenges faced by coworkers with hidden disabilities. Disability awareness is the first step toward working as a team to overcome barriers, improve effective oral and written communication strategies, and educate others about hidden disabilities.
The RSVP and accommodations request deadline is July 26th.
Contact: Karen Shrawder
Karen.Shrawder@DOR.CA.GOV