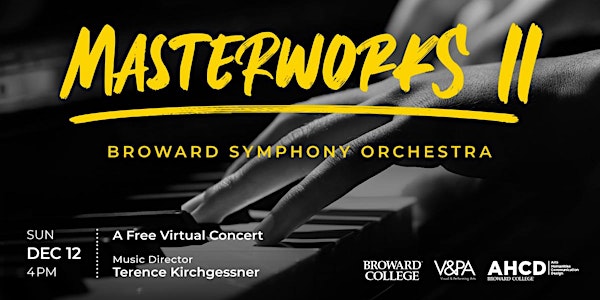 Broward Symphony Orchestra - Masterworks II
Broward Symphony Orchestra - Masterworks II
About this event
Catherine Lan returns to perform Rachmaninoff's solo and symphonic tour de force, the Piano Concerto No. 2. It will be preceded by Richard Wagner's Siegfried Idyll which debuted as a birthday present to Richard Wagner's wife Cosima on Christmas Day, 1870. The work was originally scored for chamber ensemble but today enjoys popularity as a larger symphonic work.
Program:
Richard Wagner - Siegfried Idyll
Sergei Rachmaninoff - Piano Concerto No. 2.
Featuring Catherine Lan, piano

"I have found that among its other benefits, giving liberates the soul of the giver." ―Maya Angelou