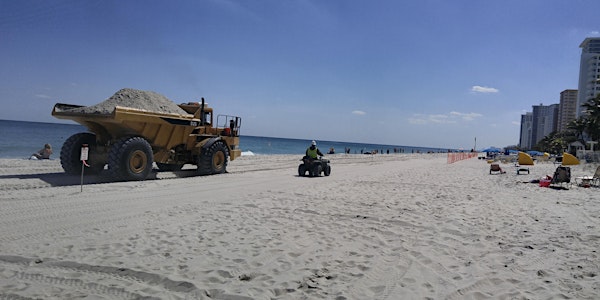 Broward County Segment II and Sand Bypass Informational Webinar
Learn more about the upcoming beach construction project planned for Pompano, Lauderdale-By-The-Sea, and Fort Lauderdale.
About this event
Segment II
The U.S. Army Corps of Engineers plans to start construction of a post-Hurricane Irma repair project in Pompano Beach, Lauderdale-By-The-Sea, and Fort Lauderdale. The project is estimated to place approximately 387,800 cubic yards of upland sand along the shoreline, with 100% cost share by the federal government. Temporary beach construction access point closures will be necessary and public access will be restricted on the beach area directly under construction; however, all efforts will be made to accommodate beach access to residents and guests, while assuring safe construction operations.
Port Everglades Sand Bypass
Staff has finalized the mitigation plan for the Port Everglades Sand Bypass project and received the final federal permit. Procurement is anticipated to begin in October. Public outreach will begin by February 2021. Construction is anticipated to begin in June 2021. The Army Corps of Engineers will award the contract for the south jetty rehabilitation in late August.
More information:
https://www.broward.org/BeachRenourishment/Pages/Default.aspx