Description
THE PURPOSE
Q Parker Legacy Foundation, a 501 (c) (3) non-profit organization presents Brothers United Youth Summer Camp 2017. The camp is the creative and dynamic arts environment for youths aged 9 to 17 where they can expand their knowledge of the world of music, film and acting, acquire helpful tools to excel and be successful on and off the stage as well as in front and behind the camera. The camp will also encompass a tutoring power hour in the subjects of math, science and reading. The camp is for youths of all skill levels who are passionate on perfecting their craft.
The core curriculum includes acting, voice and movement from the youth's perception, self-esteem, team building, fitness, and tutoring power hour. Multi-Platinum Singer and Songwriter Quinnes 'Q' Parker of the hit Grammy-Award Winning Group 112 has created a unique program that will expand the youth's creative dimensions and allow them to develop their potential. This is accomplished by building self-esteem, self-confidence and arming the youths with the tools to survive in a competitive field, make memories, and have a future career in the entertainment industry.
The camp instructors come with extensive knowledge, practical experience and have previously worked with children. They will provide the youth with a non-competitive skills test in an effort to place them with the right group of peers. There will be no audition necessary for campers as we will train novices.
Parents, special guests and more will have an opportunity to see their child's development and progress at the closing showcase, which will take, place at the end of the 2-week program. Each camper will leave the camp with a Survival Kit, autographed photo with Founder Q Parker and an opportunity to purchase behind the scenes video of camp.
WHERE IS IT?
Kipp Strive Academy
1444 Lucile Ave, Atlanta GA 30310
WHEN IS IT?
7:30AM - 4:00PM
Session: June 19 - 30

AGE REQUIREMENT
Tween Camp (Ages 9-12)
Teen Camp (Ages 13 to 17)

CAMP COST
$100 per week or $185 for 2 weeks for single registrants
$200 per week or $375 for 2 weeks for dual registrants
Lunch provided daily
$15 for camp shirt
Non-Refundable Registration Fee of $50
Field Trip Optional Fee $50
Tuition includes meals, course material, insurance, supplies, use of equipment

Tuition must be paid no later than two weeks prior to the start of camp

Scholarships are available for qualifying youths

50% of the camp fee is refunded if child has not taken part in more than 2 days of camp in a one-week period
Where can I contact the organizer with any questions?
Please send all questions to info@brothersunitedatl.org
Is my registration/ticket transferrable?
No. Unless special circumstance is approved
Can I update my registration information?
Yes, send an email to info@brothersunitedatl.org to update registration information
If you're interested in volunteering for the BU Youth Summer Camp please email your interest to info@brothersunitedatl.org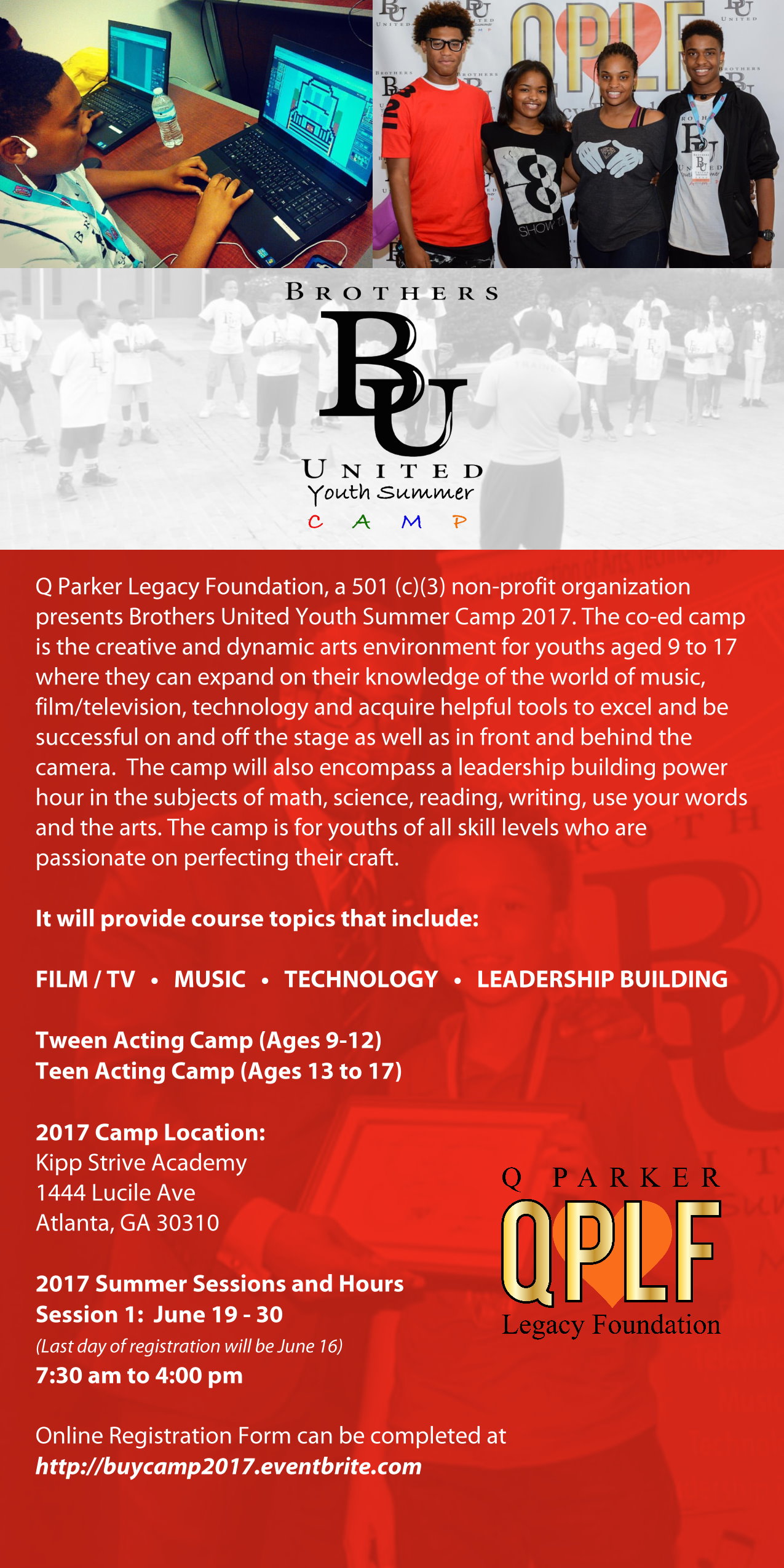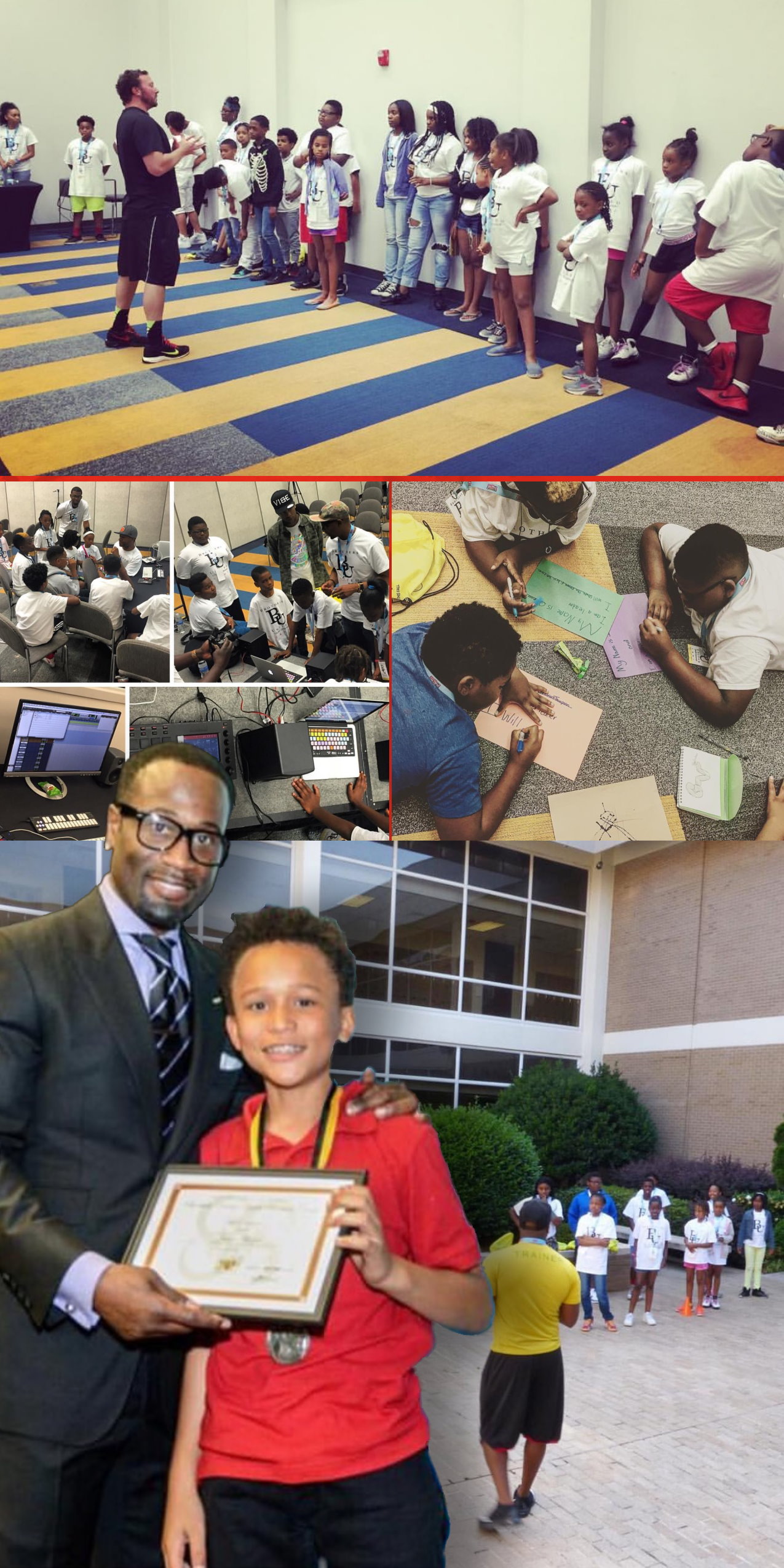 Thank you for registering your camper to the Brothers United Youth Summer Camp. Brothers United is looking forward to making a positive impact in the lives of our future scholars. - Quinnes 'Q' Parker