Sales Have Ended
Ticket sales have ended
Thank you for registering. See you at our next meeting!
Event Information
Location
Morehouse College
830 Westview Drive SW
Kilgore Building (Free Parking)
Atlanta, GA 30314
Sales Have Ended
Ticket sales have ended
Thank you for registering. See you at our next meeting!
Description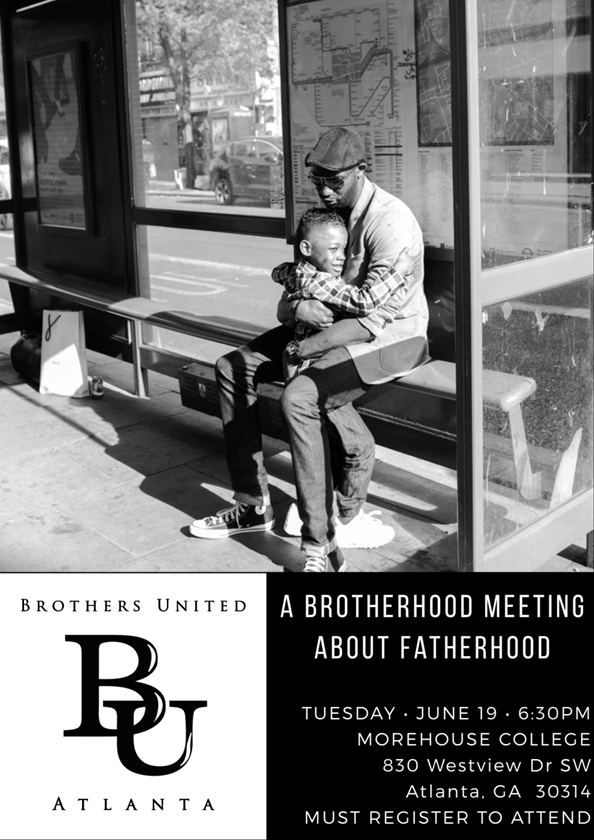 A BROTHER MEETING ABOUT FATHERHOOD
Contrary To Popular Belief, Black Men Are Present and Loving Fathers. The news media has often presented black fatherhood in a negative light, especially in the 1970s and '80s as drugs and poverty started to ravage the community. Black fathers were being painted as largely absent, either popping in/out of the picture or abandoning their families altogether. Never mind the fact that many of these black fathers were being taken away from their families by an unjust social system (it is well known that black men are incarcerated in higher numbers than any other ethnic group), it was just said that black men didn't care for, and provide for, their families.
A report from the CDC was released in 2014 that proves what black people already know to be true: Black fathers are just as present and involved as fathers of other races, if not more so. While black fathers are less likely to live with their children (for some of the above-mentioned reasons) 67% of them see their kids at least once a month, unlike 59% of white and Hispanic fathers, according to the Pew Research Center.
In the CDC report, black men actually lead the pack in subjects like feeding and eating meals with children daily or reading to children daily, especially with children under five. With children between the ages of 5 and 18, black fathers are significantly more likely to help their children daily with their homework. While the numbers may show some close similarities, it doesn't show any major inequity for black fathers specifically in any area and that is what may the hardest for some folks to believe.
Brothers United Atlanta is leading the charge of breaking down myths of absentee fathers and opening our doors to fathers who have once left their kid(s) but wants to return and need encouragement and insight to do so. Join us this month as we celebrate fatherhood and discuss topics around the subject of the importance of having a father or fatherhood figure in our youths life.
June's Meeting Location: Morehouse College - Kilgore Building - 2nd Floor
DATE: 6/19/2018 | Doors Open at: 6:30PM | Meeting starts 7:00PM - 9:00PM
Please join us for this special occasion. Share the link with other men in your community.
ABOUT BROTHERS UNITED OF ATLANTA (BU ATL)
The fight against strengthening, empowering and supporting men to lead better lifestyles goes on. Q Parker Legacy Foundation has found a way they can fight this battle and do their part by launching the Brothers United (BU) Organization. The group will focus on five (5) crucial areas in men's lives: Social, Fatherhood, Spirituality, Health, and Wealth. BU members agreeing to join Q Parker as he sets on answering a higher calling and mission to make an impact and teach men, young and old, preventive measures and the opportunity to openly discuss issues that are plaguing our men in an environment of confidence, privacy and trust! Brothers United is the place 'where Fella-ship happens in confidence'.
Date and Time
Location
Morehouse College
830 Westview Drive SW
Kilgore Building (Free Parking)
Atlanta, GA 30314