Description
Nectar & The PBJ Present:
BROTHERS GOW
The High Council
Goldbar
$7adv / $10dos
21+
Nectar Lounge
412 N 36th St
BROTHERS GOW
" Live music has evolved throughout every generation. From solo performances for royalty, to orchestrations for aristocracy, to street performers who starve to share their art, to rock bands that scream from the heart, incredible musicians have always been as socially revered as any other studied professionals.
Brothers Gow displayed a level of musicianship almost forgotten in this generation at the Music Box in Downtown San Diego on Friday night. Categorized as a jam band with influences of rock, jazz, and soul, the unassuming quintet performed what seemed to be a 21st century symphony, featuring movements rather than tired and predictable verse-chorus interchanges. Funky riffs melded into deep groove syncopations, original hook lines over double-stops segued into soulful a cappella harmonies, and lead guitars supported each other rather than dueled.
The group's love for their collective sound was inclusive, and shattered the indelible barrier between performer and spectator. A shared goal between live artists and audiences is to experience an unforced osmosis of energy, and since a moment is only as long as you hold it, live in the now when you see Brothers Gow.
THE HIGH COUNCIL
The High Council blends rock, reggae, folk and jam into a sound all their own. The band consists of 6 vocalists/instrumentalists playing: guitar, bass, keys, drums and percussion. Tight vocal harmonies interspersed with soaring psychedelic jams, world rhythms and funky rock grooves, fill dance floors and unite audiences in a shared celebration of music. The High Council members are lead guitarist Zeke Wakefield, rhythm guitarist Ryan Philappart, bass player Ben Sharp, keyboardist Zack Olson, drummer Conor Sisk and percussionist Jeff Pang.

GOLDBAR
Goldbar is an original jam rock band based in Seattle, Washington. The band showcases rhythmic grooves and rockin tunes that depict life's simple pleasures and pastimes.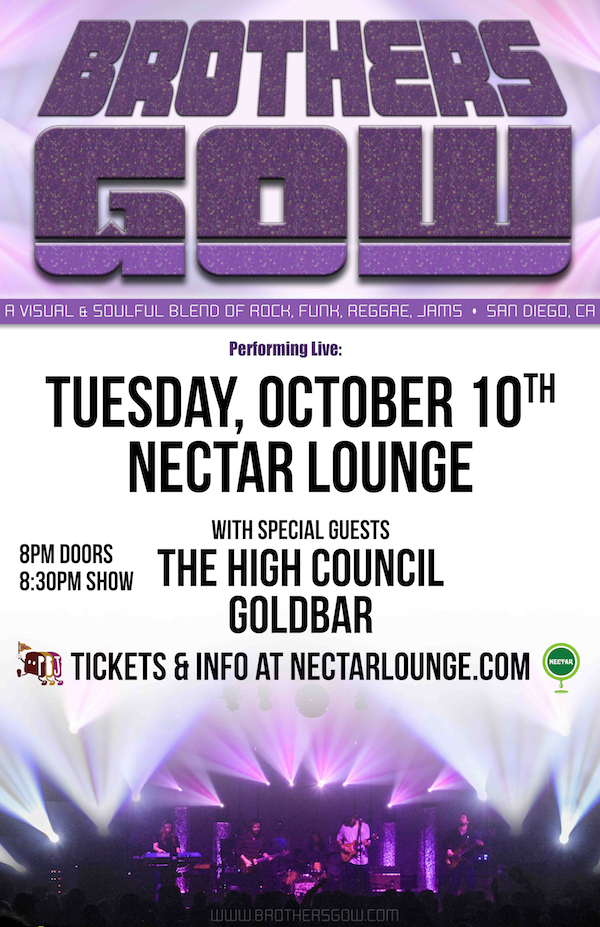 Date and Time
Location
Refund Policy